The illustrious career of artist Bala Bhakta Raju began with a stint in a reputed advertising agency in Hyderabad as a visualiser. This experience gave Bala Bhakta Raju a holistic approach towards fine arts; he started looking at things with a different perspective before arriving at a well defined and unique way of communicating through his artistic expressions. Followed by a brief period working for a jeweller in the designing section, Bala Bhakta Raju expanded his horizons. It is during this period that he nurtured his childhood talent in the field of painting to be a contemporary artist. His imagination, sensibility and passion for mythology and an ardent devotion for lord Ganesha made him take up a project of finishing one lakh Ganesha paintings. This is where Bala Bhakta Raju brought vibrancy to his colours and the forms that he created started breathing life into his paintings of Lord Ganesha. Bala Bhakta Raju received his BFA in painting from Lalitha Kala Maha Samsthana, Mysore.
There are some unseen and unimagined expressions which he effortlessly captured in paintings. Bala Bhakta Raju's use of acrylics on canvas has helped him to portray the expression he desires to capture about Lord Ganesha. He says "I have breathed, dreamt and expressed Him in myriads of hues and in his many moods, with brush and acrylic. Ganesha became an inspiration very early in my life. An Idol that became an ideal and then an inspiration. The inspiration continues so does my quest to depict Lord Ganesha in the kaleidoscopic of ink, charcoal and acrylic."
What's your artistic background?
I am from a family with an art background.. My father used to draw and paint as a hobby, I was passionate about art and since then I grew as a self taught artist.

What's integral to the work of an artist?
It's his/her unique way of interpreting things and portraying them in an art form and avoiding being a me-too artist. To be original and have one's own style of expression should be integral to the work of an artist.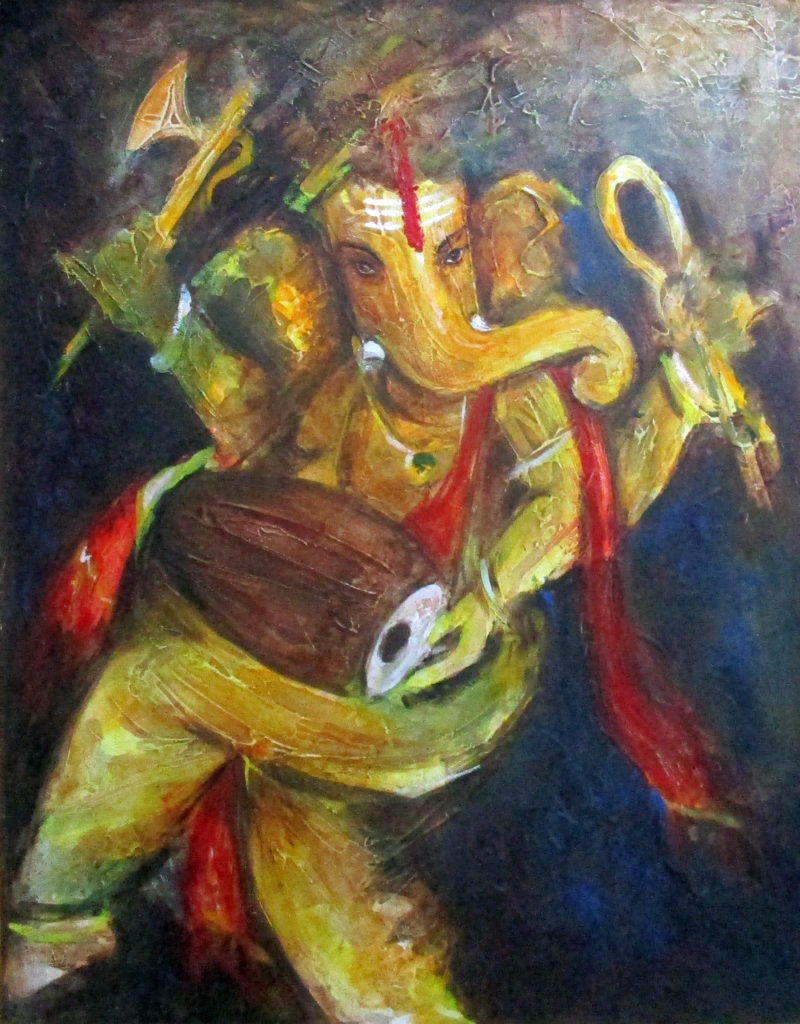 What role does the artist have in society?
I believe art should play the role of a magical mirror to society. It should express reality in such a way that it should make the audience think twice. It's also to carry forward one's understanding of the world. At times it might be inspirational or sometimes it might be personal.
What art do you most identify with?
I specialize in Ganesha paintings using oil and water color most of the time, at times I try painting in unconventional methods like charcoal and pencils too.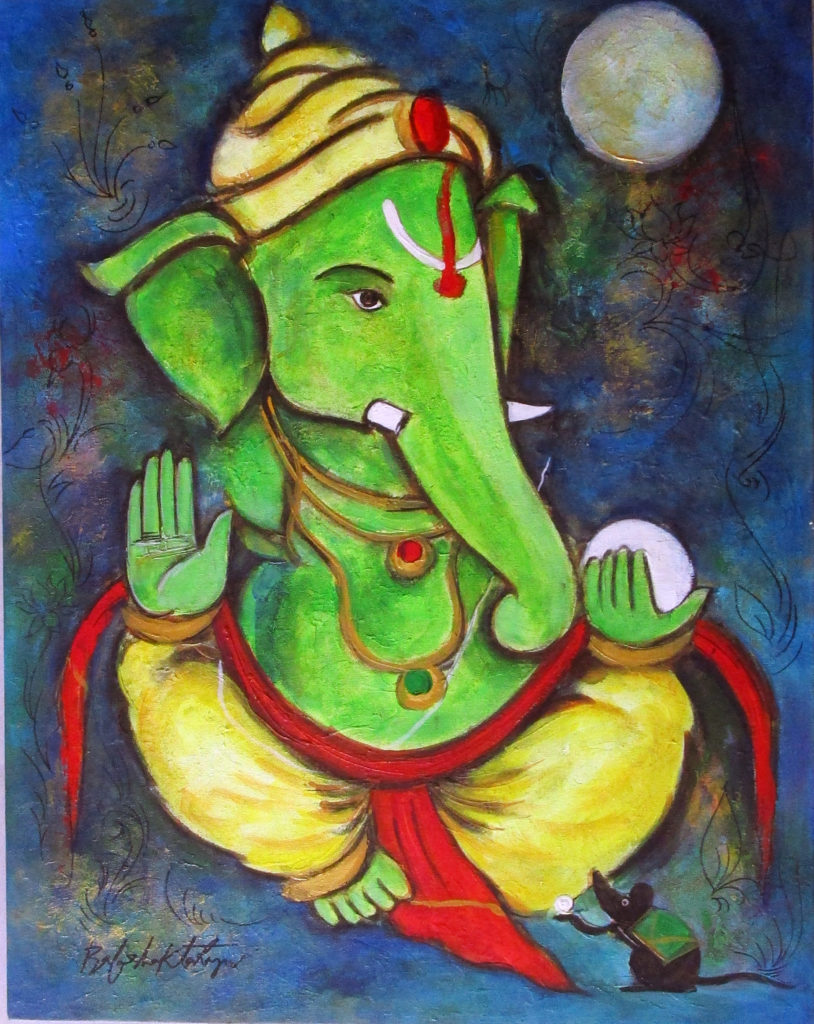 What themes do you pursue?
Ganesha in Hindu mythology and 'Meethi Meethi baatein' in contemporary style.
What's your favorite artwork?
I am fascinated by Sachin Jaltare's artworks.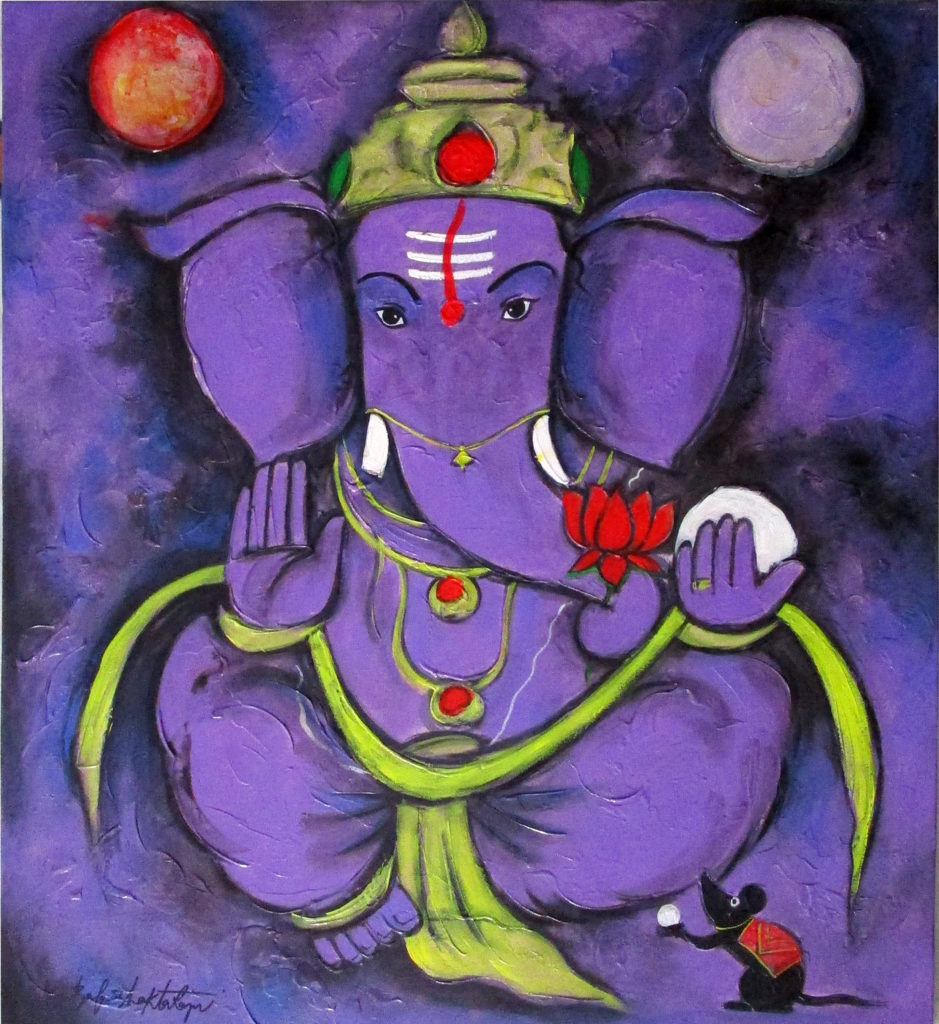 Describe a real-life situation that inspired you
I was born and brought up in Hyderabad. I spent most of my time near 'mandapas' and the Ganesh festival was one that I enjoyed a lot. It was one of the reasons which led me to take it as my life time theme.
What jobs have you done other than being an artist?
I started my career in an advertising agency and then worked as a jewellery designer before settling as a full time artist devoted to mostly Ganesha paintings.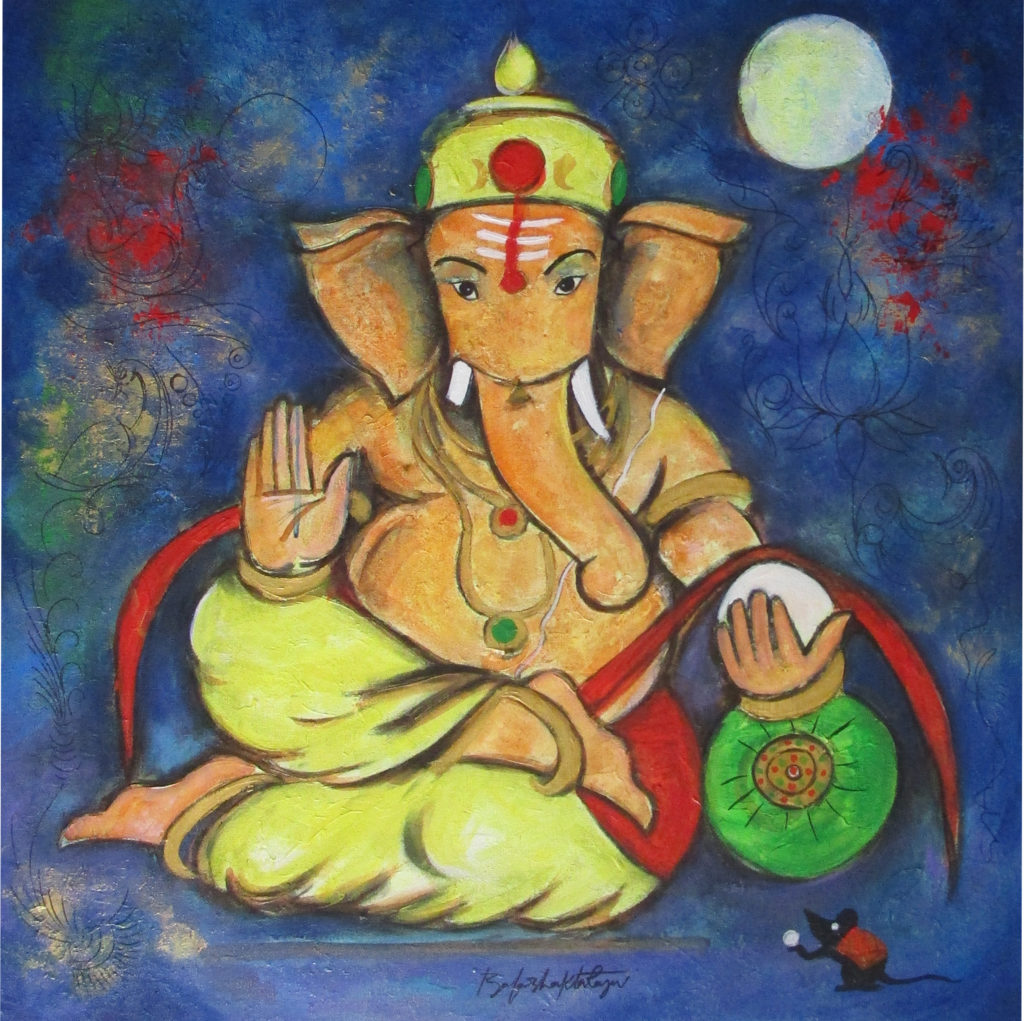 Why art?
Since my inspiration was Ganesha and I was reasonably good at drawing since childhood I felt no other expression of devotion to Ganesha can be done better than depicting Him in an art form. For me art is divine and it has always been a bridge to express my freedom of thoughts.
What is an artistic outlook on life?
Life throws so many things at you and it's difficult to hold on to your patience. It's my solution to remain calm and maintain peace of mind.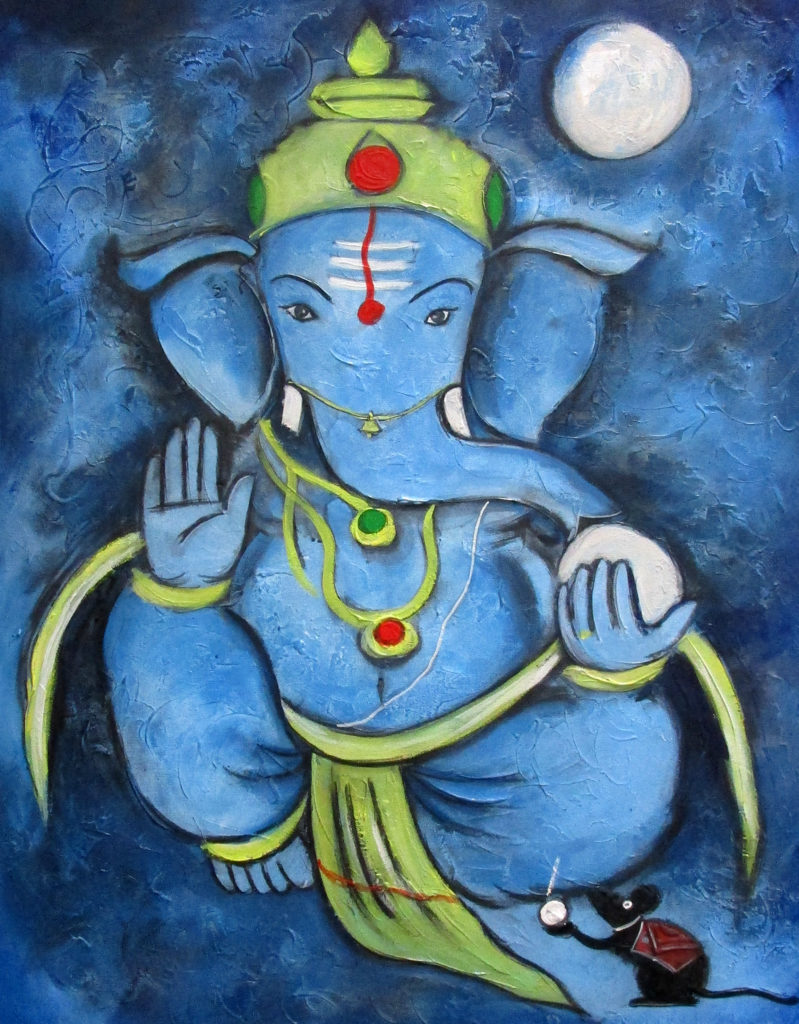 What memorable responses have you had to your work?
Everyone has a different approach on understanding Hindu mythology. My audience was impressed to see my style of work that I've been contributing to culture and society and through my journey I have learnt a lot from people and places.
What food, drink, song inspires you?
Hyderabad biryani has been my all time favorite. Hindu mythological songs give me the peace and tranquility that is so needed in times of turbulence.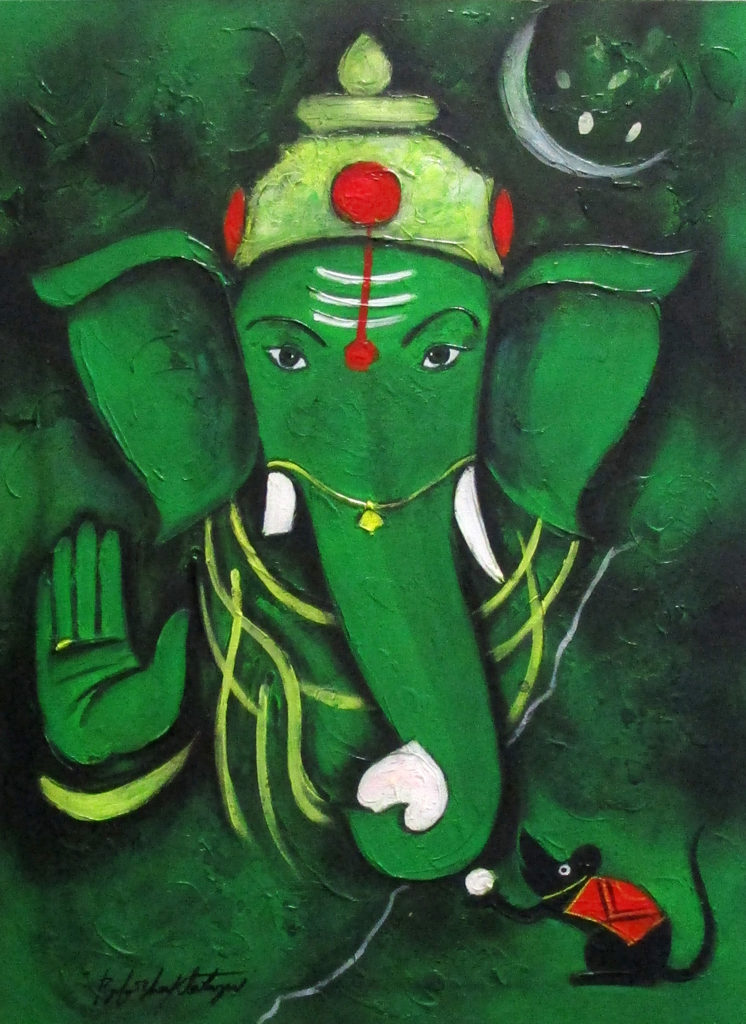 Is the artistic life lonely? What do you do to counteract it?
Yes it gets lonely at times but that's a blessing in disguise as I get to ruminate over my creations and then maybe find ideas for new projects. Me and my thoughts…an artist never gets bored because of feeling lonely.
What do you dislike about the art world?
There is nothing that I don't like. I wish it gets more recognition that it has now.
What do you like about your work?
I have the freedom to express the way I feel, no restrictions, no boundaries. I am someone who is also into textures; one can not only aesthetically look at my work but can also touch and feel it.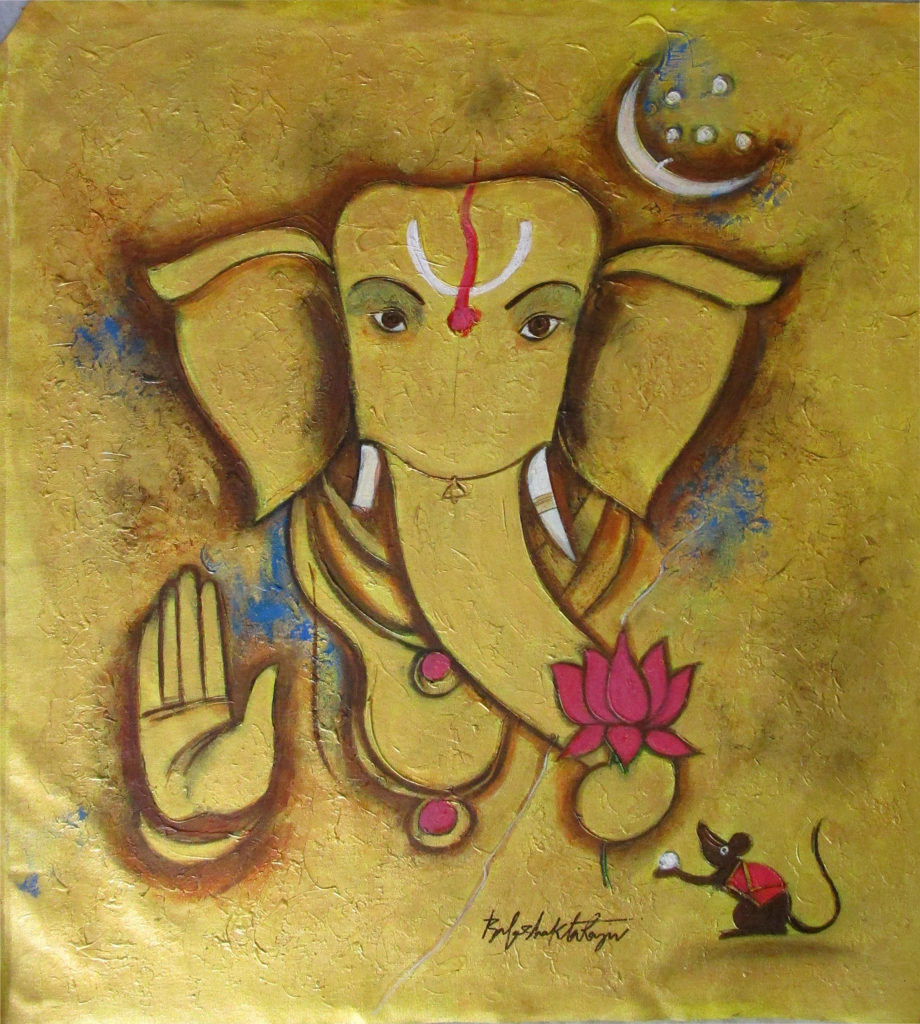 Should art be funded?
Yes, art should definitely be funded. In our country there is less awareness on art forms and art recognition and appreciation is something which needs to be focused on.
What role does art funding have?
Millions of artists cannot survive on their own because of lack of recognition. Since art is something which keeps on reminding our society about one's culture and roots, there should be efforts to ensure art does not die because of lack of funds.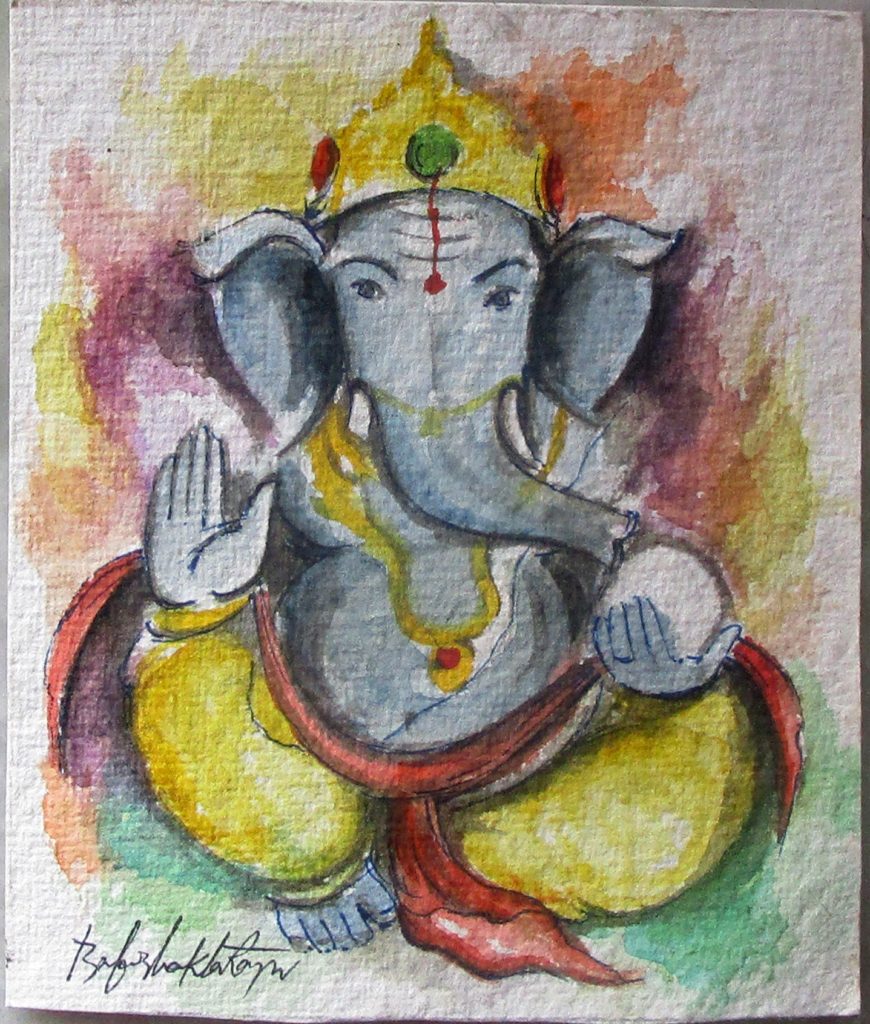 What is your dream project?
I plan to paint a 100 feet canvas with one lakh Ganeshas.
Name three artists you'd like to be compared to.
It may not be apt to compare myself with great artists though many are my inspirations. I honestly think each artist is unique in his/her own ways.
Favorite or most inspirational place?
Varanasi has been one of my favorite places.
What's the best piece of advice you've been given?
To try out other forms of art is the best advice I have been given so far.
 Professionally, what's your goal?
Everyone should have at least one of my paintings. People should start recognizing me through my paintings.