Furrah Syed FRSA is an artist and educator based in London. A strong advocate for making art accessible to all, Furrah's abstracts are focused on texture, movement and colour energy which can not only be seen but can also be experienced using the sense of touch. Her inclusive approach to sharing art led her to design and develop her Art Appreciation Workshop for the blind and partially sighted in 2009 which she has delivered to organisations in Hong Kong, Malaysia, Singapore UK, USA, India and Australia. The Museum of Contemporary Arts in Sydney, MOMA Wales, Old Royal Naval College and recently Atos are among the many organisations that Furrah has worked with.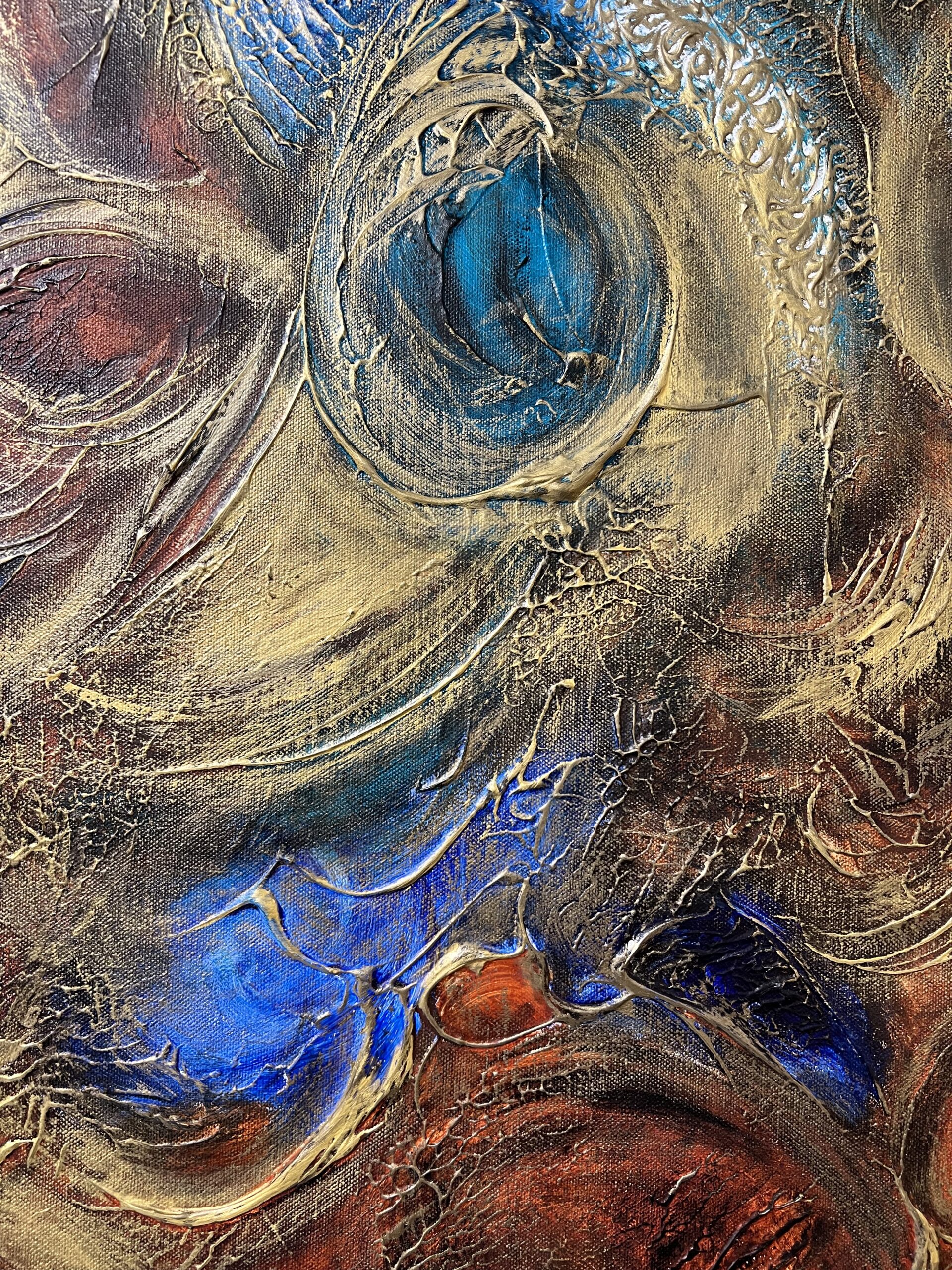 Furrah has also delivered adapted versions of her workshop at schools for children with additional needs as well as mainstream schools. The way Furrah's art is experienced is unusual: the paintings can be viewed in any orientation, they change with the light, they can be explored using the sense of touch and they are all intentionally untitled to avoid influencing the viewer's perspective. This is a liberating experience as viewers are free to interpret what they see or feel knowing that there is no right or wrong response. This approach values the viewers interpretation and encourages a dialogue, which are key tenets of Furrah's ethos for making art accessible to all.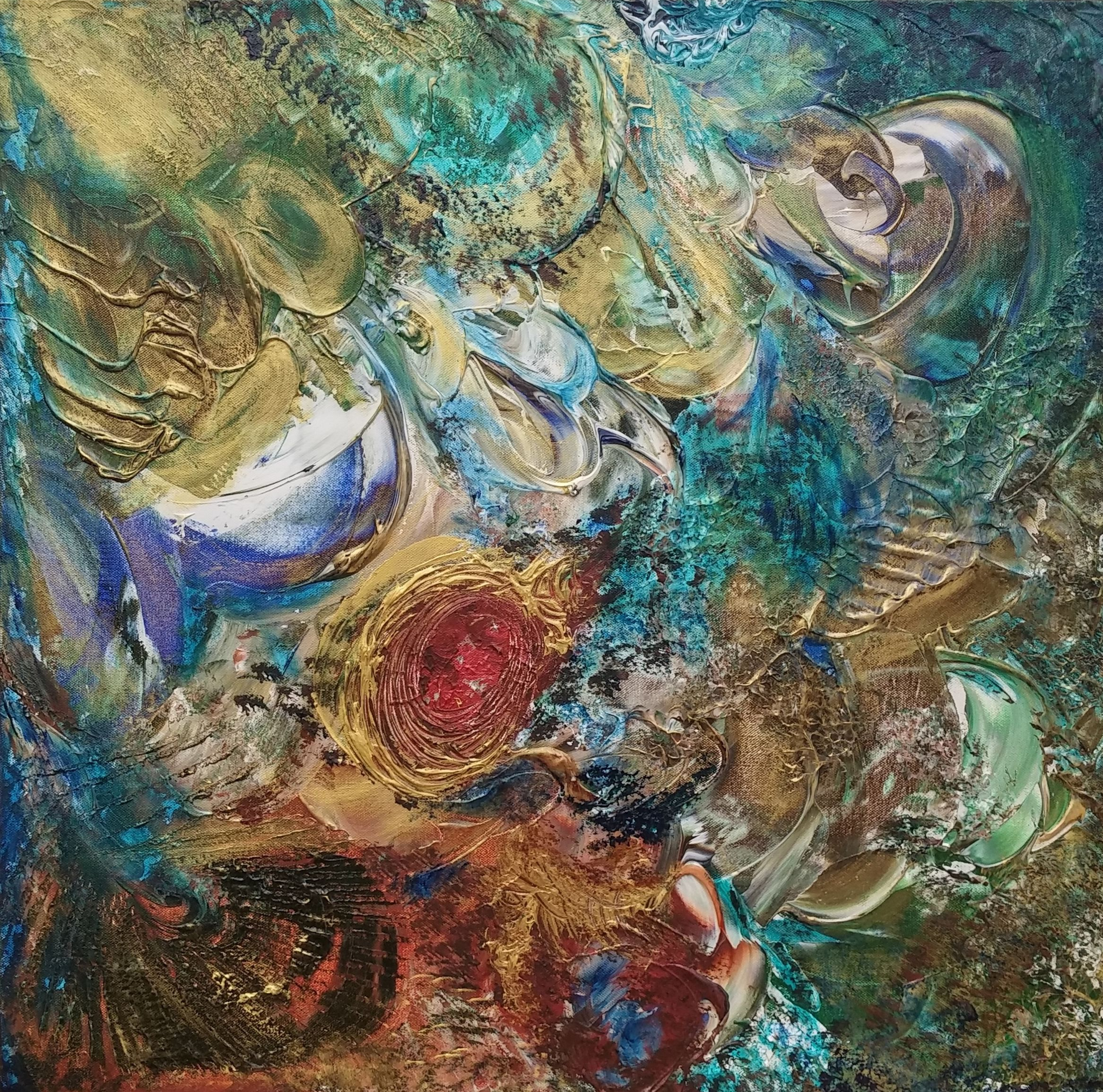 Furrah continues to explore the use of tactile engagement in areas outside of her art, empowering people by showing them the technique of distinguishing colour energy without the need for sight. Her workshops, available to sighted participants as well as those who are blind or visually impaired, provide a space for dialogue regarding accessibility and improvement of existing products and services to benefit those with additional needs. Furrah also actively promotes the technique of using art to practice mindfulness which increases a sense of well-being both emotionally and physically and assists those who are dealing with mental health issues. At every event that she hosts her aim is to create an inclusive environment for all to feel empowered and valued. She feels that "We all have different and unique perspectives and can learn a great deal from each other."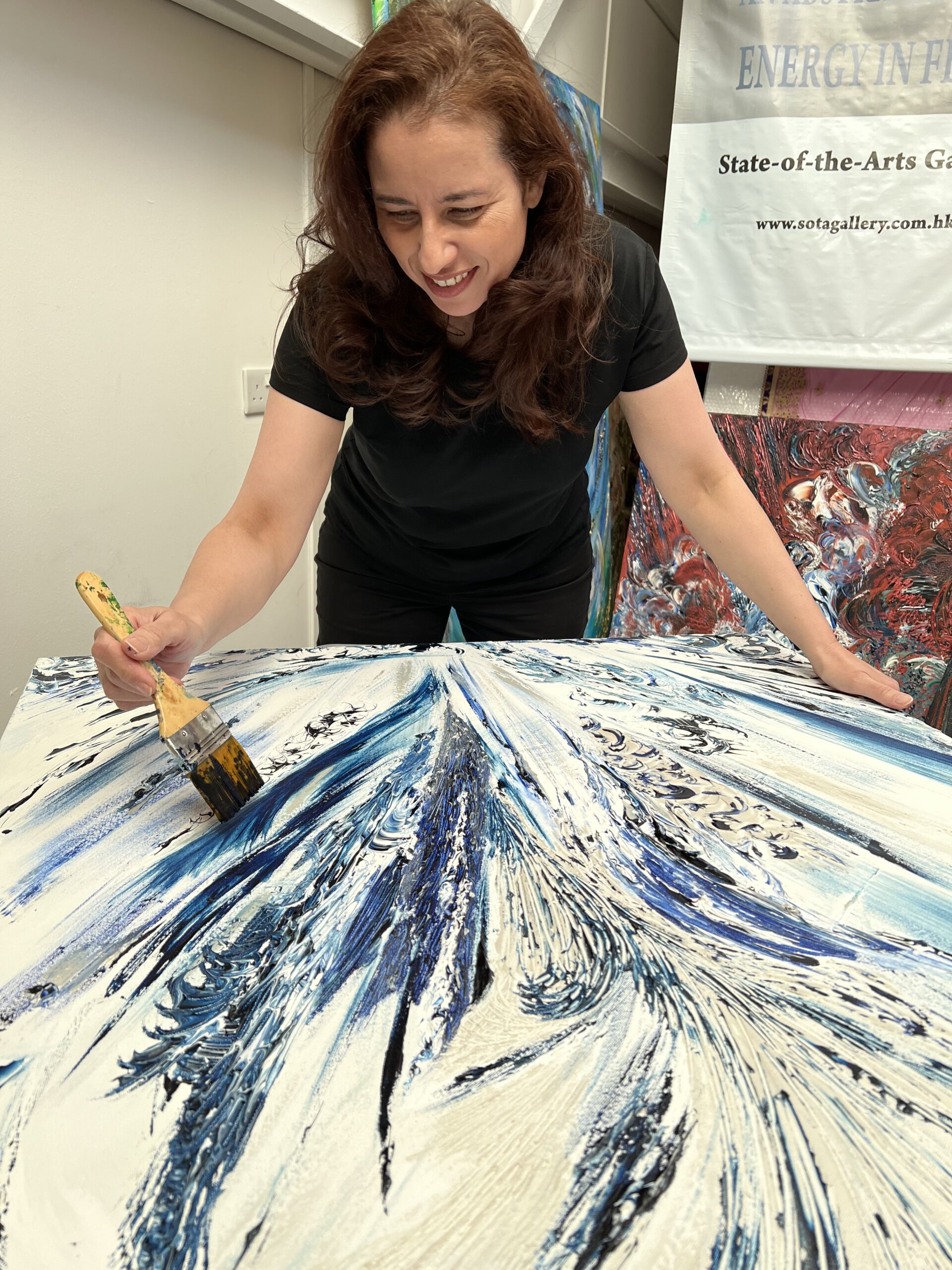 What's your artistic background?
Art has been in my life since childhood – experiencing it and creating it since the age of six. Having studied fine art and art history, I have always greatly appreciated the power of art. I owe the start of my full-time art career to Bangalore. It was during my time there that I was deeply inspired by the garden city of India. The incredible quality of the art materials and beautiful energizing light is what ignited my creative journey. I was also introduced to Pranic Healing during my time in Bangalore which resulted in me in training to become a Certified Advanced Pranic Healer – healing with colour energy. I incorporated this knowledge surrounding the power of colour into all aspects of my art practice.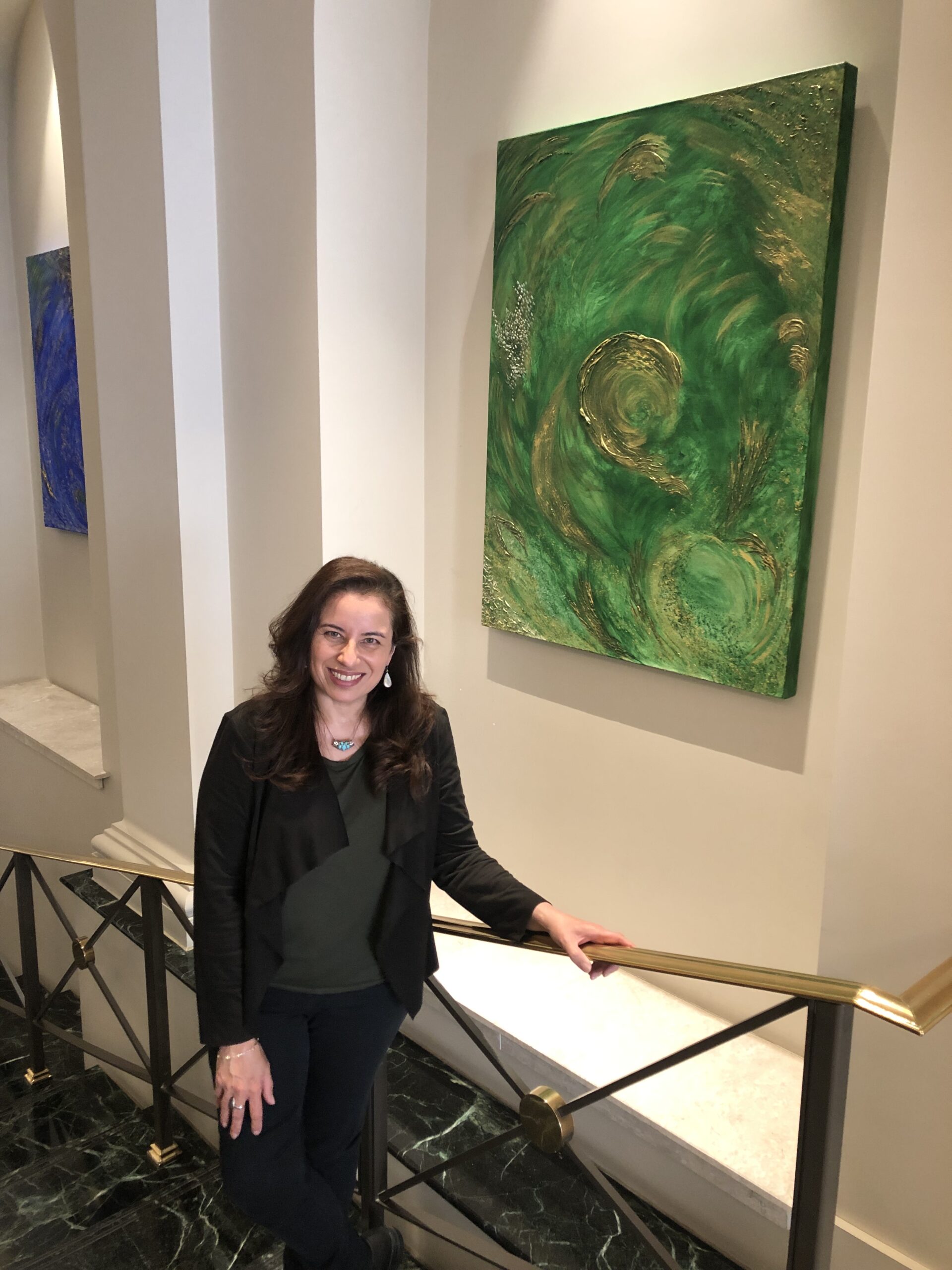 What's integral to the work of an artist?
A true purpose. Knowing why you want to create art. The impact and feeling of intrinsic enrichment you know it has on you while creating art. The intention of wanting to share that feeling with others through your creations with positive energy. This leads to happiness and an improvement in all aspects of well-being. I love receiving feedback from my collectors, audiences, and collaborators in which they echo these sentiments.
What role does the artist have in society?
To empower and enrich the community is the most significant role of the artist. The viewers' reactions and enthusiasm for further discovery of art is largely under the influence of the artist and to encourage people to explore the joy of creating art is always a blessing to witness. Art is a universal expression and, as artists, we have the power to break down barriers of language, culture, age, disability, and gender through this versatile and eclectic medium.
As an artist it is also important to have a voice in various industry spaces to share insights and tools on how to harness the sheer power of art. Having influence in education, tech and interior design industries has allowed me to demonstrate how art can positively impact people and enhance environments.
What art do you most identify with?
Abstract art is my passion. It has no limitations on what you see and feel. Everyone has a unique perspective and reaction to art, and this is especially relevant to abstract art. My mood and energy levels also have a direct influence on how I respond to abstract art, which is mainly why I have never subjectively named my pieces – I do not want to limit the viewers' interpretation with a leading title, and it is always incredible to hear so many fascinating narratives in response to the same piece of art.
What themes do you pursue?
My work and way of life is all about energy. As energy received from nature, people, light, and colour is incorporated into my works, my art is unplanned. My art is a representation of an uninterrupted flow of energy from within, and I have trusted this process from the first abstract piece I had created. I would only be able to refer to energy-influenced colour combinations, levels of detail and texture on the canvas, with the remaining aspects emerging naturally.
I have recently been more focused on the aspect of well-being – using my pieces to practice mindfulness can be an instant reliever of stress and also energize one when needed.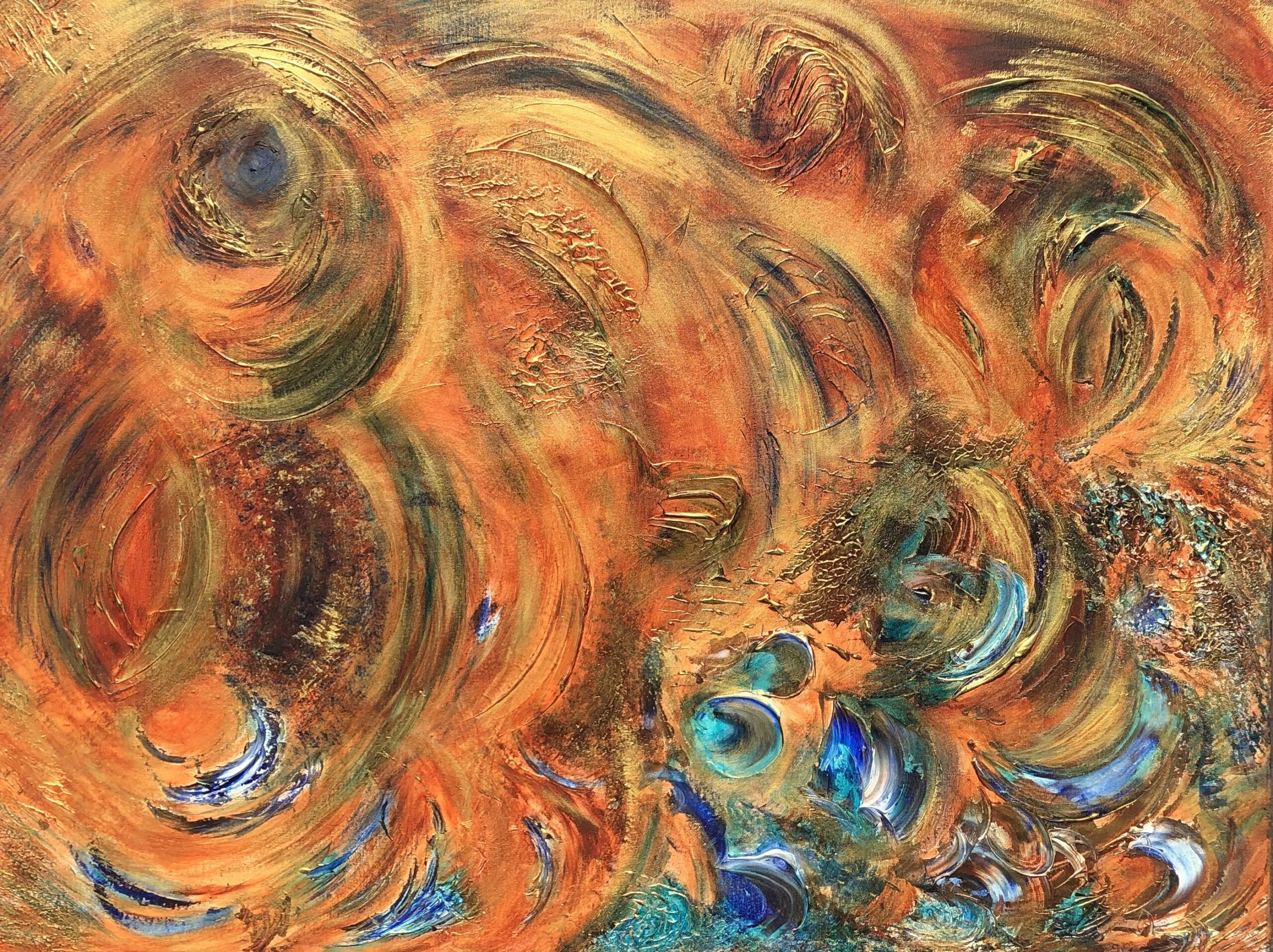 What's your favourite art work?
Always a difficult question to answer as I have hundreds of artworks to list. Abstract art is my passion, but I will share my fascination with 'The Garden of Earthly Delights' by Hieronymus Bosch. How this incredible piece was created in between 1490 and 1510 baffles me. The imagination and story-lines in this tryptic are mesmerizing and in part quite disturbing. It leaves a lasting impact on the viewer which is the purpose of art.
Describe a real-life situation that inspired you?
Reflecting upon my somewhat complex childhood, I distinctly remember seeing a house that starkly stood out on a street that we would drive by twice a day on the way to and from school. It was painted with a very unusual pale grey and vibrant pink. These colours gave me an unexpected burst of joy and energy, unlike anything else I had experienced during this period of my life. Having gained my knowledge in Colour Energy and my certification in Advanced Pranic Healing, I was able to connect this fond memory to the uplifting benefits of pink and grey colour energies I was unknowingly gaining as a child. This has inspired me to create a series of paintings with focus on pink and grey. One of these pieces will be a part of the Art Talk Magazines special edition in October 2023 which supports the vital cause of Breast Cancer Awareness, a cause close to my heart as breast cancer has affected many members of my family.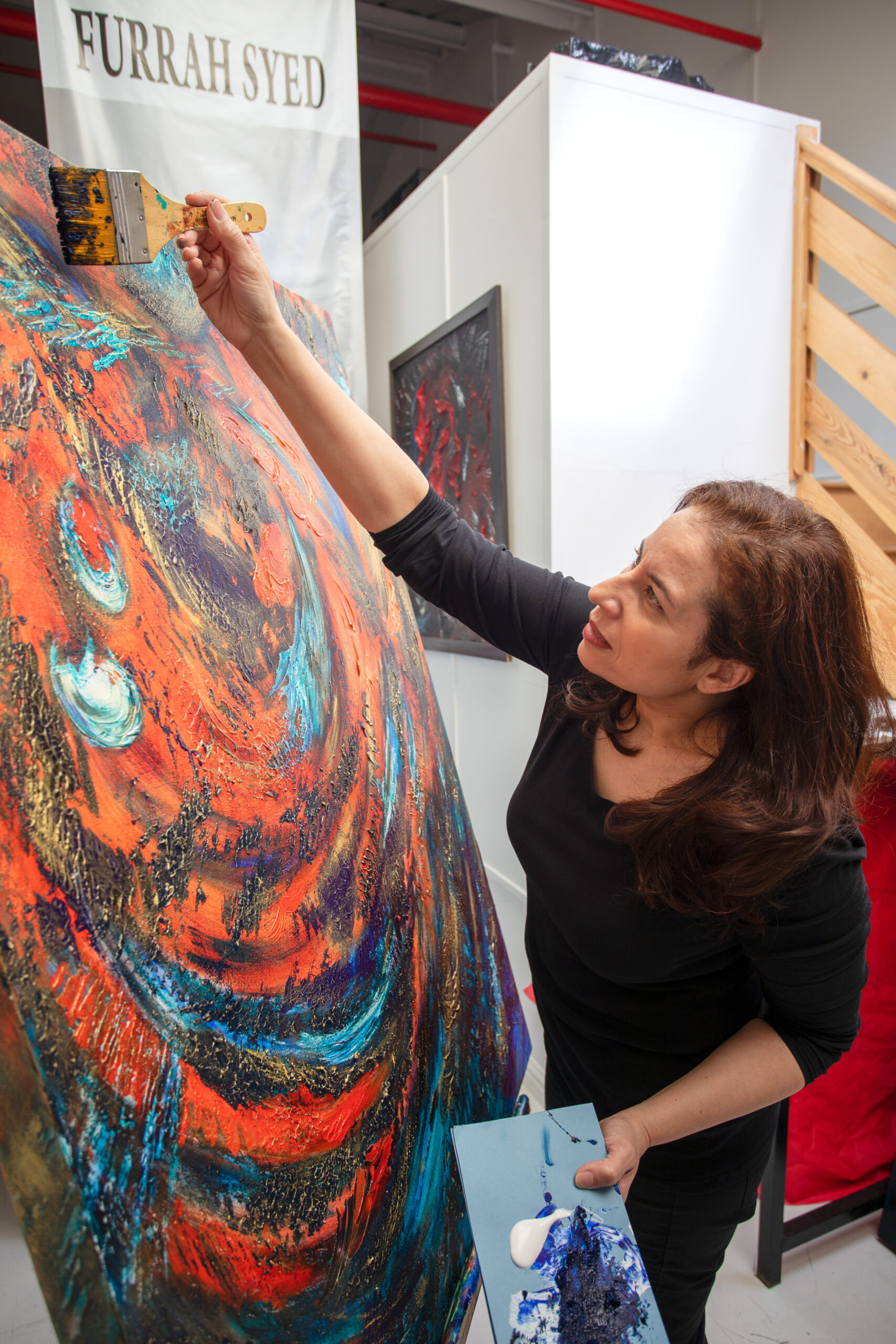 What jobs have you done other than being an artist?
There are many ! Two main professions before I became a full-time artist in 2006 were in the banking industry and corporate marketing. I am grateful for all my experiences in each profession as I learned a lot about working in corporate environments. I am one to fully commit to what I am doing which has allowed me to make a positive impact on those around me. Many lessons were learned from these periods of my life, especially how being an artist was my true calling.
Why art?
Fully embracing a career in art was not planned. When I created my first piece of art while living in Bangalore I was taken aback by what occurred. Prior to this point I had only created representational art for my own pleasure and had not explored the creation of abstract art. Trusting my instincts and putting the brush to the canvas without any restrictions brought out images that ignited my soul. I was very grateful to have very positive reactions from those who saw my works which led me to the adventure I am on now. I have not created representational art since as it does not give me the complete freedom that I experience when working on a piece of abstract art. I also value the open ended interaction that abstract art (without a title) gives the viewer and my collectors.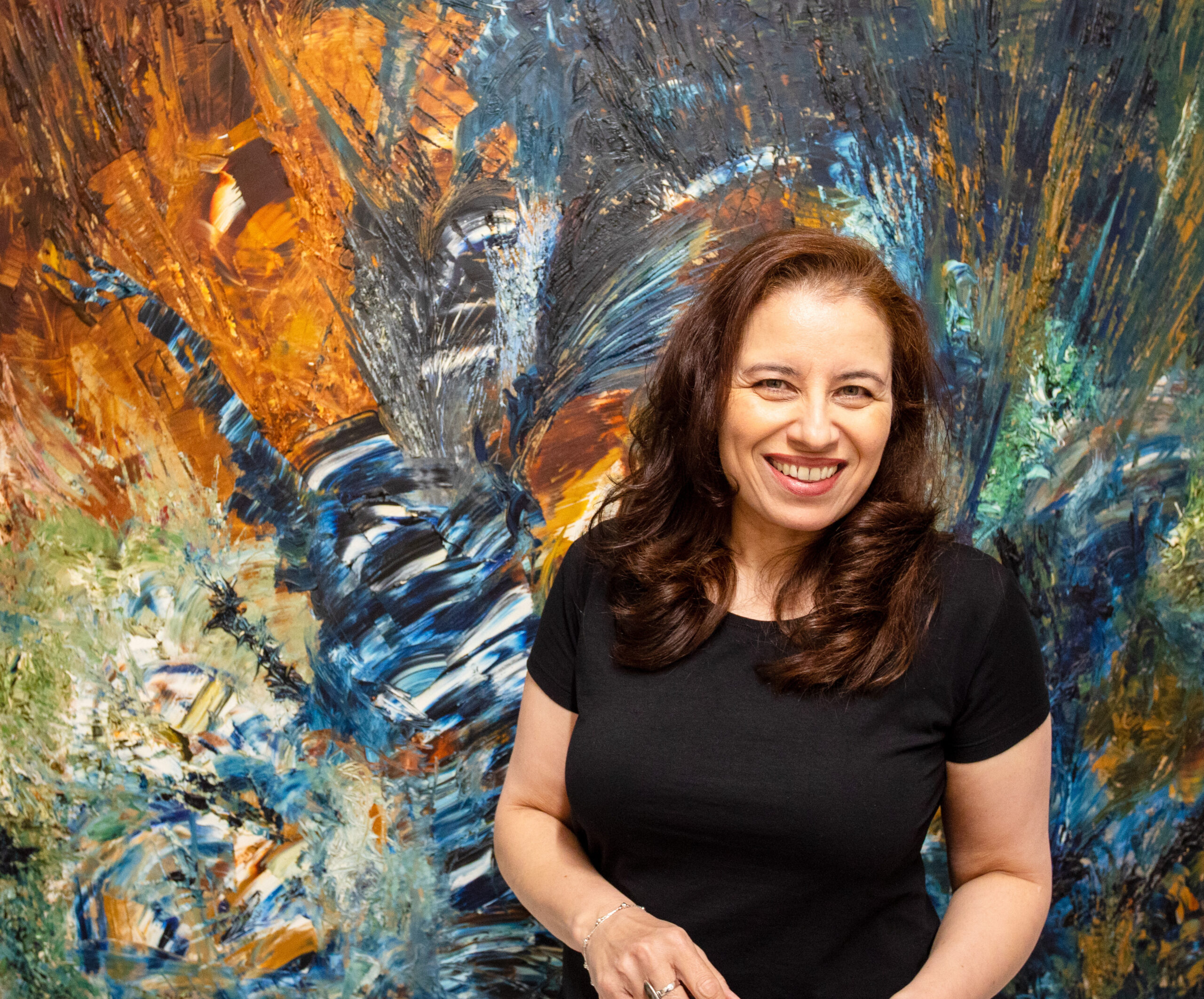 What is an artistic outlook on life?
Through an artistic perspective, seeing and feeling things that evoke emotion inevitably ignites inspiration and creativity. You could walk past a tree and just see a tree, or you could stop and look at the trunk, the markings, the depth of the crevices, and the colour range on the surfaces. You could notice the varying thickness of the branches, the changing colours of the leaves, the veins in those leaves, the differing sizes of the leaves, and all the new leaves sprouting out. The artistic outlook encompasses taking time to engage and appreciate the small details. Have gratitude for the beauty and inspiration that surrounds us. Don't get me started about cloud formations !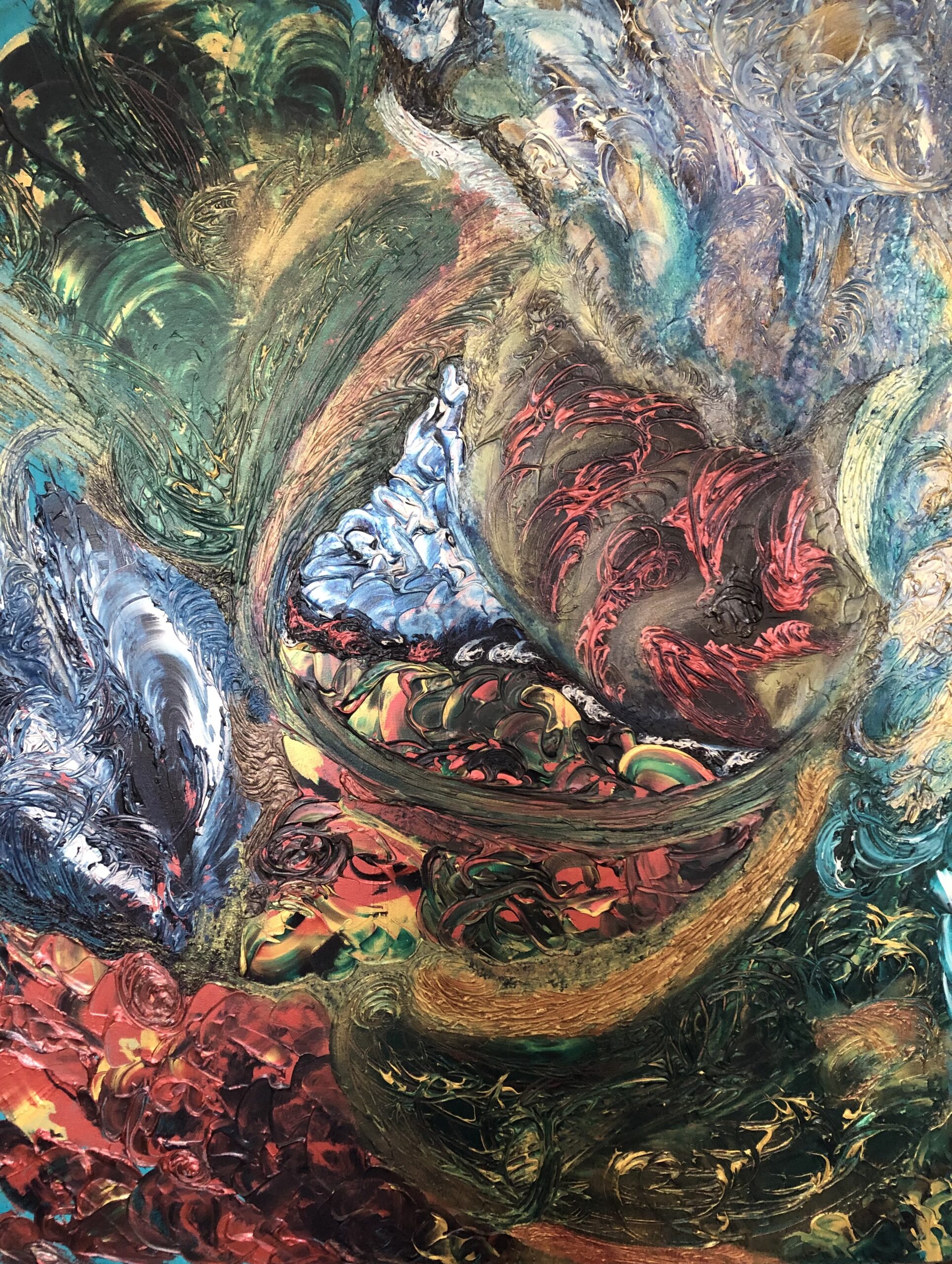 What memorable responses have you had to your work?
I am grateful to have had many deeply emotional responses to my work. I had a journalist from New York visit my studio to interview me prior to my first solo show in Bangalore. I had to leave to take a call, and when I returned, she was observing my piece 'Orianna' in tears. Somehow 'Orianna' evoked emotions from a deep place that she could not pinpoint, as she had never reacted to a piece in this way before. Similarly, during my Art Appreciation Workshop for the Blind and Partially Sighted at The Museum of Modern Art in Sydney, one of my participants was a young lady who had lost her sight in a car accident, prior to which she was an enthusiastic artist. The workshop was the first time she realized that she can absolutely still create art and it gave her such a sense of joy. She asked me to meet her mother after the workshop who thanked me for igniting creativity into her daughter again.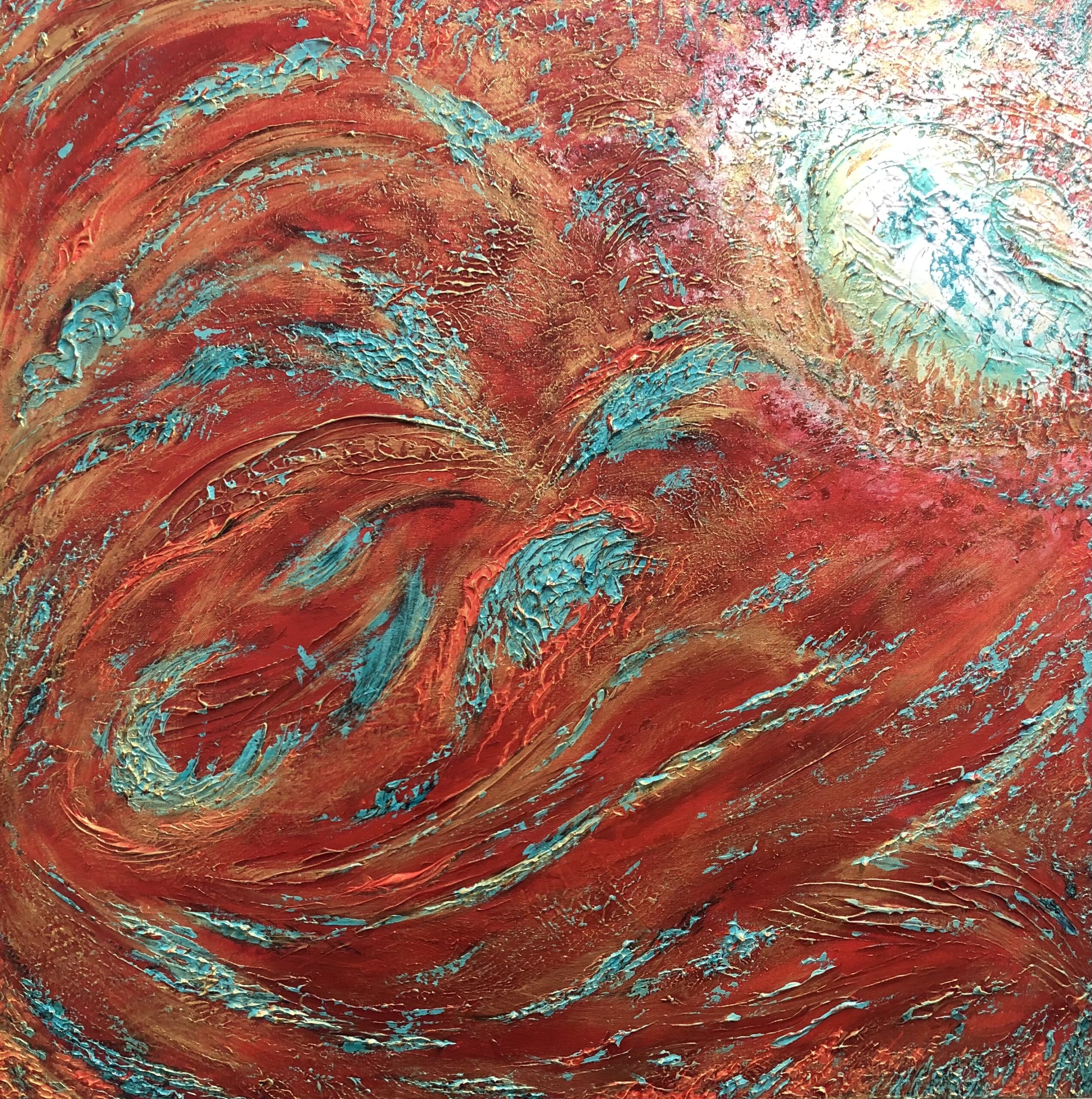 During one of my workshops in Hong Kong, I had many reactions from blind participants who shared that this was the first time they were asked about art let alone be invited to experience art using the sense of touch. They felt valued and empowered. Having proven hundreds of times via my workshops that we can all physically feel colour energy without the need for sight has provided me with many memorable reactions from not just the blind participants but also the sighted volunteers at the workshops.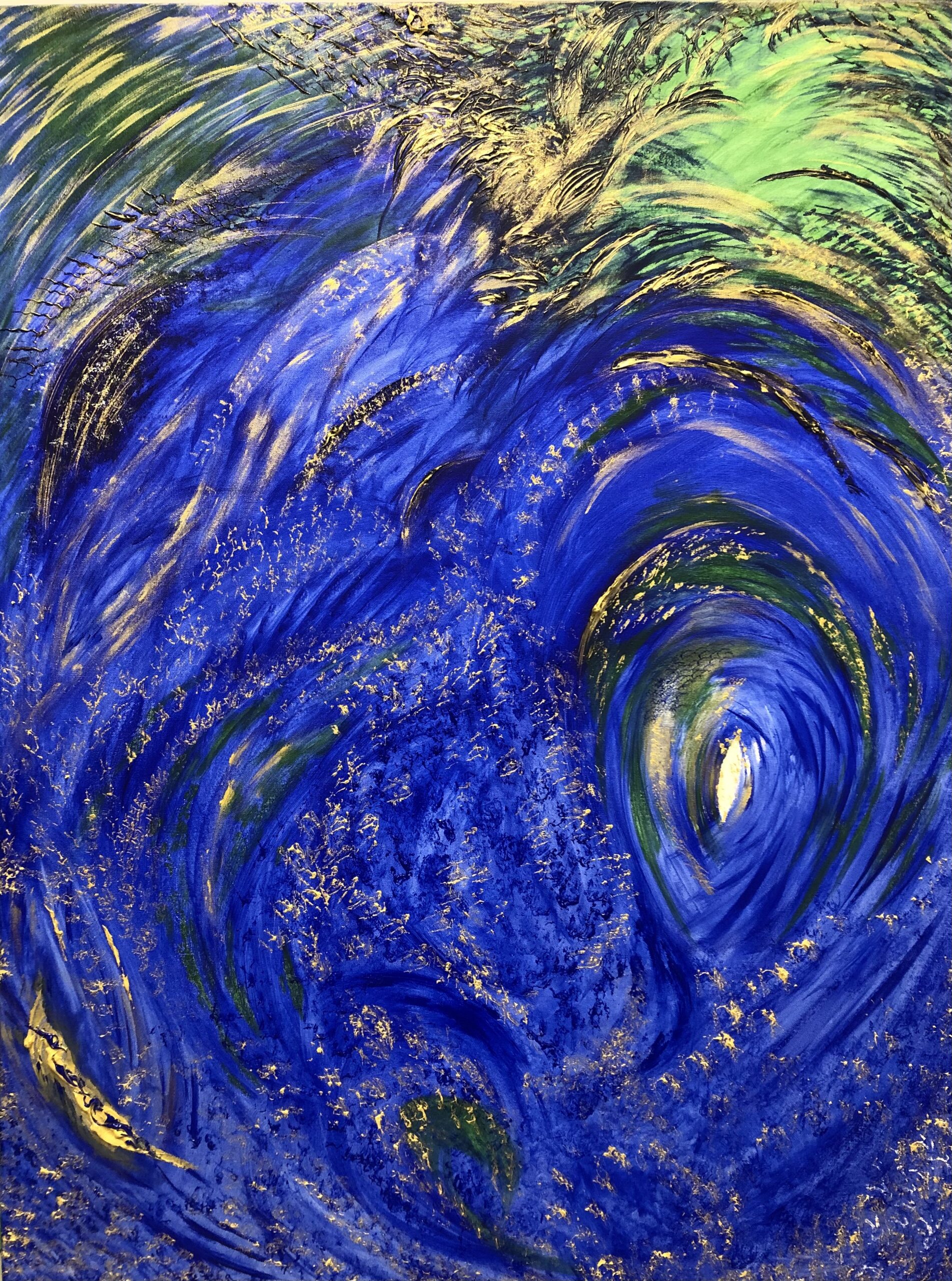 What food, drink, song inspires you?
I love spicy foods with incredible flavours so Indian cuisine ticks all the boxes ! A lovely fruity mocktail with some sparkle would be my choice of drink. Music is food for my soul and I love most genres. Pieces such as 'Time to Say Goodbye' by Andrea Bocelli and Sarah Brightman that ignite goosebumps are my main sources of inspiration.
Is the artistic life lonely? What do you do to counteract it?
I never feel lonely. I love company and am very grateful for my incredible friends and family, but I really enjoy being on my own whether I am working or resting.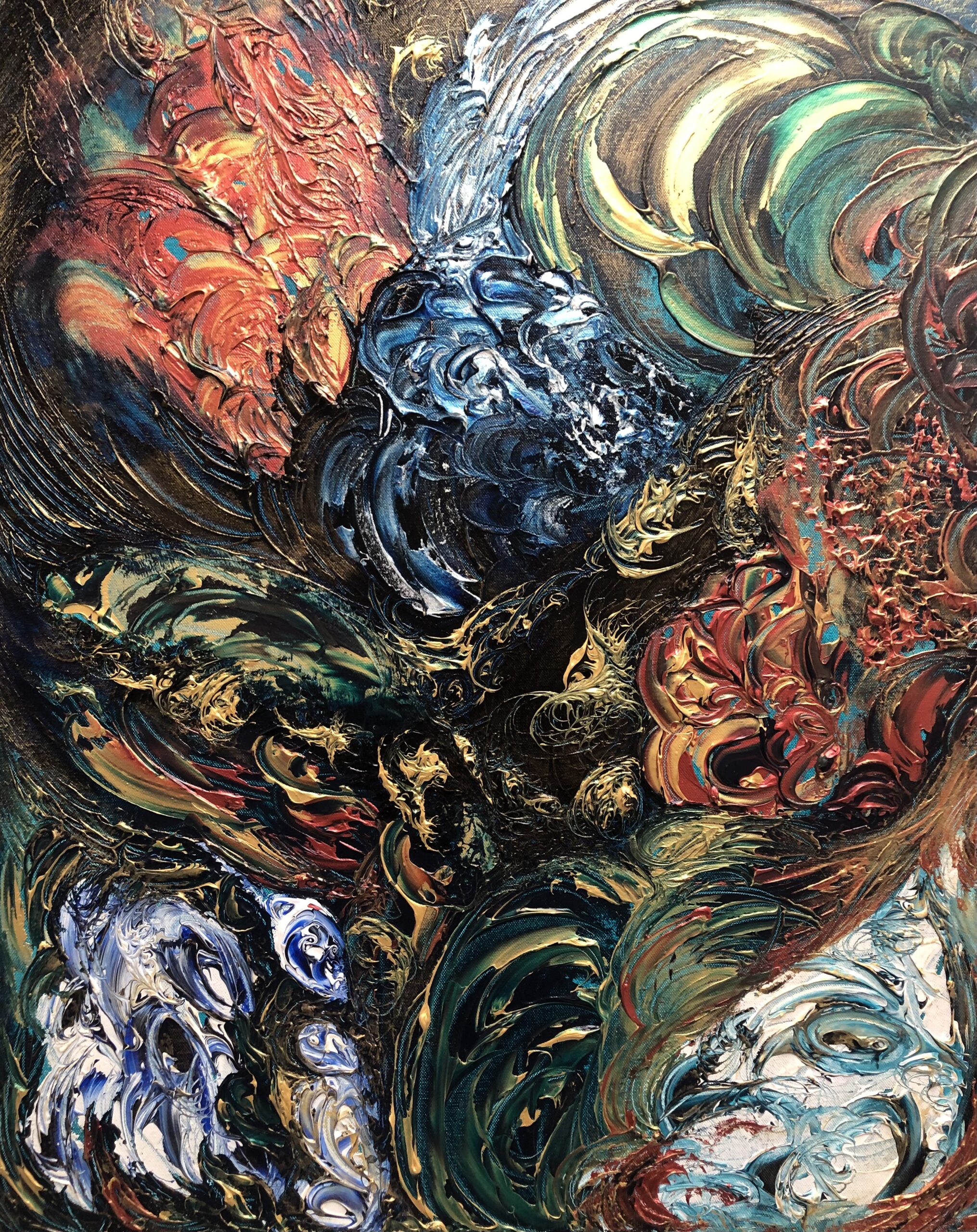 What do you dislike about the art world?
I dislike the pretentious elitism the art world sometimes exhibits which understandably deters some audiences from interacting with art. I prefer the actual emotional connection the audience has with art and how it is appreciated rather than the focus being too much on the monetary aspects of a piece.
What do you dislike about your work?
I am very grateful that I have trusted my process and it has nourished my soul. I do however wish I had more time to be involved with many other projects that I am passionate about.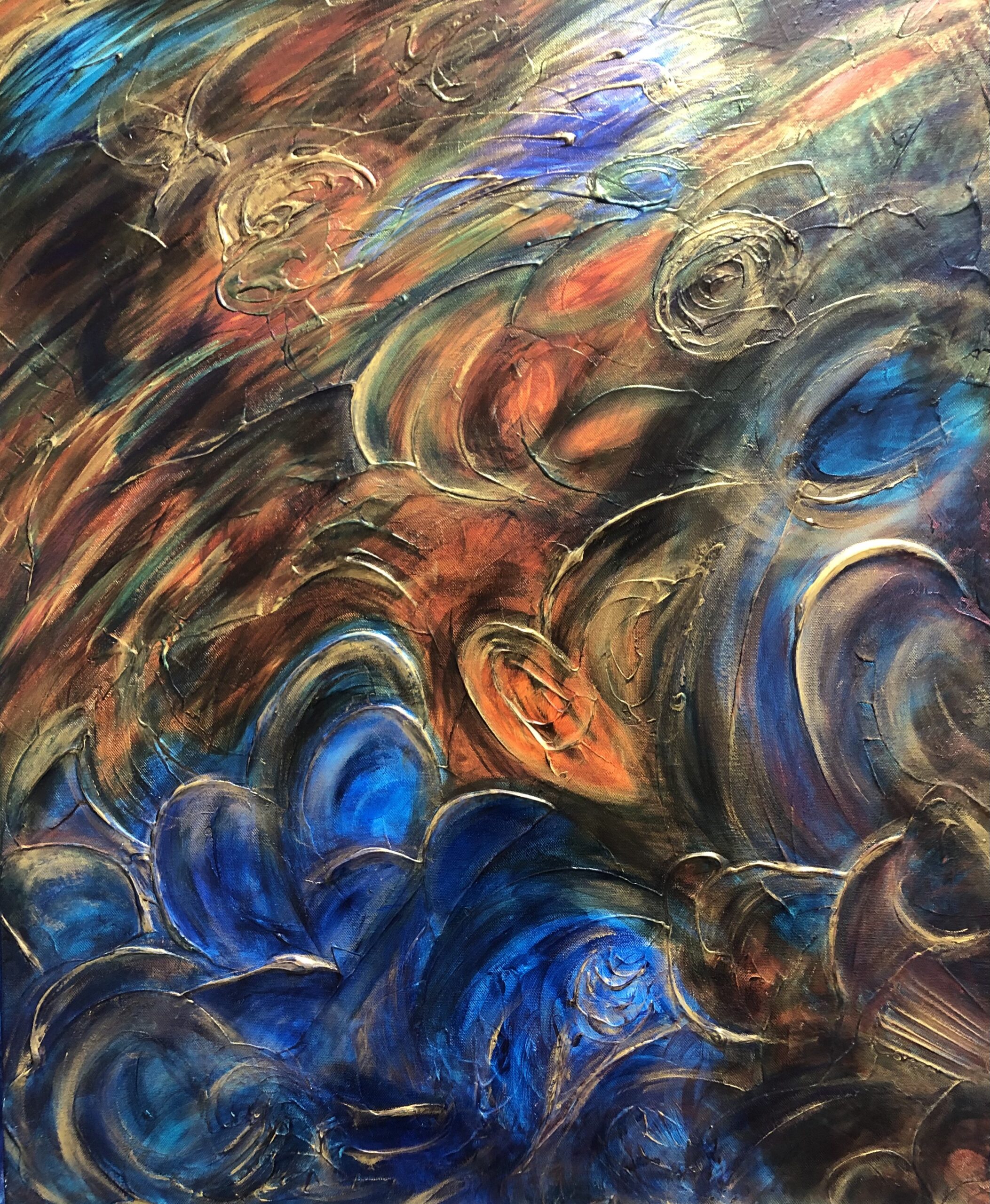 What do you like about your work?
Knowing that by trusting my inner energies unexpected visuals emerge onto the canvas. I am very grateful that my pieces are in collectors' homes all over our beautiful planet. It is always a pleasure hearing how my art sparks conversation with guests in their homes, and how the uninhibited and multi-faceted way they can be experienced adds to the unique nature of the piece. My works can be viewed in any orientation, can be explored using the sense of touch, the surfaces change with any alteration of light and they are untitled (names are for reference purposes only) which greatly values the viewer's reaction.
One of the things I love is how interacting with children through art from an early age empowers them and keeps their imagination alive. In today's digital world, this is very important to preserve as engaging with art encourages children and adults to stop and connect with their creativity in a deeper way, allowing them to learn more about themselves. I love collaborating with the blind community globally, working with various institutions to demonstrate the power of art in improving our well-being and igniting creativity in ways they may not have previously believed possible.
Should art be funded?
Absolutely yes ! There needs to be more support for artists who are starting out in their art and creative careers. Funding would assist the undiscovered talent in our communities and would encourage people to engage in the creative industry which may not have been an option for them without financial support.
What role does arts funding have?
The role of arts funding is to allow artists and creative communities to enrich other creatives and provide space for education and development in the artistic field. It can also create opportunities for business education in the art industry. Funding will positively impact those who do not have the connections to support or create opportunities for artists starting out. Financial assistance will impact greatly with this and will allow the artists to pursue their creative goals.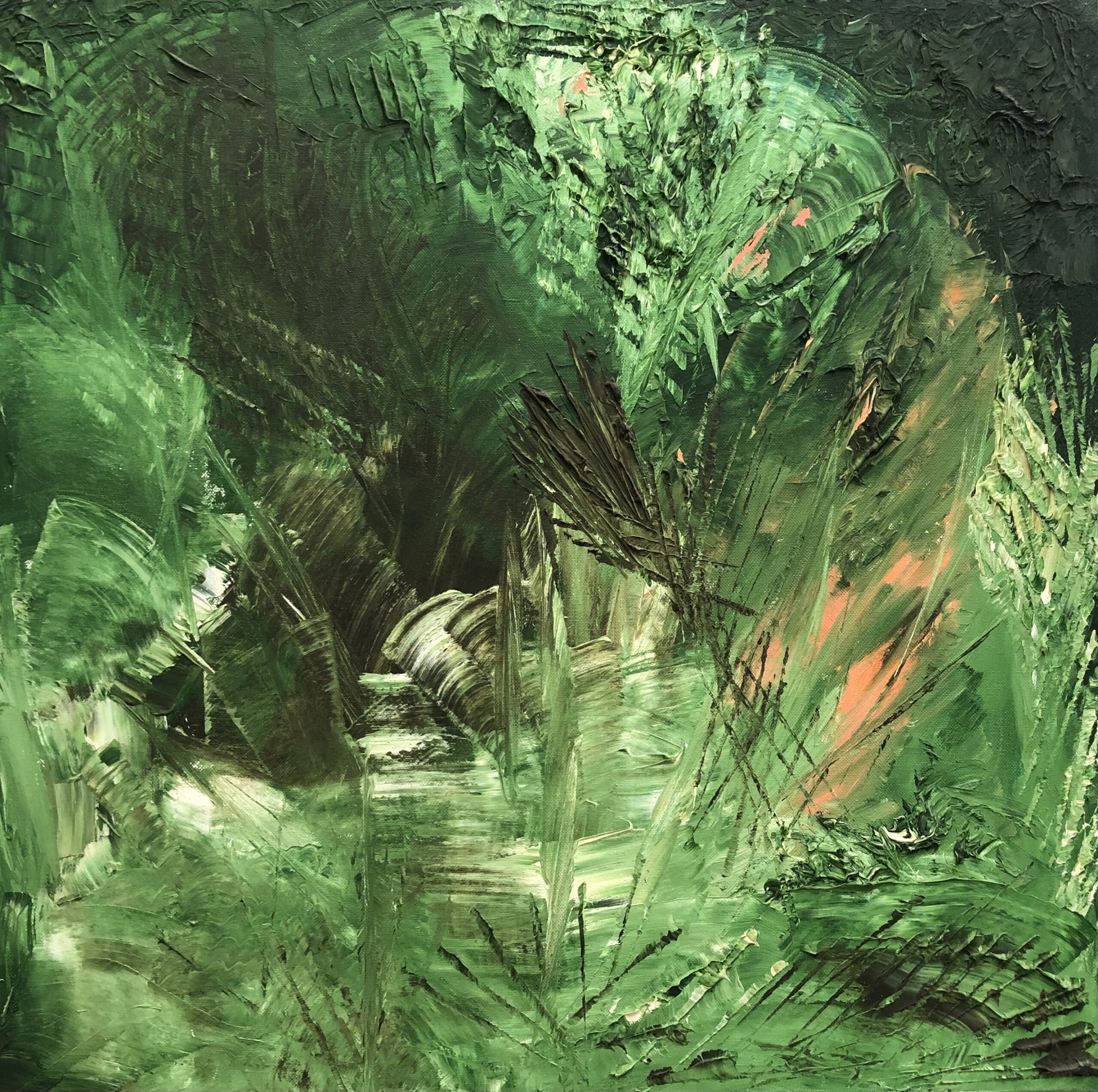 What is your dream project?
I would love to work with Andrea Bocelli and Stevie Wonder, both incredible blind musicians, to widen access to art by demonstrating to others the ability to explore art using the sense of touch without the need for sight, also highlighting the alignment of art and music to ignite emotion, inspiration, and creativity.
Name three artists you'd like to be compared to.
Lee Krasner, Elaine de Kooning and Wasilly Kandinsky
Favourite or most inspirational place ?
The Maldives. We stayed at a beautiful resort in the northern atoll which had a house reef. I will never forget what I saw underwater every day from morning till evening. I was so mesmerized by the sea life and the stunning coral reefs that I spent most of my time in the waters. I have created many works which were (and still are) inspired from the magical scenes that are in my heart forever.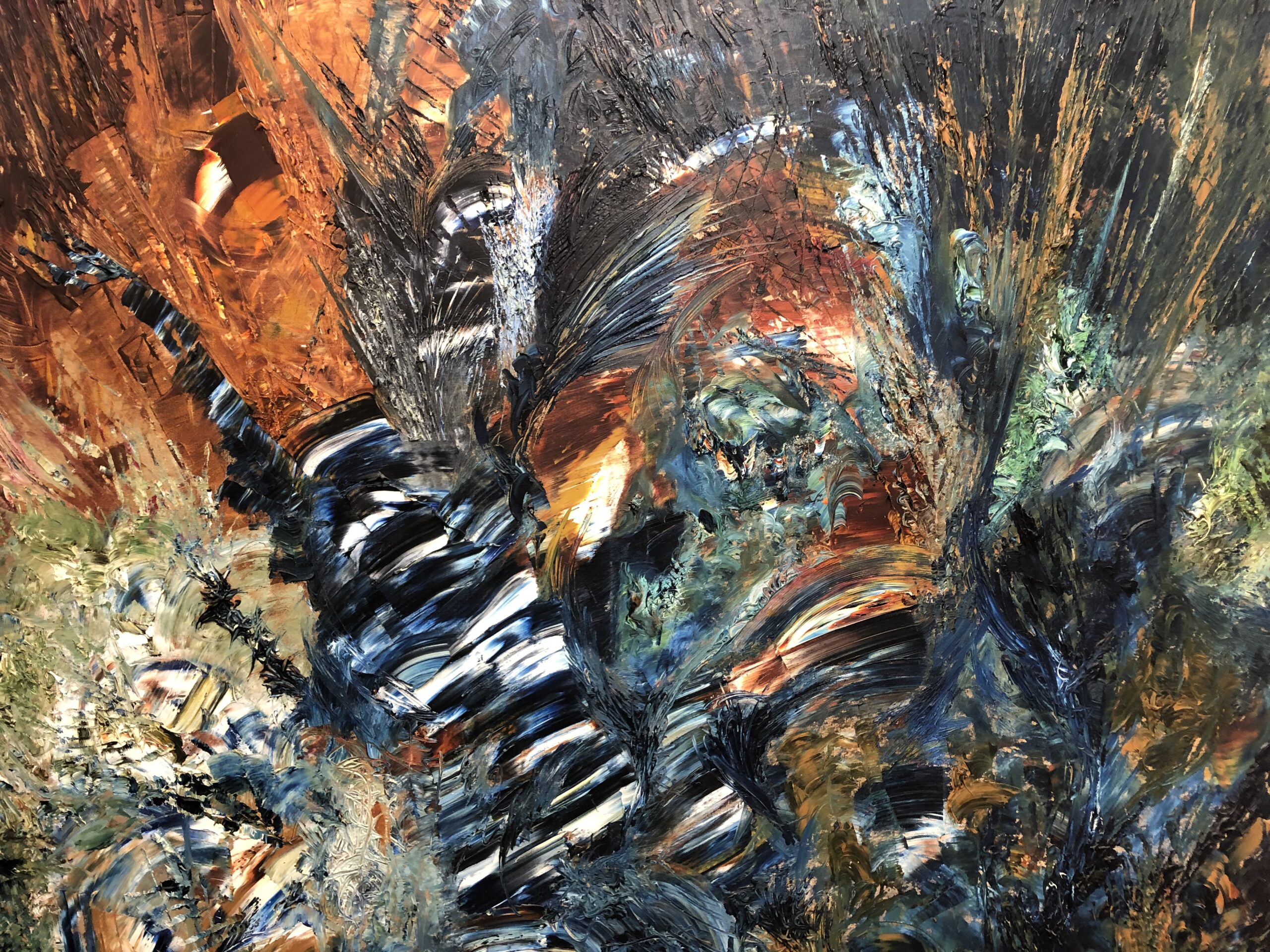 What's the best piece of advice you've been given?
Do not let others deplete your energy. That you have the power to create and nurture the future you desire. Also, the power of kindness is priceless.
Professionally, what's your goal?
My goal is to have a global ethos that celebrates the power of art and highlights the necessity for art to be accessible to all. I wish to collaborate with organisations such as The United Nations to make art and creativity available to all corners of our valued communities, and to share the fact that we can all physically feel colour energies without the need for sight and explore how this can enhance our lives and improve design in all areas of many industries.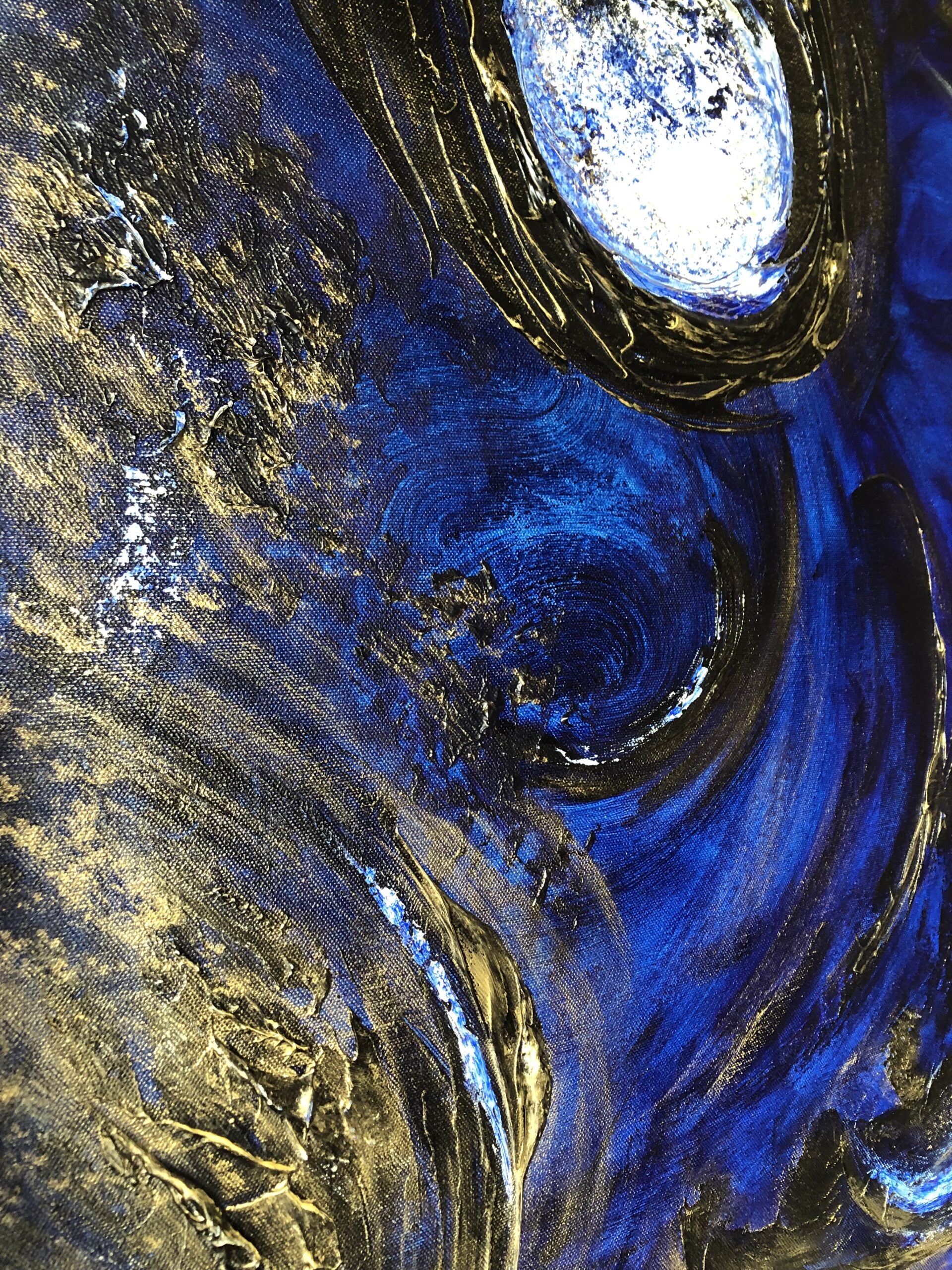 Future plans?
I am very excited about two series of my works that I am in the process of creating right now.  A recent commission for a deeply personal portrait of a collector based on his unique colour aura composition and then a piece that combines the auras of his family. I am also delivering my bespoke art workshops at a luxury wellness retreat with Form Wellness in the magnificent setting of the Scottish Highlands in October 2023. Soon I will be collaborating with the stunning Kalukanda House in Weligama, Sri Lanka next spring which is the result of a union of kindred spirits and the recognition of how important it is to support soulful female creatives.