The work of Cindy Press celebrates women by exploring the connection between our physical bodies and personal identity. Inspired by fashion, photography and popular culture Press references personal issues, sexuality and gender as a central theme in her work.  Inspired by magazines, photography, and popular culture Press considers how style reflects how we engage with the world around us. "Often times it's a gesture or pose I am interested in, it's there that I see the history of figure or portrait painting. Clothes are a personal decision and what we choose to wear is the way we express ourselves and connect with the world around us".
Born and raised in Philadelphia, Press is a graduate of Moore College of Art and Design. Being a fashion illustration major at Moore prepared her for decades of success in the fashion design world. She went onto work with artists such as Peter Max, an iconic painter of the 60's and 70's, interpreting his artwork into wearable art.
By merging her knowledge of fashion, the human figure, her life as a woman, mother and artist Press's artwork forms a narrative that speaks to both men and women. Her female characters are inspired with an array of human emotion that goes beyond gender or age. She does not objectify the subjects of her paintings and drawings but instead seeks to capture their drama, confidence, sex appeal and charm. Press likes to emphasize the provocative, challenging the viewer to think even if it makes them uncomfortable.
Her style is heavily influenced by contemporary fashion photography from the 60's to present time. While her signature is the way she transforms black and white oil paint on canvas Press likes to surprise with the occasional sprinkling of color added to the mix. Her process is evolving as she photographs her own subjects and merges them with parts of found images. Press's work has been exhibited worldwide and is in private collections around the globe in major hubs such as New York, Los Angeles, Miami, London, Sydney, Dubai and Hong Kong. Some of her clients include Bloomingdales, The Four Season's Hotel, The Thompson Hotel Group and AIDA Cruise Line.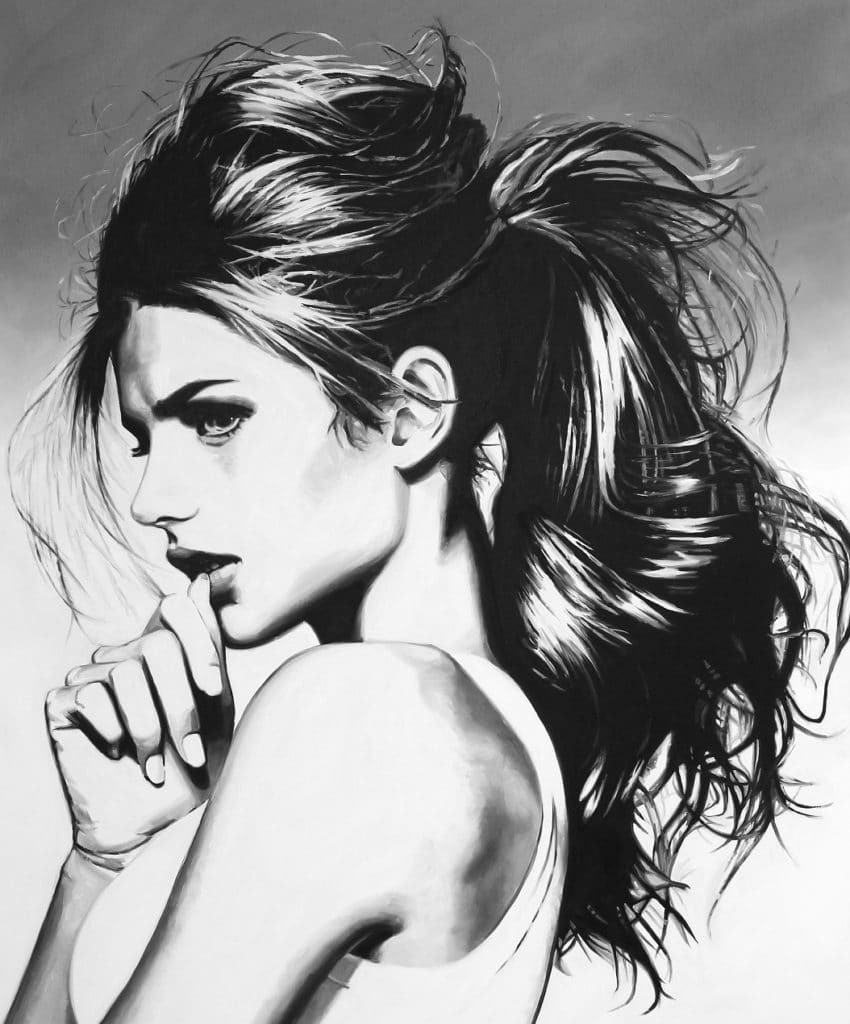 What's your artistic background? 
I have a BFA from Moore College of Art And Design in Philadelphia where I studied Fashion Illustration. I then went on to work in the fashion industry in New York for 15 years as an artist and designer. Six years ago I started painting professionally and have been a professional contemporary figurative artist ever since.
What's integral to the work of an artist?
It is integral for an artist to have discipline. We create our own art practice; we don't have a boss who gives us assignments so without being disciplined to build our own path we would have no art career.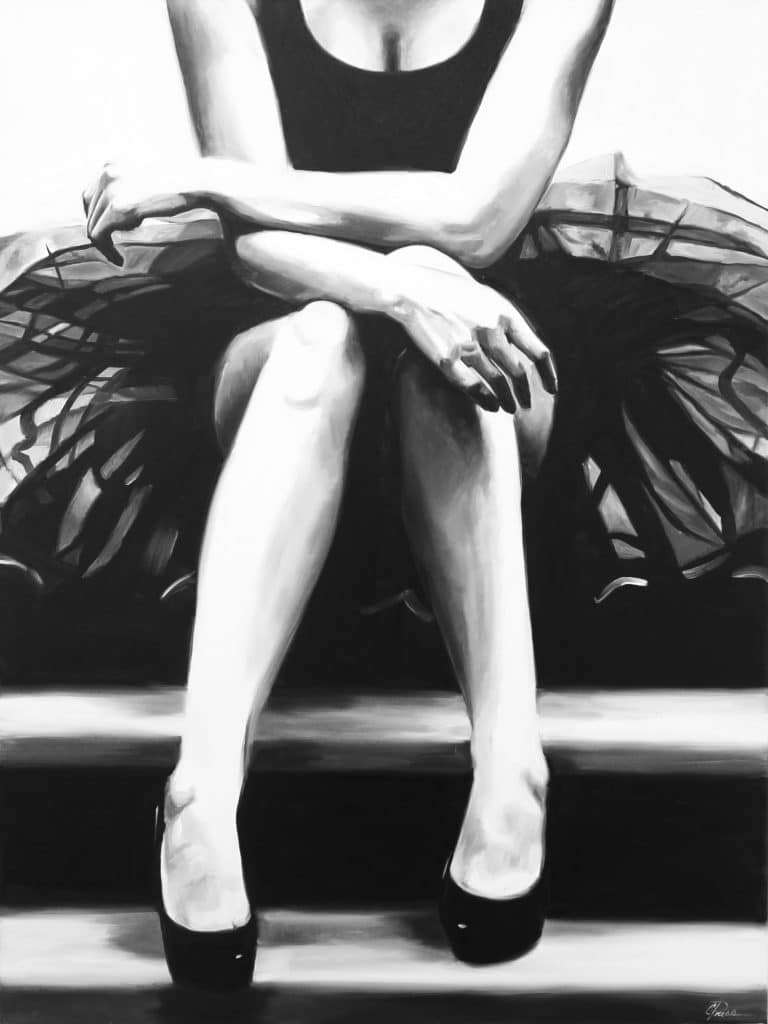 What role does the artist have in society? 
I believe it is the artist's role in society to document the time they live in so that all the others who come after us see what society was like during our time. There are so many ways an artist can do that, I choose to do that by telling the story of what it is like to be a woman living today and to give a sense of how we dressed, our style and approach to life.
What art do you most identify with?
The art I mostly identify with is contemporary figurative painting and contemporary fashion photography. Both are major inspirations for my own art.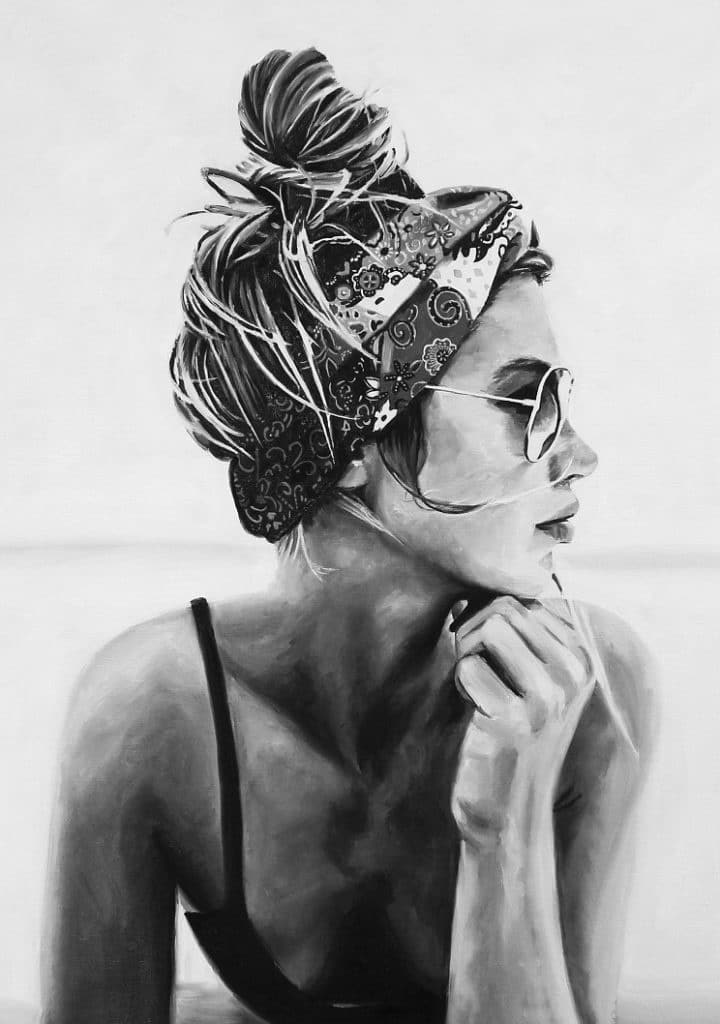 What themes do you pursue? 
The themes I pursue in my work are about women. I hope to tell the story of our everyday lives, the good, the bad, the happy and the sad.
What's your favourite art work? 
I do not have a favorite artwork; it is too hard to choose just one.
Describe a real-life situation that inspired you? 
Two years ago I was in The Roxy Hotel doing a model shoot for my paintings. I was told by the security guard I was not allowed to take photos and had to stop. So the model and I went downstairs to the bathroom, which was beautifully decorated, and finished our shoot in there. This became the inspiration for my 'Ladies Room' series.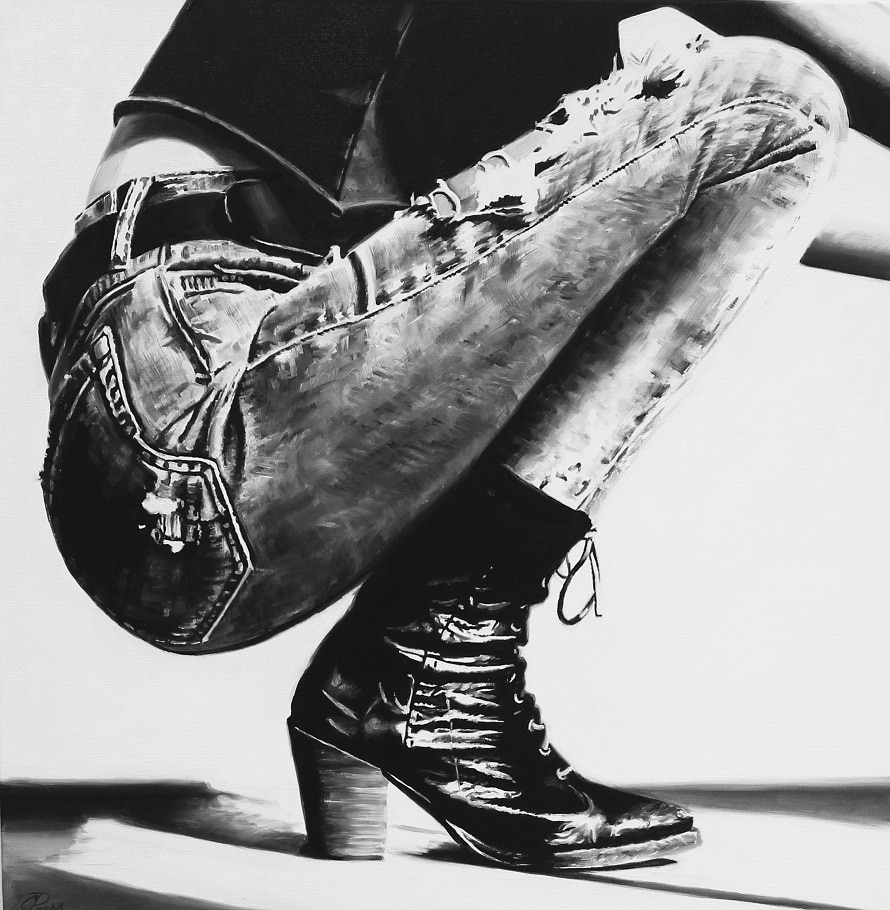 What jobs have you done other than being an artist? 
When I was 16 I worked in a shoe store for women but even then I was surrounded by fashion so even that part of my life has had an influence on my art career.
Why art? 
Because there is nothing else that feeds my soul the way art does.
What is an artistic outlook on life? 
For me it means everything I do is inspiration for my work. Every interaction between me and someone else could be the start of a new painting or could spark a new idea.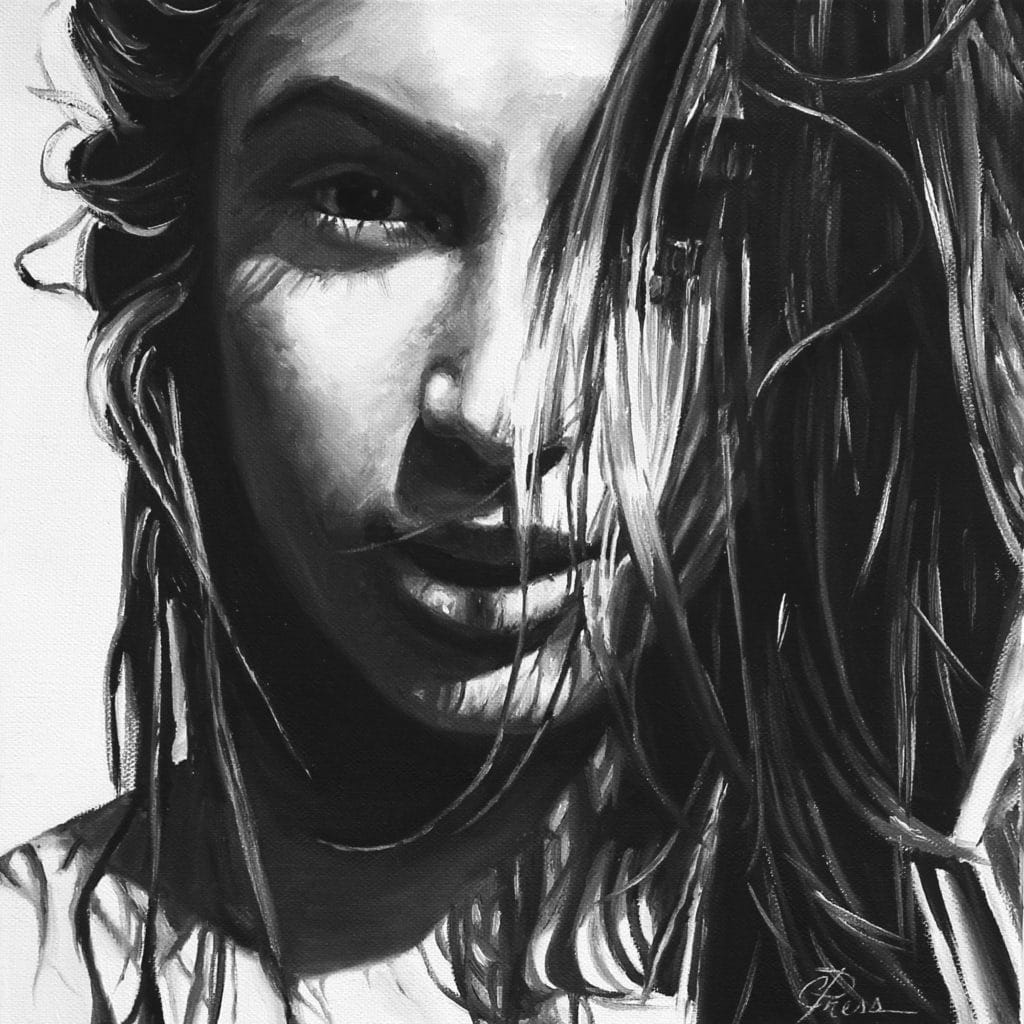 What memorable responses have you had to your work? 
I have had people relate to my work as if a particular piece is about them or even of them. Many women have told me they think a certain painting is about them. I love that because that is exactly how I want people to feel.
What food, drink, song inspires you? 
I am often inspired by songs and listen to music all the time when I work. Different songs inspire different pieces but I often try to do what song writers do with their lyrics in my work. I am always trying to express the same emotion without using words.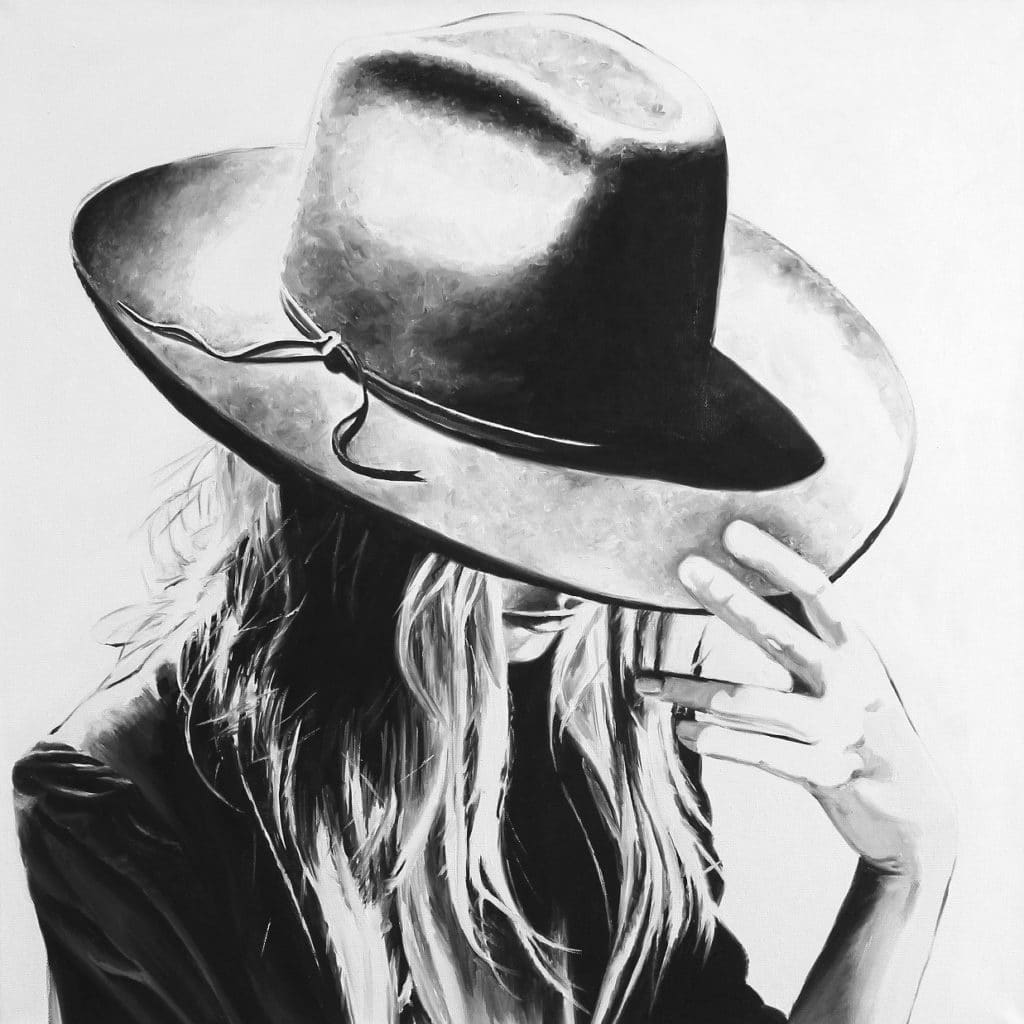 Is the artistic life lonely? What do you do to counteract it?
I don't find it lonely at all, I love what I do and would not be able to focus if I had many people around me all day. I have a wonderful group of other artist friends and we often get together to go to galleries and art fairs.
What do you dislike about the art world? 
I don't like how at the very top only a few are making the rules about which artist matters. I also don't like that networking is such an important part of getting ahead. I know that happens in all industries but it seems particularly important in the art world. A fabulous artist cannot just walk into a gallery anymore and ask them to look at their work. If you don't have a connection to that gallery they usually won't give you the time of day.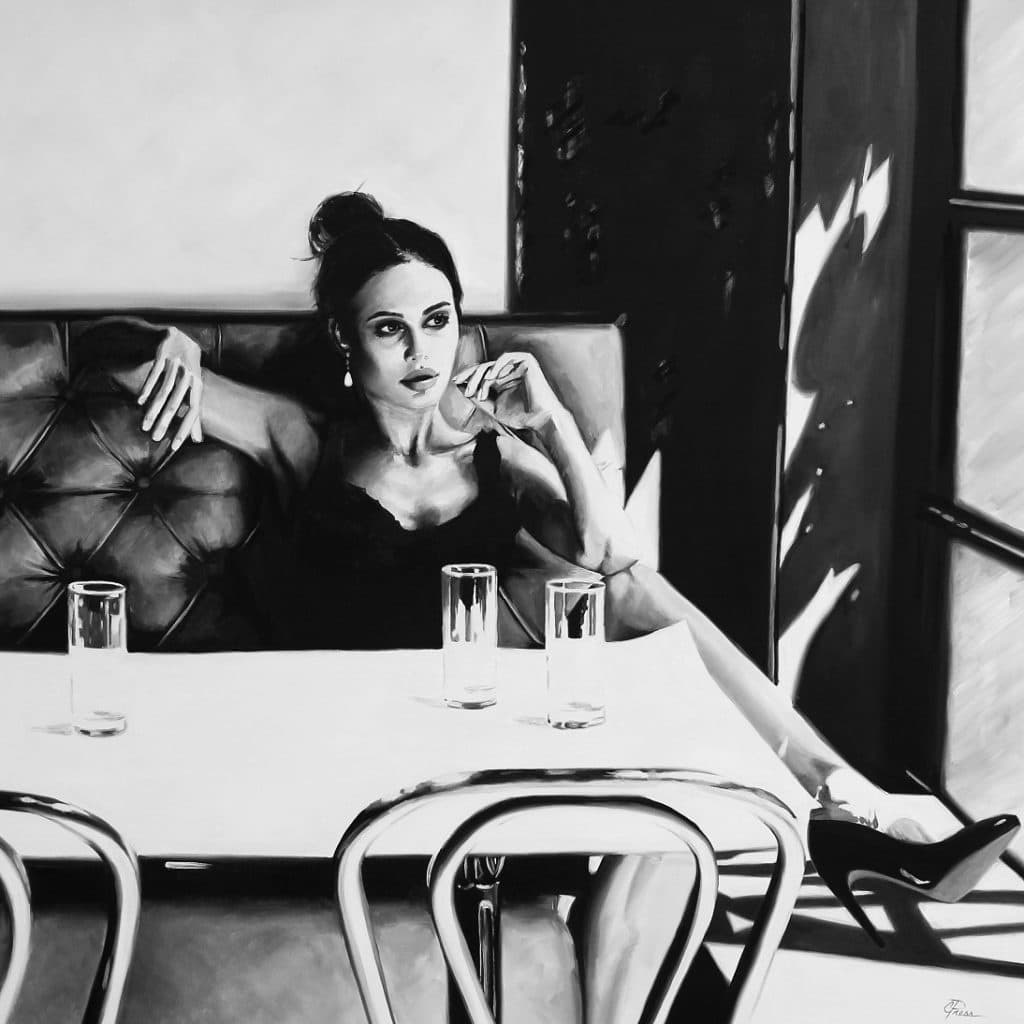 What do you dislike about your work?
I don't like that I am unable to be looser, more abstract, within my work. It just does not come naturally to me, I've tried and I am never happy with the result.
What do you like about your work? 
I like that I am able to capture a moment in time and portray emotion with a brush, some paint and a canvas.
Should art be funded? 
Sometimes art is funded and it would be a wonderful thought to think all art could be funded. I just don't see any way that 'all' art could be funded.
What is your dream project? 
I have a few dream projects; one of them is covering an entire room with my black and white mini paintings. They are 12" x 12" and I would love to do a pop up show in NYC where I cover all walls, floor to ceiling, with my small paintings.
Name three artists you'd like to be compared to.
Chantal Joffe, Amy Sherald, Elizabeth Peyton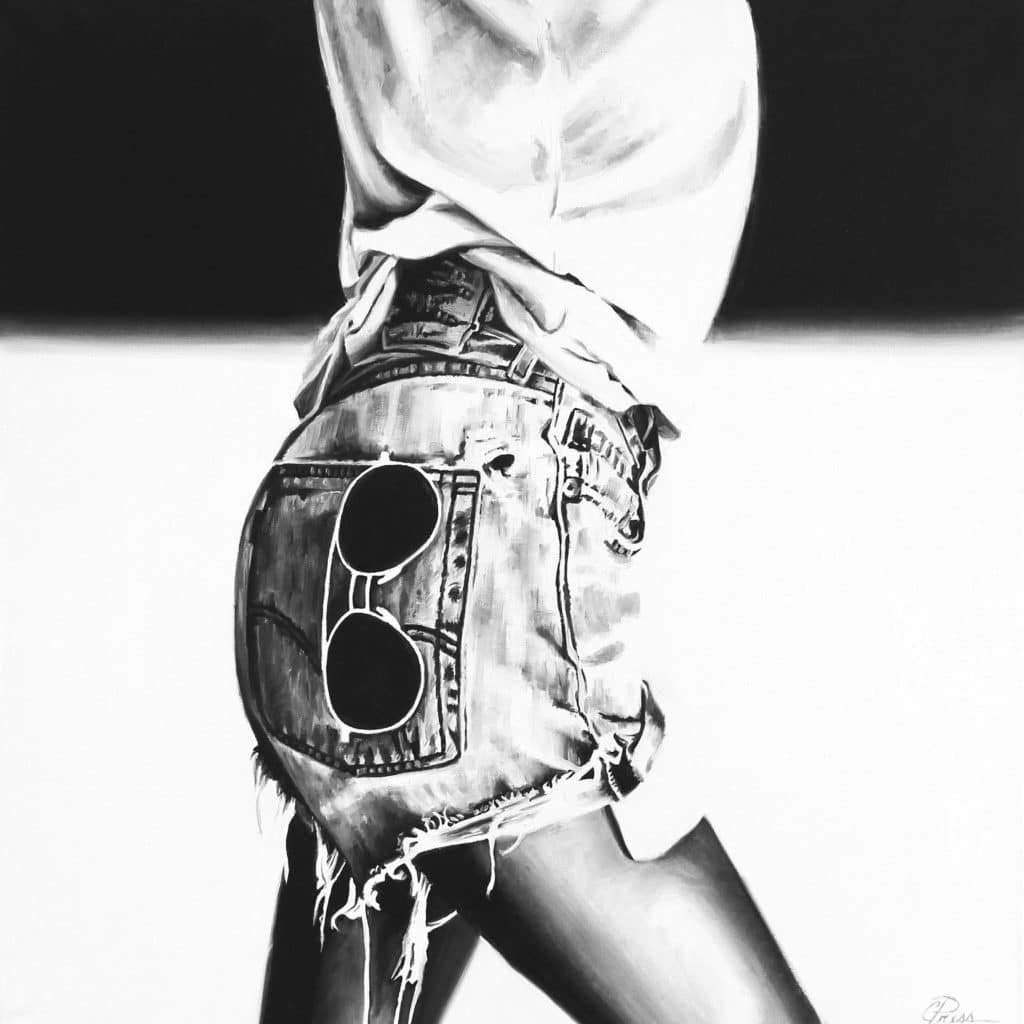 Favourite or most inspirational place? 
New York City!
What's the best piece of advice you've been given? 
When I first started painting again, 6 years ago, I met with someone who has been in the art world since the 60's. He told me the best thing you can do as an artist is network, network and network! He was right!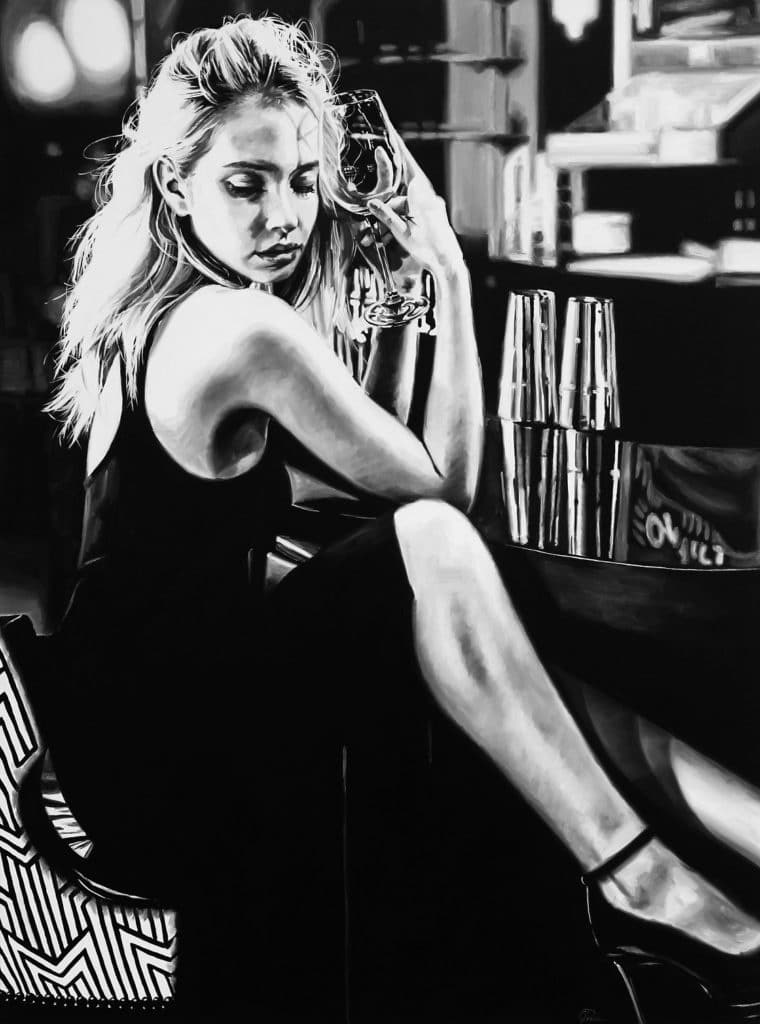 Professionally, what's your goal? 
My big goal is to brand my work in a way similar to a clothing brand. To have elements of my work affordable for everyone and still keep the integrity of my original paintings.
Future plans? 
Now that cities are opening up and the pandemic is under control in many places I am excited to be planning shows and art fairs again. In the immediate future I have a pop up event happening in the Hamptons, NY next week and then an art fair in LA this fall. I am also hoping to get to Miami for Art Basel this year. It's just wonderful to get back to real life!