Valentina Alexeevna is a visual artist who paints doll figures and creates abstract mixed media art. She explores identity, consciousness and the relationship between natural and artificial. She was born in Moscow, Russia. At the age of eight, she moved to Dubai, United Arab Emirates. She studied fine art in the form of private tutoring, from artists from the Fine Art Society of Moscow. She exhibits internationally; her work is a part of private and public collections.
What's your artistic background?
I loved art and everything creative for as long as I can remember. I pursued many different career paths before coming back to my true passion. In 2017, I decided to become a professional artist. I started with many different art and craft workshops, to explore mediums and styles. Then, I took private tutoring from artists from the Fine Art Society of Moscow, Russia. In 2019 and 2020, I took courses on contemporary art theory and critique in Tashkeel, in Dubai.
What's integral to the work of an artist?
Creativity, passion, a lot of effort and believing in your art. Accumulating experiences and knowledge, then expressing them through art. Experimenting and challenging yourself with new techniques, mediums and concepts.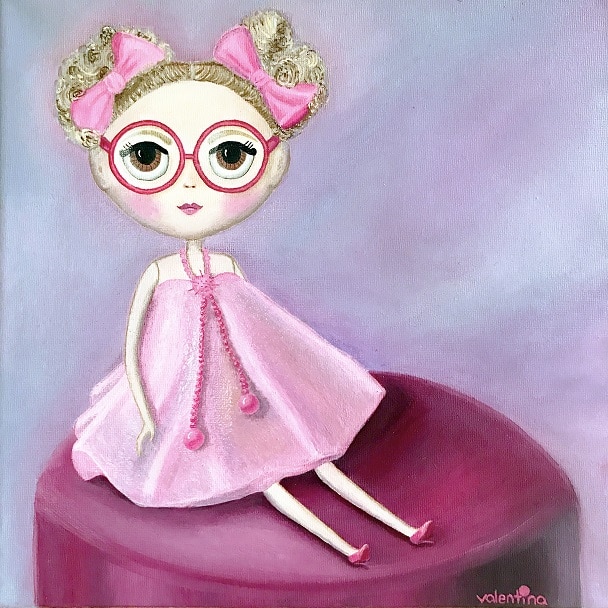 What role does the artist have in society?
Artists show concepts that question and expand our mind. Art aims to evoke an emotion and sometimes shows what does not exist in the world. Artists give life to colours and creativity, and inspire others to be creative and open to self expression. People live with art, which creates value not just by enhancing the interior but most importantly the mind. Art makes private and public spaces memorable and beautiful.
What art do you most identify with?
I paint doll figures and create abstract mixed media art. I work with canvas, paper and plastic mediums. My art encompasses colours in a limited palette, solid shapes and a focus on aesthetics with elements of glitz. United with circles, squares, 3D elements and childlike motifs.
What themes do you pursue?
My doll paintings question our society's obsession with youthfulness and explore identity and physiognomy. My abstract art examines the subconscious mind, consciousness and the relationship between natural and artificial.
What's your favourite art work?
I love all my artworks, but the most special one is My Love. It is one of my first doll painting and is a dollified version of my mother and for my mother. I really enjoyed the idea of dollifying a real person, through certain characteristics. It is a small canvas of 30x30cm, which challenged me to use miniature painting techniques.
Describe a real-life situation that inspired you?
Since I was a child, people referred to me as a doll. I grew up, changed hairstyles and fashion, while this continued throughout adulthood up until today. These situations continue to inspire me to paint dolls.
What jobs have you done other than being an artist?
From 2017 to this year I have been a freelance art teacher, where I created signature, mixed media art workshops and taught children and adults in Dubai. I was the main art teacher at World Art Dubai in 2019, 2020 and 2021, taught at festivals, organizations and art schools. Previously, I founded and ran my own business. It was a lifestyle company focusing on eCommerce, events and fashion.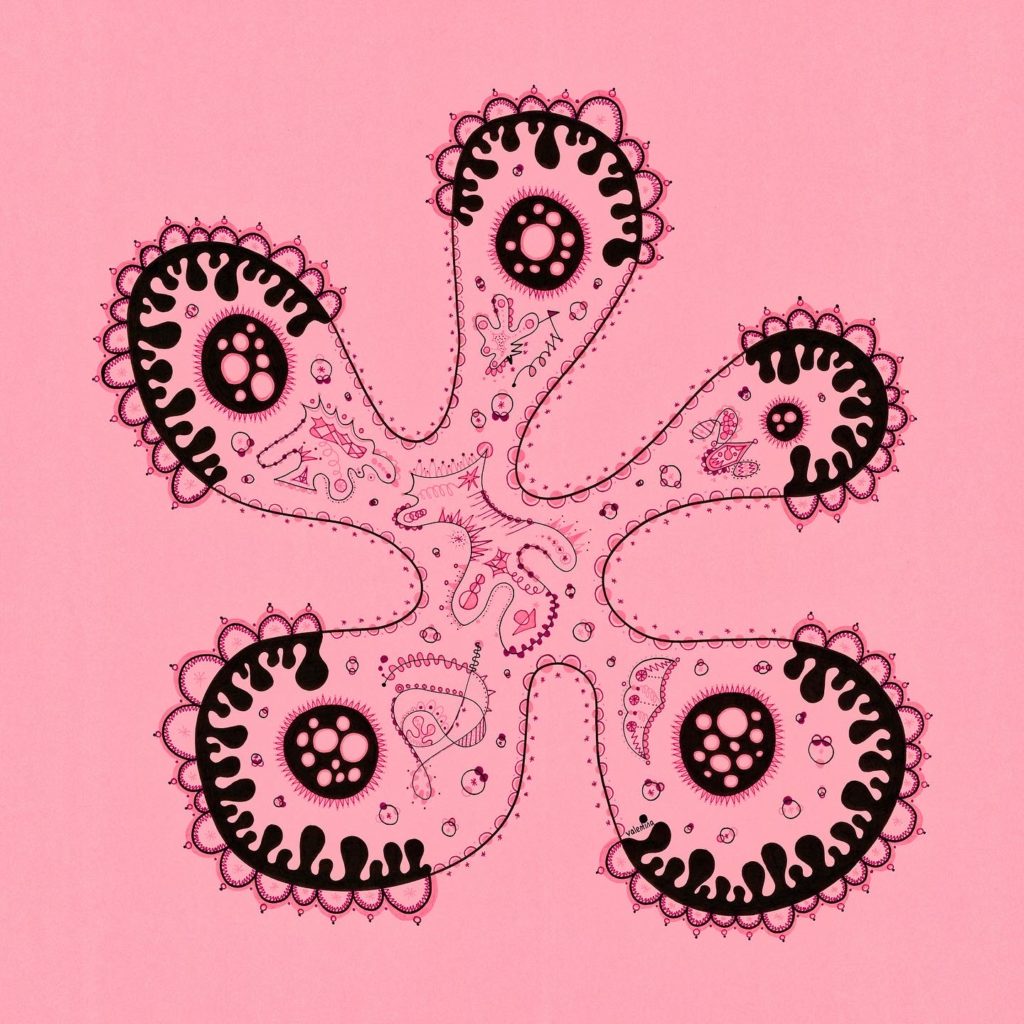 Why art?
Art is the only thing I truly loved growing up and could spend endless hours on. The creative process gives me energy and makes my life fulfilling.
What is an artistic outlook on life?
Looking through the eyes of an artist is seeing creativity, innovation and inspiration everywhere you go. It is a roller coaster of emotions and sensitivity from things, places or ideas that others oversee.
What memorable responses have you had to your work?
People get mesmerized by my doll paintings in exhibitions and then tell me that I look like a doll myself. Sometimes it happens the other way around, where they see me and assume I paint dolls. People find my abstract work intriguing, in terms of my techniques and mediums, often wanting to touch it.
What food, drink, song inspires you?
I am not inspired by food, drinks or songs; most of the time my inspiration comes from within. Doll paintings are inspired by my life and my abstract work is created through a meditative process with no references.
Is the artistic life lonely? What do you do to counteract it?
For me artistic life has never been lonely, every month there is a plethora of exhibitions where I meet my artist friends and other creatives. I am always in touch with people from the art world, whether physically or on Instagram.
What do you dislike about the art world?
Within the contemporary fine art world, the advantaged art markets (countries with most art collectors) and the dependency on them, which makes artists living in other countries at a noticeable disadvantage. Also politics, capitalist-driven art with no true artistic value and the over-intellectualization of art concepts.
What do you dislike about your work?
I love my artwork, but working with highly toxic materials makes me question long term health effects. I work with reflective, 3D mixed media and I find it difficult to photograph my work in a way that represents it's true beauty, so it is sometimes undervalued compared to when people see it in person.
What do you like about your work?
My doll paintings take me back to infancy and create a strong admiration effect, which gives me the highest feeling of pleasure. I love creating unique art techniques with my abstract work, through constant experimentation with art materials, that are not often used together.
Should art be funded?
I believe in creating a taste for art from the general public and raising it's value, so that there are more art collectors. Funding would work well for conceptual artists.
What role does arts funding have?
Art funding can give an opportunity to non commercial projects and artists to develop their practice.
What is your dream project?
I would love to create a space similar to a doll house, where my doll paintings, colourful abstract works, doll inspired fashion and design come together under one roof for a complete experience, embracing a total work of art or gesamtkunstwerk.
Name three artists you'd like to be compared to.
I do not want to be compared with anyone; I would like to stand on my own, amongst great artists.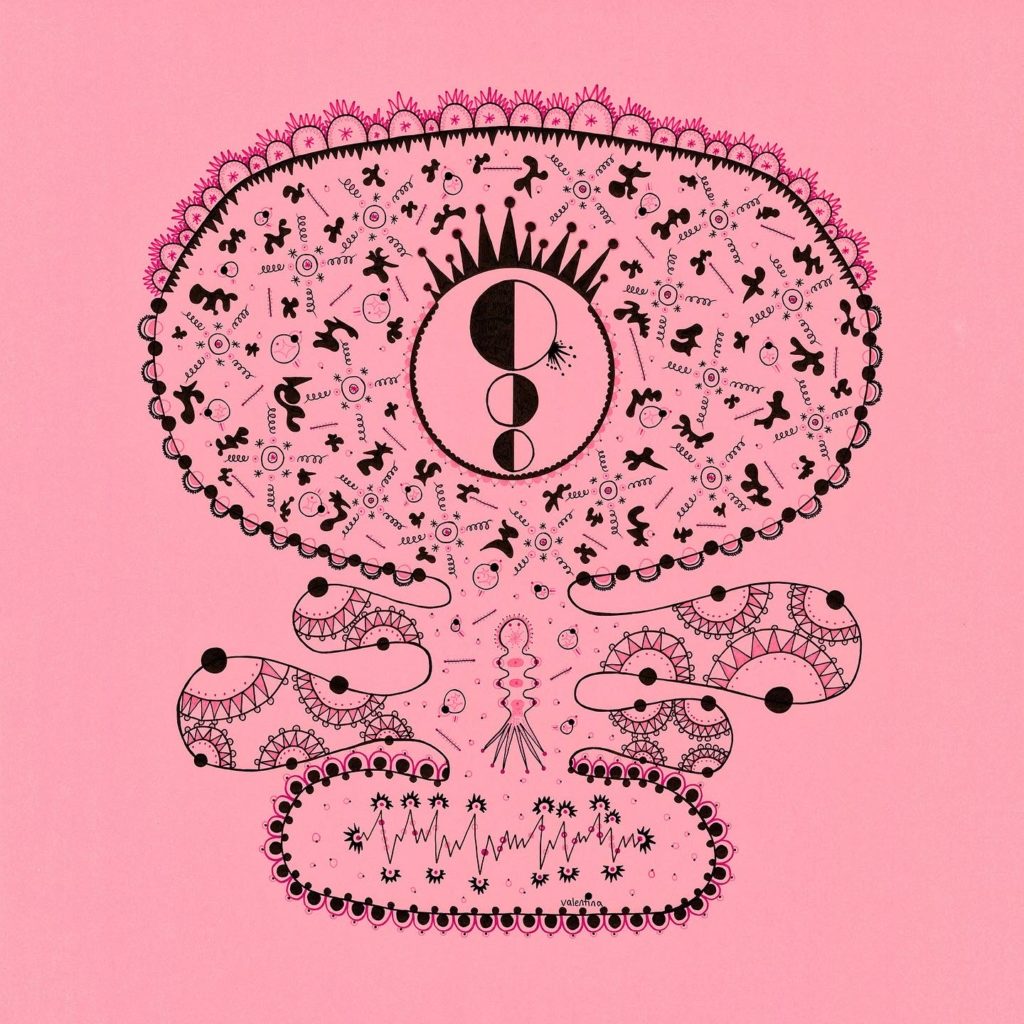 Favourite or most inspirational place?
I love the mountains, being surrounded by this landscape makes me forget about the world and gives me energy and motivation to achieve anything. One of the most beautiful places I have ever been to was Altay region in Siberia, in Russia.
What's the best piece of advice you've been given?
To go for your goal no matter what, in all ways possible, even if those ways are not common. Just because something has not worked for the majority of artists, does not mean it will not work for you.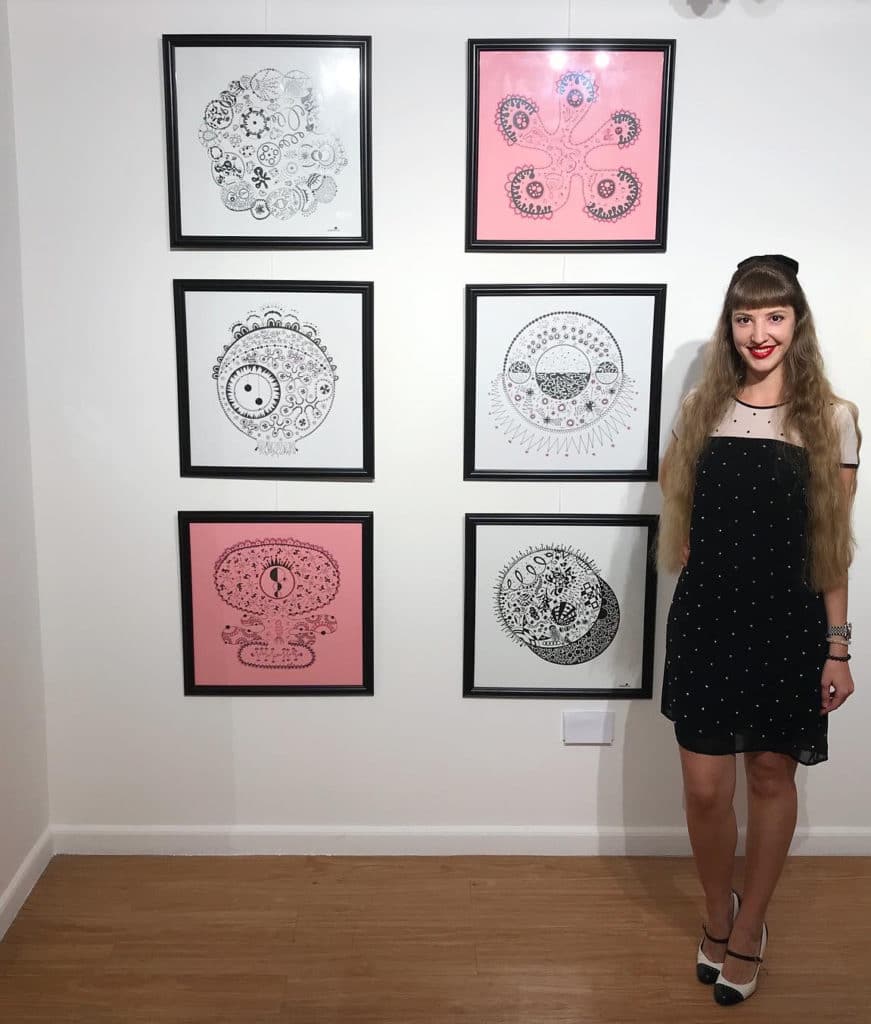 Professionally, what's your goal?
I would like to become an internationally renowned artist whose works are in museums across the world.
Future plans?
I am really looking forward to working on my new doll series, as I have been focusing on abstract work for the past few years.
Fact Box:
Instagram – @valentina.alexeevna
Website – www.aValentina.com