Matt is a British fine artist living and working in Dubai, UAE. A painter inspired by the natural world, and the beauty of nature, he is committed to documenting the beauty of the land, sea and sky and highlighting the changing landscapes around us. It has never been so important to keep a visual reference of our surroundings.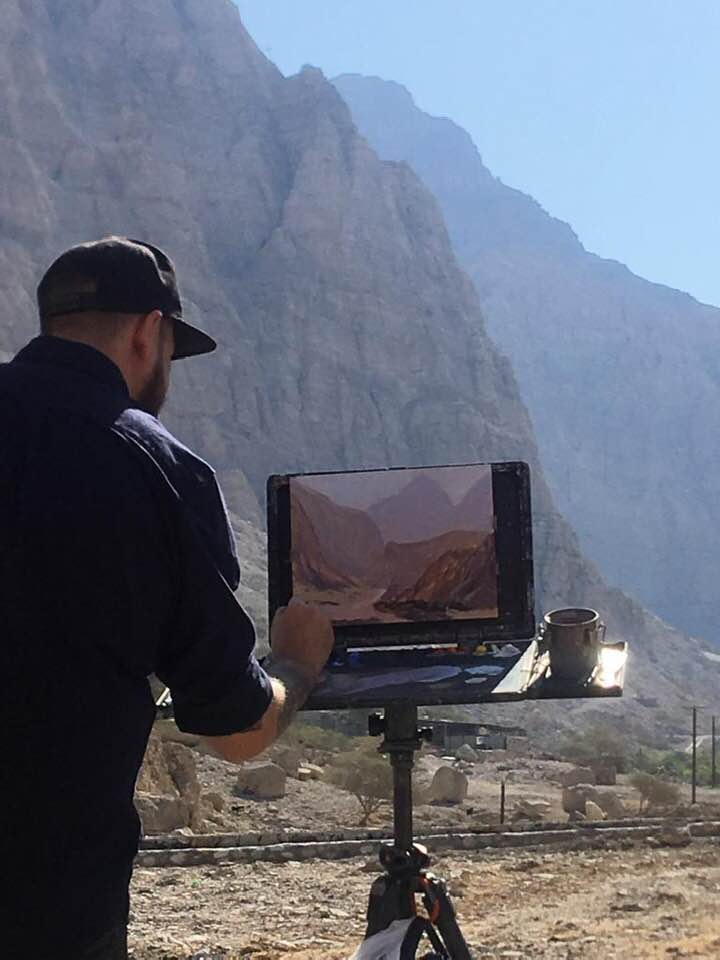 With a true love for the outdoors Matt's paintings often start as small onsite studies, painting Plein-Air, in order to capture true light and colour that can be transferred to the studio for larger work. By working this way his paintings fully connect to the viewer through familiarity and a feeling that they are immersed in the scene. Matt has lived in the UAE for 14 years and has a solid connection to the landscapes, witnessing firsthand the changes in the region.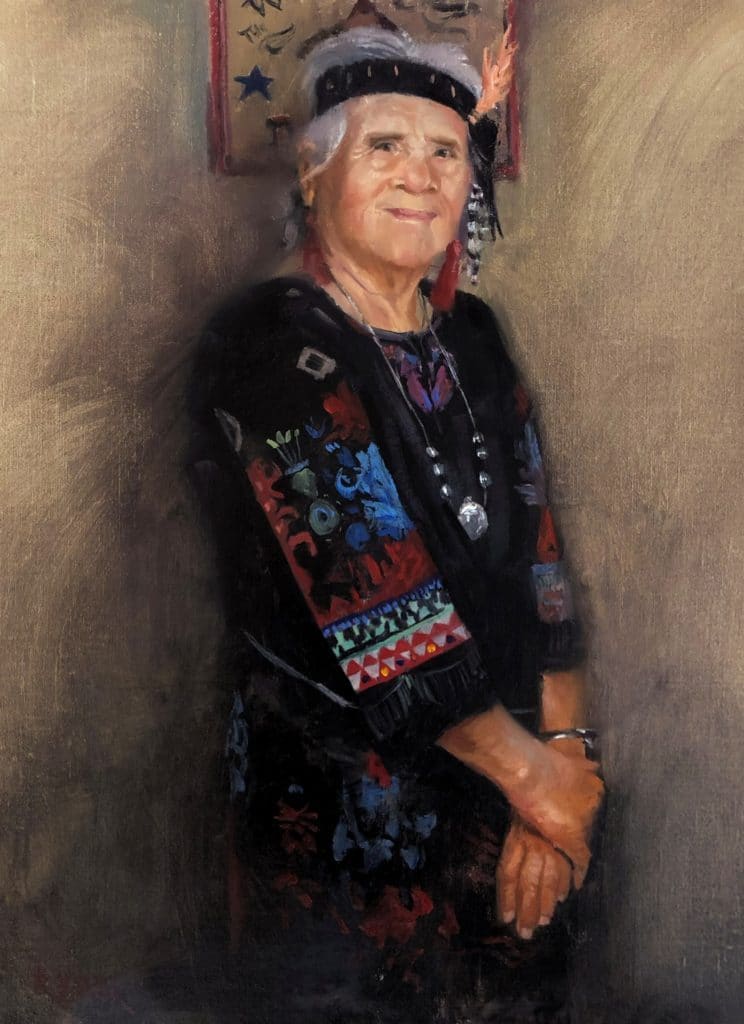 What's your artistic background?
I've been painting pretty much all my life after taking inspiration from my grandfather who was the artist in our family. As a painter I am predominantly self-taught, learning from experimentation and studying the masters.
 What's integral to the work of an artist?
Keeping true to oneself is imperative to life as a creative. I believe looking to the artists of the past to inform the contemporary practice of today is very important, as is pushing ourselves to constantly grow and improve our own practice.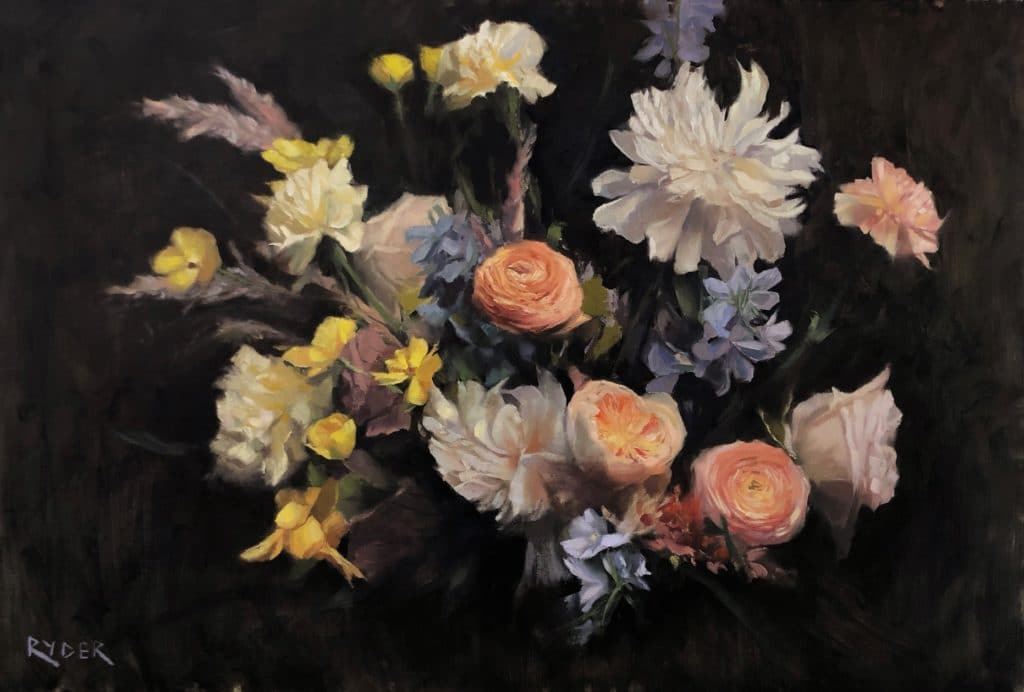 What role does the artist have in society?
We have many roles, but ultimately, I like to think what I do is to help remind us that there is much beauty in this world and sometimes we need to take a pause to appreciate that. It's very easy to get caught up in the day to day workings of our lives, and the beautiful moments can pass us by unseen. I'm trying to capture some of those and put them back out to the world.
What art do you most identify with?
I appreciate all art forms, but I identify closest to the impressionists and realism.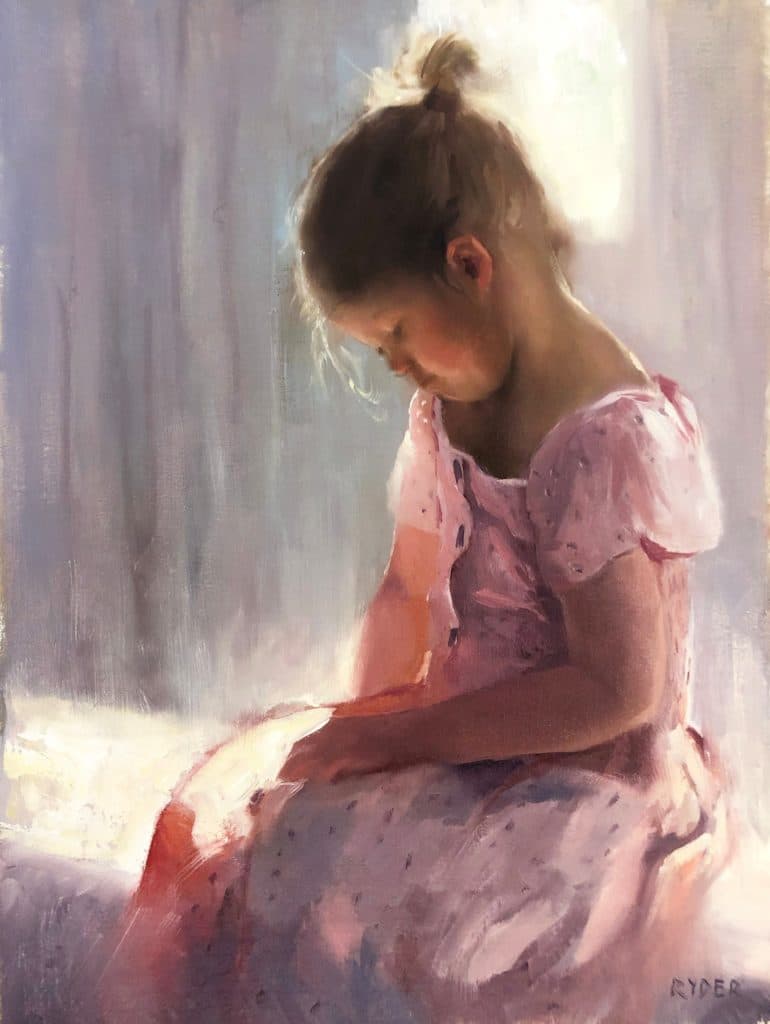 What themes do you pursue?
I'm predominantly a landscape painter and I'm very focused on capturing the natural beauty of this region. I also paint portraits, florals, seascapes, wildlife and pretty much everything else if the mood takes me, I don't really think it matters what subject you paint, it's all shapes, colour and values. Once you have that figured out you can just enjoy the process of putting paint onto canvas.
What's your favourite art work?
This changes constantly but I have taken a huge amount of inspiration from John Singer Sargent's landscapes. One in particular stands out which is called Simplon pass so for now at least I'd say this is my favorite ever painting.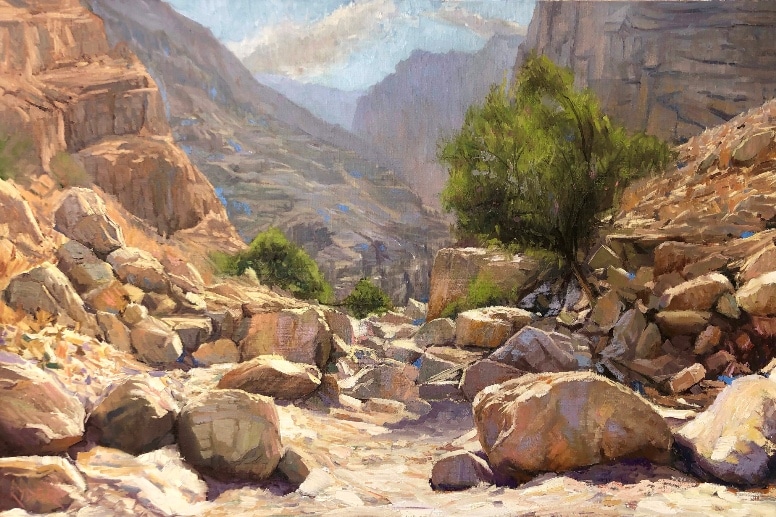 Describe a real-life situation that inspired you?
Every time I head into the mountains I'm inspired; I don't see that changing any time soon.
What jobs have you done other than being an artist?
Paperboy, dish washer, waiter, mushroom picker, supermarket stacker, estate agent, recruitment consultant, and before committing fully to painting and teaching I set up a company as an event caricaturist!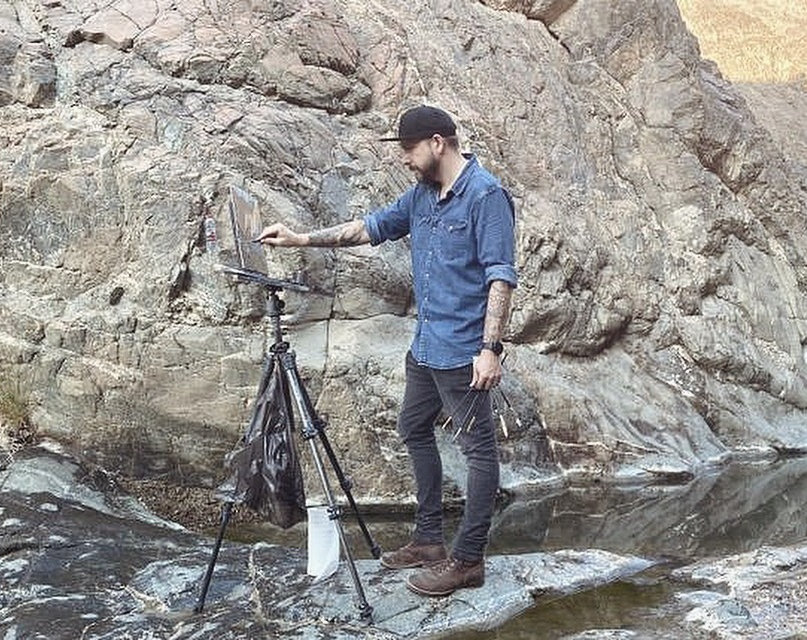 Why art?
I found what I loved early and stuck with it. As my skills improved my love further grew for painting and now, I couldn't see myself doing anything else.
What is an artistic outlook on life?
I'm sure every artist has a different outlook on life, but I just try to produce the best work I can, be the best father and husband I can, be respectful and tolerant to all and hopefully leave the world a little better than when I arrived in it.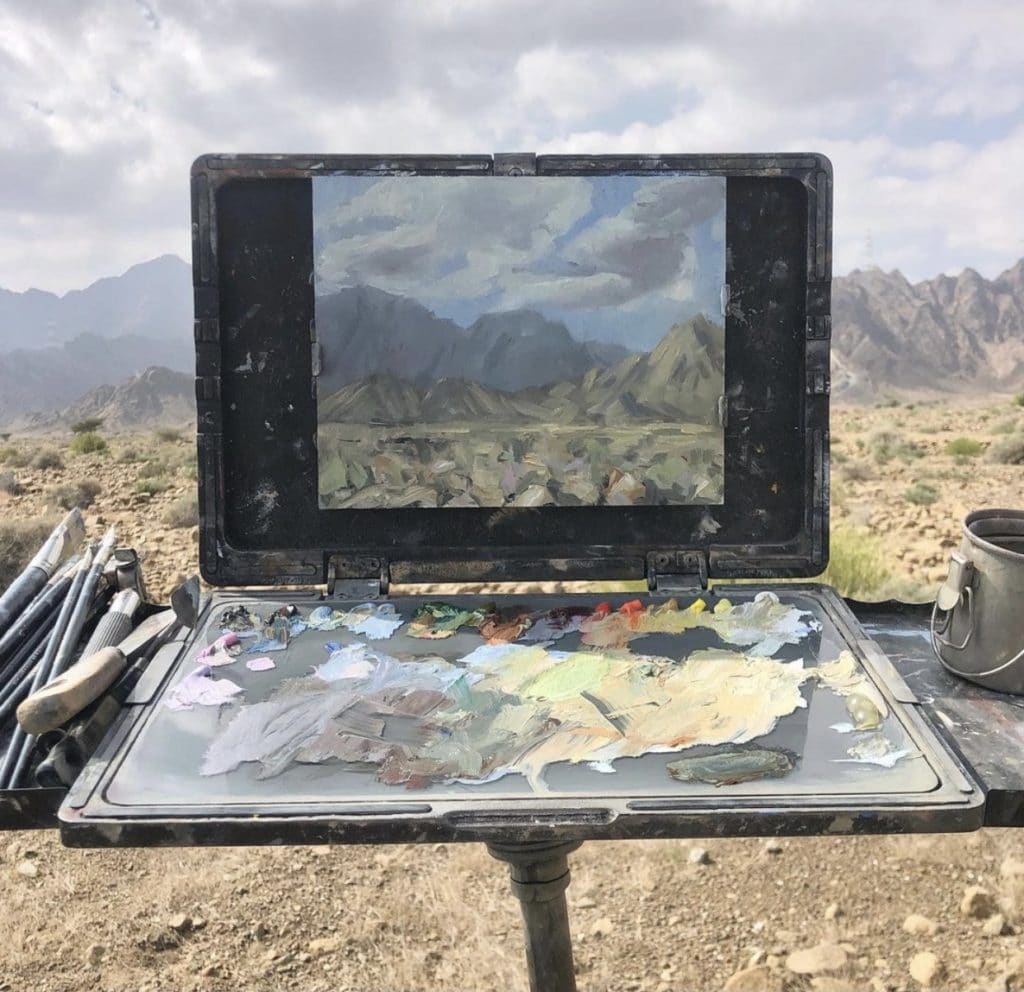 What memorable responses have you had to your work?
Landscape painting in particular can evoke some very powerful reactions and I always enjoy speaking with people in this region who had no idea that the mountains that I paint are just a couple of hours outside of Dubai. I've had people seek out and send me photos from the exact locations I've painted which is amazing.
What food, drink, song inspires you?
I'm not sure food or drink really inspires my practice although I'm a keen chef and do really enjoy spending time in the kitchen. Music on the other hand is absolutely integral to my work. I listen to music constantly while painting, heavily rotating my playlist at the moment is Colter Wall, Gregory Allan Isakov, Black Keys, Bon Iver, Jeffrey Martin, The Lumineers and lots more.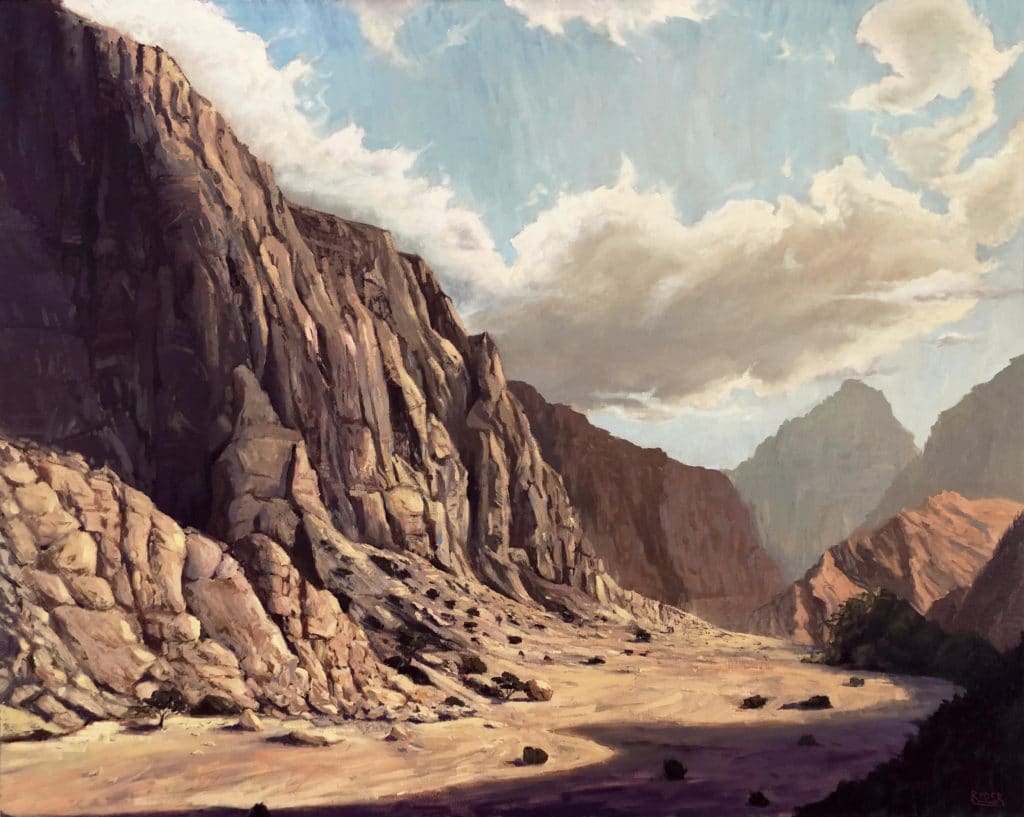 Is the artistic life lonely? What do you do to counteract it?
Studio life can be a little solitary but not necessarily lonely. I am part of a growing artistic community here and regularly have visitors to the studio. Most of the time I'm so busy painting I don't really notice I haven't said a word to anyone in 8 hours! I do ensure that I keep my weekends free to spend with my wife and two daughters, family time is very important and is also a constant motivator to better utilize my time in the studio.
What do you dislike about the art world?
I don't dislike anything specific about the art world however I have a bit of an issue with factory style produced artwork. Those who will take on any project (abstract, landscape, pop. portrait, flow, etc etc) and produce a mediocre result for a very low price, way below what it should be as it's being produced quickly with the cheapest non archival materials. Unfortunately, this has a knock on effect and ends up devaluing the market and also floods the market with bad art which is a problem for all of us.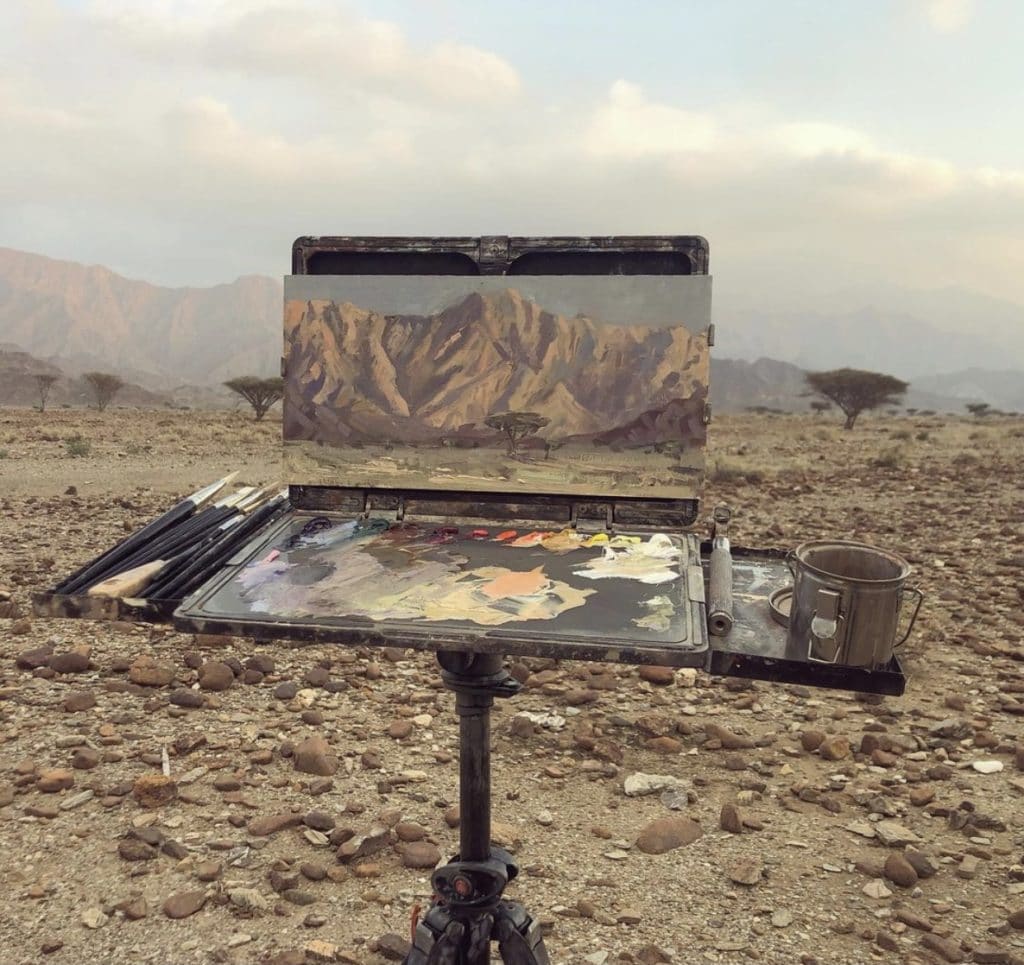 What do you dislike about your work?
I am constantly growing as an artist and this of course involves having to have a critical eye of your own work. I can always spot areas that can be improved upon in the next painting; the trouble comes when you make the same mistake twice.
What do you like about your work?
I enjoy the outdoor element to what I do; seeking out and painting in the mountains is an incredible experience. I also love the challenges of bringing the small outdoor studies into the studio to develop into larger studio pieces. I really enjoy the challenge of capturing accurate colour and light in everything I do.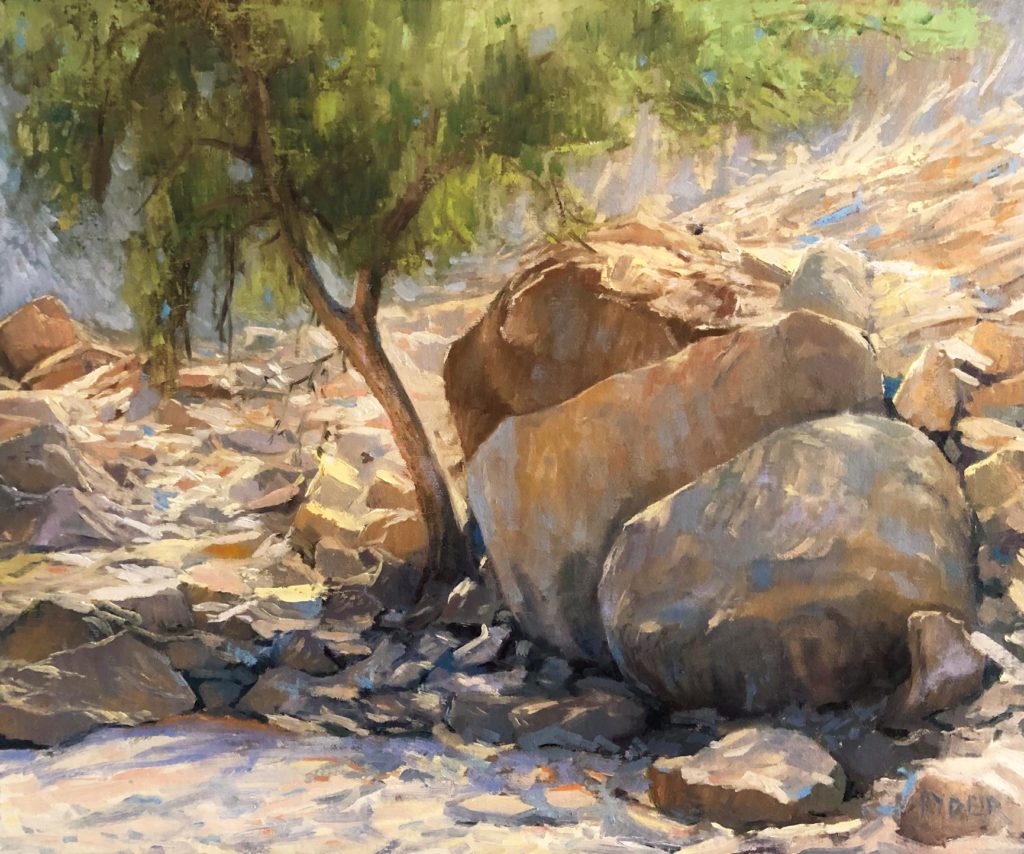 Should art be funded?
Public artwork certainly should yes however I think if you're working on your own projects and selling your work privately or through galleries then self-funding is important. Of course, government assistance with studio rental, creative visa and licensing would be welcomed but being a professional full-time artist is ultimately a choice and in order to be successful you need to generate your own income as with any other career.
What role does art funding have?
Art funding can take the financial burden of creating work but doesn't necessarily buy creative freedom. I think there is a fine balance between being funded and funding your own practice.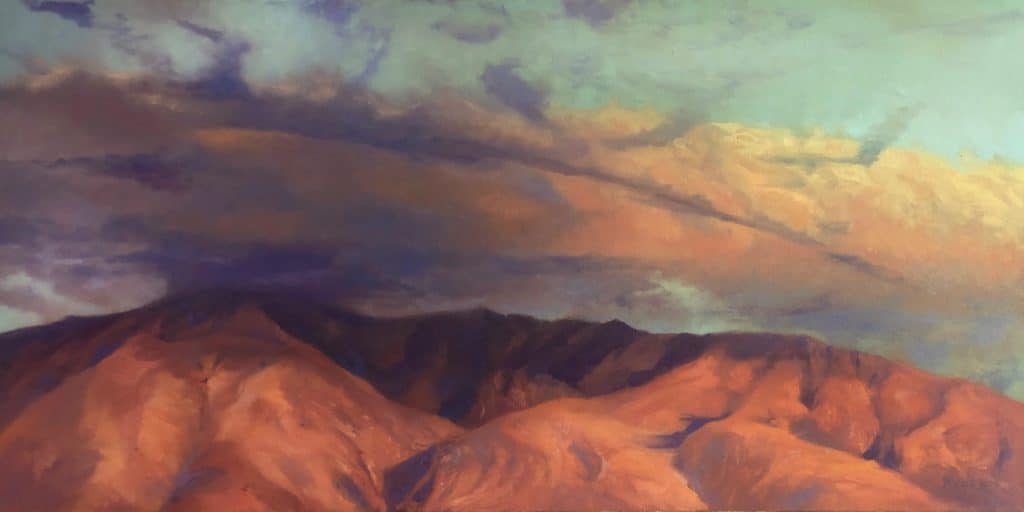 What is your dream project?
Right now it would be to create a body of work that will be seen as having some cultural importance to the growth and development of the UAE. This country's landscape is changing so quickly that keeping a visual record of that is very important. Ideally this collection of paintings would be in a permanent public collection.
Name three artists you'd like to be compared to.
Sorolla, Edgar Payne, Sargent… no pressure then.
Favourite or most inspirational place?
In the UAE it has to be Wadi Naqab, Ras al Khaimah. Outside of the UAE the rugged West coast of Ireland is pure magic.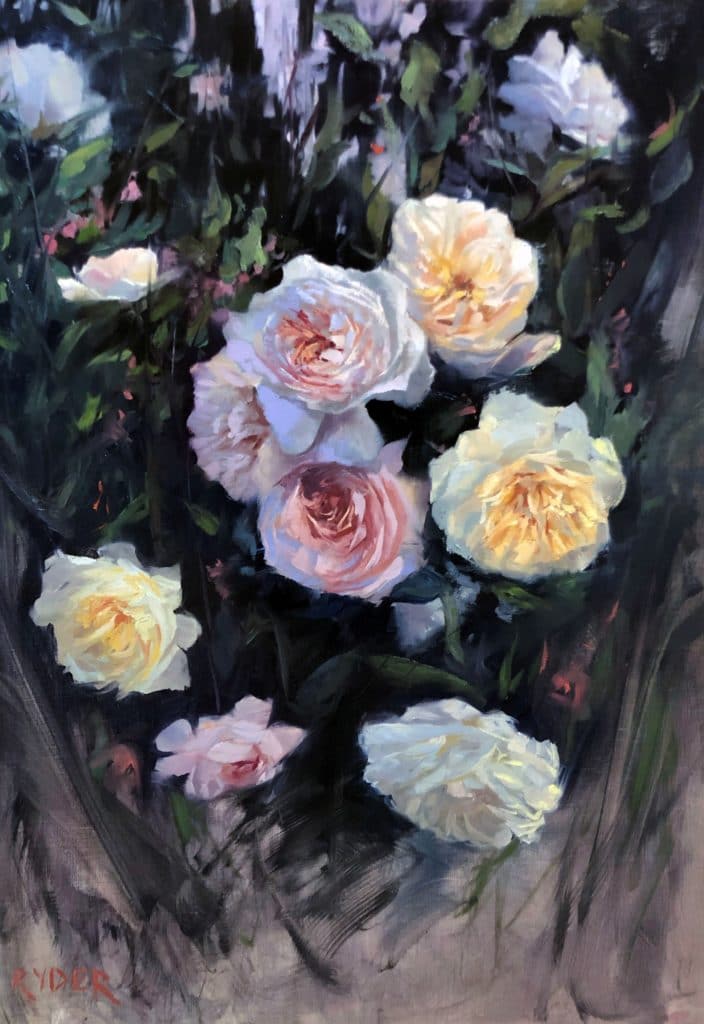 What's the best piece of advice you've been given?
Never wake a sleeping baby. Artistically; get your vales right and then worry about colour.
Professionally, what's your goal?
I have many goals for myself, if I continue to grow and improve throughout my life it should take me to where I want to be.
Future plans?
I will continue to work on my current series of UAE landscapes with the aim of having my next solo exhibition in Dubai soon. I'm also working on plans for a coffee table book and planning many new workshops in the UAE and abroad once the restrictions are fully lifted.
Fact Box :  Instagram – @mattryder and website www.ryderscanvas.com