Manasse Rampino is an Italian Pop Artist based in Dubai. His style is recognizable due to the vibrant colors present in his paintings , he brings us back to the happiness of our childhood by proposing a collection inspired by cartoons.
Some of his art works are inspired by classical and pop art, he likes to mix opposite concepts like explosions of colors/black and white, abstract/figurative, classic/modern and color's spots/shades. In his paintings there is space for nature and animals, but also for classical portraits and sculpture. His vision can be enclosed in one word: CONTRAST.
What's your artistic background?
I started painting at a very early age. As a child, I remember asking for canvases, brushes and paints as gifts for Christmas or birthdays, and painting ever since I can remember. Then I enrolled at an Art Academy in Italy for 5 years, achieving studies in ancient and classical art, oil painting, mosaic and restoration. After high school, I moved to Rome to study cinema for 2 years at a private academy.
What's integral to the work of an artist?
 Vision. Talent. Knowledge.
 What role does the artist have in society?
An artist should be able to inspire people, make them happy and make them think. For me, it is also about delivering attractive and fun pieces with vibrant colors, which are somehow controversial.
What art do you most identify with?
Pop Art. I tend to use different classic icons and symbols from cinema to fashion to art to nature that are easily recognizable by everyone and relatable.
 What themes do you pursue?
I like to take inspiration from classical art. I love the plastic and theatrical poses of Renaissance paintings; I find them fascinating and mysterious. In general, pop art has many icons coming from the classical world; it's an encounter between past, present and future. I try to explore different themes in my paintings, which range from fashion, cartoon, cinema, nature and classic icons.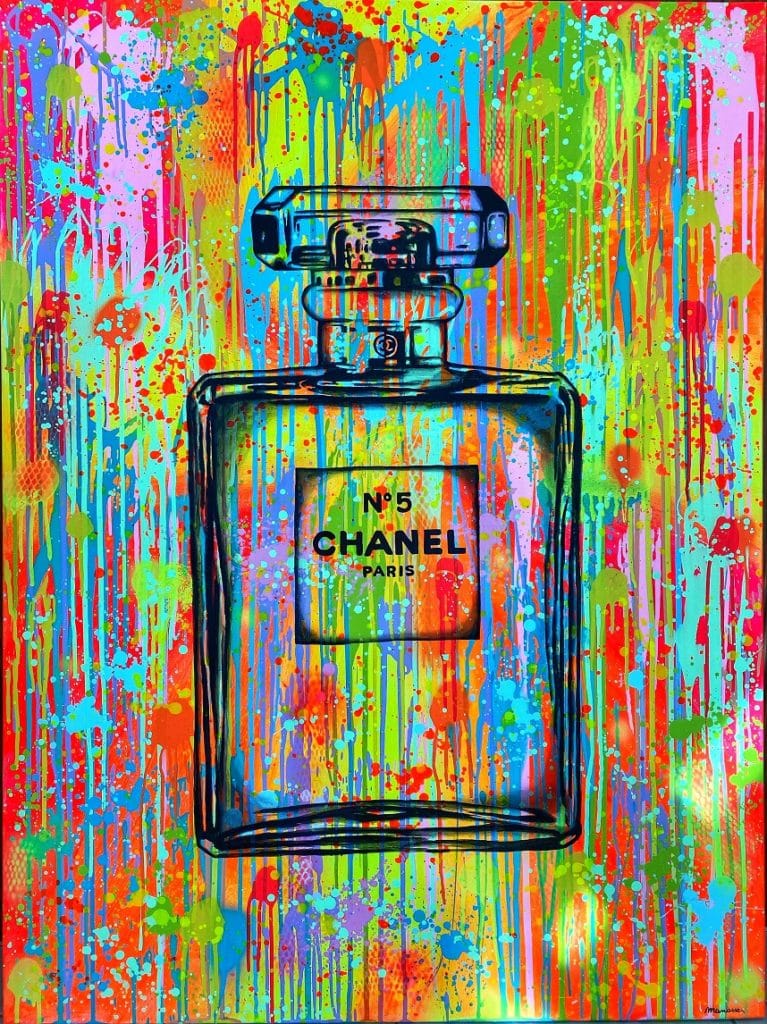 What's your favourite art work?
One of my favorite artworks is VENUS. This particular painting mixes and contains different subjects and icons I tend to paint. This includes 'The Creation of Adam', and some famous modern brands as well as contemporary day-to-day common things and graffiti.
 Describe a real-life situation that inspired you?
The pandemic. In the last few years I have travelled a lot for work, the time to paint was very limited.  The pandemic totally changed my life, as I stopped traveling for the first time in many years. The first week at home was fun, the second was enjoyable, the third a little less. Then I started painting as I used to previously. This time was different, with different reasons, with different needs. I always painted in oil, landscape, sacred art, portraits, and figurative subjects. I needed to do something different, so I started to throw the colors on the canvas and paint iconic pop art subjects.  I liked it, it made me happy.
 What jobs have you done other than being an artist?
I have been working for an Italian fashion luxury brand for over 10 years that exposes me to all aspects of the fashion industry, which is somehow art.
 Why art?
It is my way to express my feelings and myself. I love being surrounded by beauty and colors.
What is an artistic outlook on life?
I see life as full of opportunities that I can explore in the art world. I like challenges and trying different things. I consider myself a dynamic and flexible artist that widens my horizons and gives many possibilities.
 What memorable responses have you had to your work?
I am always very happy when I hear the positive feedback and responses I receive from customers about my work. One memorable event was that I had a customer that liked my paintings a lot that ended up buying 6 paintings. This particular situation made me incredibly happy because I was able to please 3 different members of the family.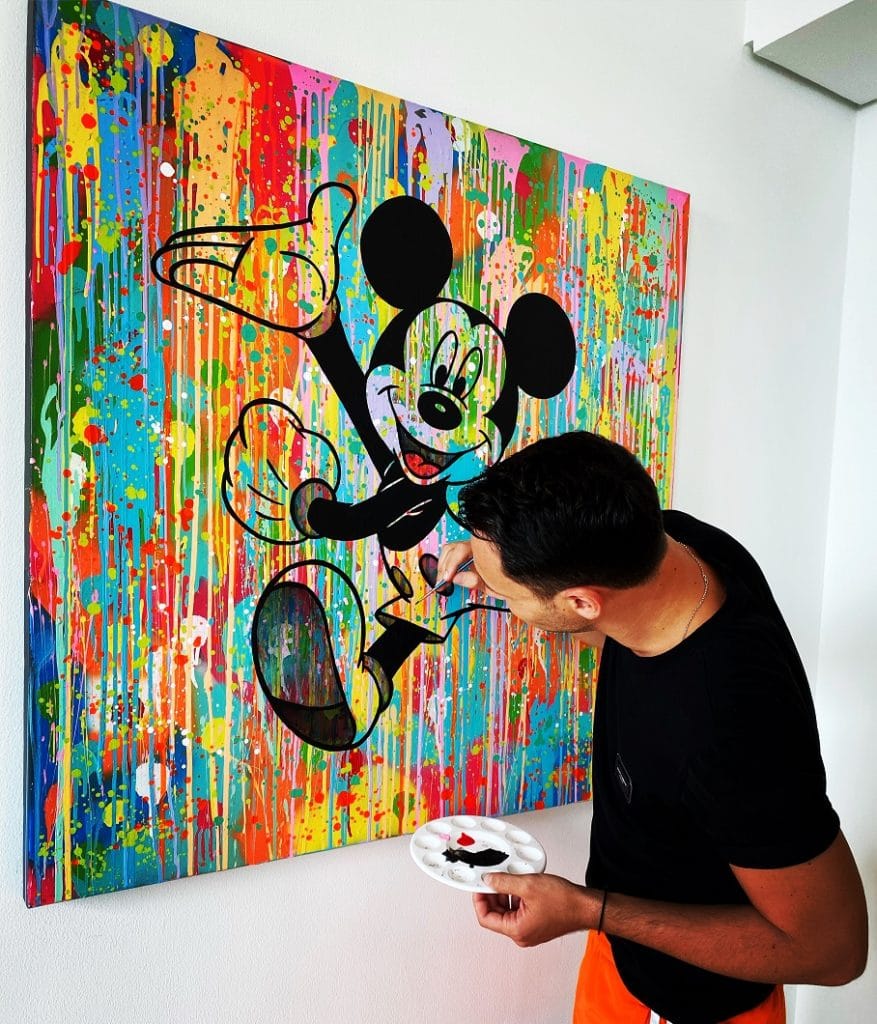 What food, drink, song inspires you?
LEMONS.
 Is the artistic life lonely? What do you do to counteract it?
 Yes. Very often you need your space and time to be able to create. However, I still find the time for travel and friends.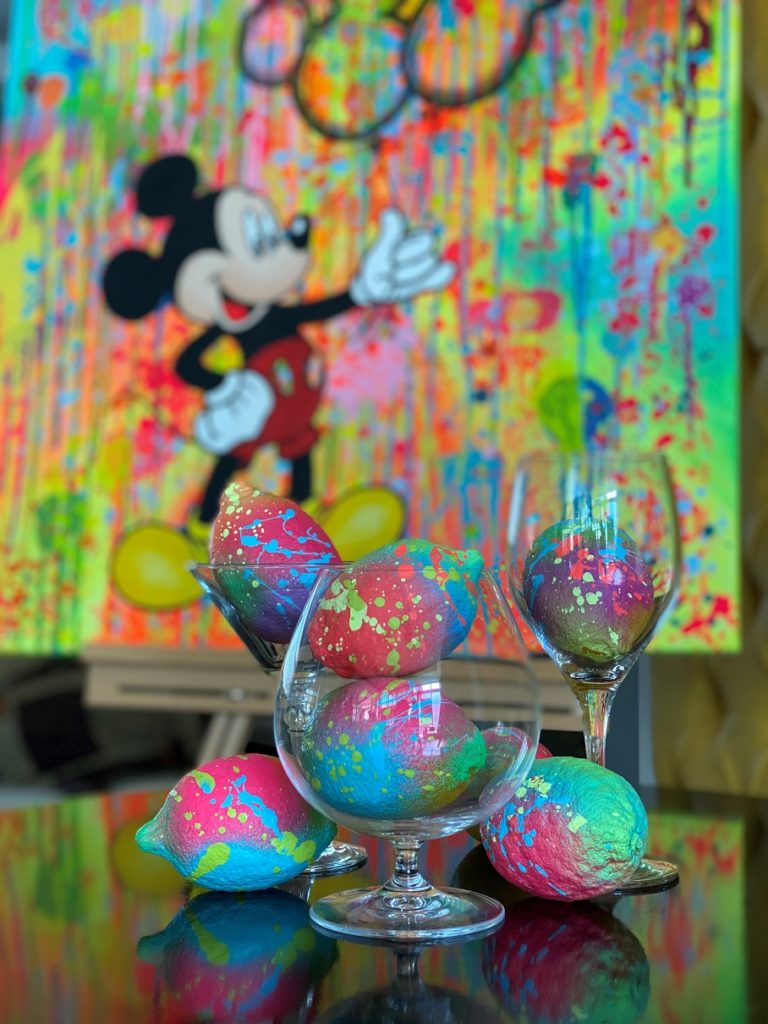 What do you dislike about the art world?
When art becomes only a statement but lacks beauty.
 What do you dislike about your work?
Not having enough time to network and participate more in events and activities related to art.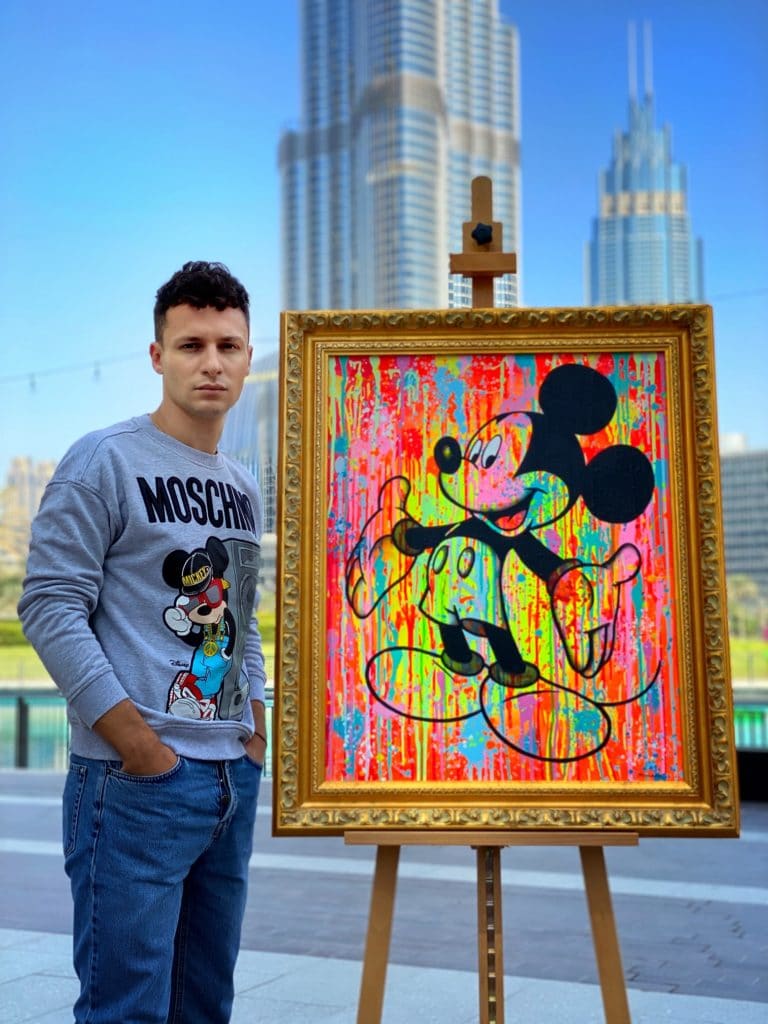 What do you like about your work?
I like seeing the end result which is always even better than what I imagined to be in my mind.
  Should art be funded?
I am very happy to see an increase in the number of galleries and creative events and museums in the UAE during the past few years to promote art and artists.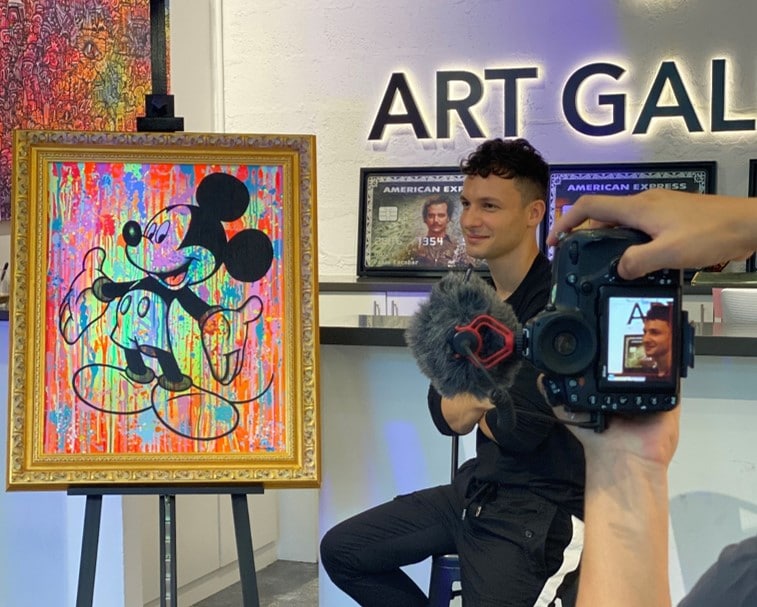 What role does arts funding have?
Arts funding helps me and other artists create more and be even more motivated, and to give artists the freedom to do what they like to do.
 What is your dream project?
To exhibit my paintings in the museum of the future here in Dubai.
  Name three artists you'd like to be compared to.
Keith Haring: advocate of pop art
Guido Reni: creator of the beauty
Matisse: master of mixing colors
 Favourite or most inspirational place?
I visited many museums all around the world; Hermitage in Saint Petersburg holds a special place in my heart.
  What's the best piece of advice you've been given?
'Don't do it, you won't make it as an artist'. Thanks to this advice, I made it!
 Professionally, what's your goal?
 To have more time to paint and be a more multifaceted artist.
 Future plans?
To expand to international markets through events and exhibitions.
Fact box :
Instagram: manasse_painting
Www.manasserampino.com