Michele Tragakiss was born in Los Angeles, California and has lived across the United States, and Canada. She received her BFA from Indiana University of Pennsylvania before completing a year of post-graduate studies, in affiliation with IUP at the Art Institute of Pittsburgh. Her works have been exhibited nationally and are held in private collections across the United States. She was chosen as one of ten 'Abstract Artists to Watch in 2018' by the LightSpace and Time international online art gallery.
She is currently living and working in Connecticut.
What's your artistic background?
I am a third generation artist who was heavily influenced by my mother's technical illustrations and paintings. I'm drawn to the structured geometric and linear elements of tech design, as well as the organic flow and intuitive movements that happen in abstract painting. Running every morning keeps me connected to nature and the universe at large, and I believe that the mind and universe exist as a pair. This awareness is woven throughout my imagery and mark-making. The fractal branching of a tree, or the crack filler on a road are not represented as they are, but rather as subconscious interpretations that often intersect and engage with social and political issues that occupy my mental landscape.
What's integral to the work of an artist?
Artists must be able to connect with the unique creativity and vision that resides within them, and the universe writ large. For myself, this state is achieved through a morning run alone with my thoughts and nature. Modern life especially recently is a cacophony of distractions and emergencies, so the luxury of setting aside chunks of time to create can be difficult but is essential.
'The position of the artist is humble. He is essentially a channel.' Piet Mondrian
What role does the artist have in society?
Artists create connections between the art and the observer. Art  (visual, written word and music) has the power to touch and influence entire societies and the potential to move hearts and minds to create a better world. That may sound like a Hallmark card, but it's historically true. When the Dark Age descended upon Europe, art, creativity and science were stamped out. Because art and science are the language of the future, regressive societies will not allow it to flourish. This question is relevant currently, as geo politics are trending toward authoritarianism around the world. The artist's voice is most important right now. We can be part of the resistance.
What art do you most identify with?
As a painter, I identify with visual art of all kinds. When I was studying art history in University, I was really drawn to the Dutch masters like Anthony van Dyck and Vermeer. The intensity was intoxicating. Later in my life I really connected with abstract expressionism and abstract artists like Joan Mitchell and Gerhard Richter. You can see this influence in my most current works.
What themes do you pursue?
Currently I'm having a love affair with color, shape and layers. It's as simple as that. Bold colors rolled on un-stretched large canvases. Layer upon layer of color and glaze is added leaving some of the beginnings visible through the glaze.
As Claude Monet once declared, 'Colour is my day-long obsession, joy and torment.'
What's your favourite art work?
How could someone pick just a single piece? There are so many new artists putting out really solid work on the shoulders of the great masters.
Describe a real-life situation that inspired you?
Both my mother and her father were artists. I am forever grateful to her for not only inspiring me with her work, but for sitting down and showing me how to draw and paint. There were always art supplies readily available. In my early to mid teen years my mother set up a mini desk next to hers where she would let me use her art supplies and mimic her design work. I have so many wonderful stories of my early art explorations. Both of my parents strongly encouraged me to study art in college. When my mother died in 2008 she left me a limited edition Louis Icart print that I used to spend endless hours staring at when I was a young child. That was a pivotal moment where I thought 'she's telling me not to give up', but in general I would say that my inspiration was more of a continuum than a singular event.
What jobs have you done other than being an artist?
I've always been an artist underneath it all. In my teenage years I worked as a singer/guitarist at a local tourist lodge during the summer. After graduating from University I took a job as a graphic designer and then at an educational software company. I left the workplace to raise my two boys and support my family through several serious and long-term health issues. After my life had calmed down about ten years later, I took a part-time job working with special needs high school children so that I could paint the other half of the day. It was a slow painful journey back to my roots as a fine artist that didn't really take off until my mother had already died. It saddens me to know that both of my parents did not live to see me painting and exhibiting as a working artist. At the start of the pandemic in 2020, I made the decision to leave my employment in the school system and paint full-time. It was a scary and difficult decision, but I have a wonderfully supportive and loving family who come to all of my openings and encourage me to stay on this path.
Why art?
This is a funny question… As an artist I know my truth: I didn't choose art, it chose me.
What is an artistic outlook on life?
I'm sure there are a million different opinions here but the artists I know— writers, musicians, visual artists, sculptors and potters are some of the smartest, most inquisitive, out of the box thinkers I've ever met. I'm always humbled in their presence.
What memorable responses have you had to your work?
The most memorable responses are my family. Specifically my boys and my husband, whom are all talented in their own right—one in music, one in art, one in writing and cooking. They held me up when I doubted myself and I realized that they were witnessing a side of me that they had never seen through the fog of raising children, especially with all of the health situations we had to face as a young family. I recently had a solo exhibit at a museum and not only were they there, but many of their friends came to support me. How much more memorable could it get? I've also had artists from all over reach out to tell me they love my work and most recently, a university student told me that she was writing her art paper about me and asked for my story. That was so touching and something that pushed me along.
What food, drink, song inspires you ? 
I love food and drink but they don't inspire me to paint. During a painting session I usually listen to art/history/politics podcasts or music from Radio Head, Abigail Washburn, Amy Winehouse, Annie Lennox, Kate Bush or if I'm in a lighter mood, Aretha Franklin or jazz. I'm rarely in a light mood when I paint though…
Is the artistic life lonely? What do you do to counteract it?
I left my part-time job two years ago and my house is most often filled with family so I'm not lonely. On the other hand, I'm mostly an introvert so I don't mind being alone for long periods of time.
What do you dislike about the art world?
My experience has been positive till date. Rejection sucks but every artist experiences it at some point in their career. Rejection is part of the process of growth and it's important to remember that art is so subjective that a piece that won me first place might not even be accepted into another exhibit. I've had to toughen up my skin quite a bit and that's fine.
What do you dislike about your work?
Wow. It's always a love hate relationship with my work until it lets me go not the other way around. So it's a struggle most every damn time to start a painting, hate it, break it down, and start again. This process is hard and daunting but in the end it's rewarding to finally see what the piece was trying to tell me. They're my children after all.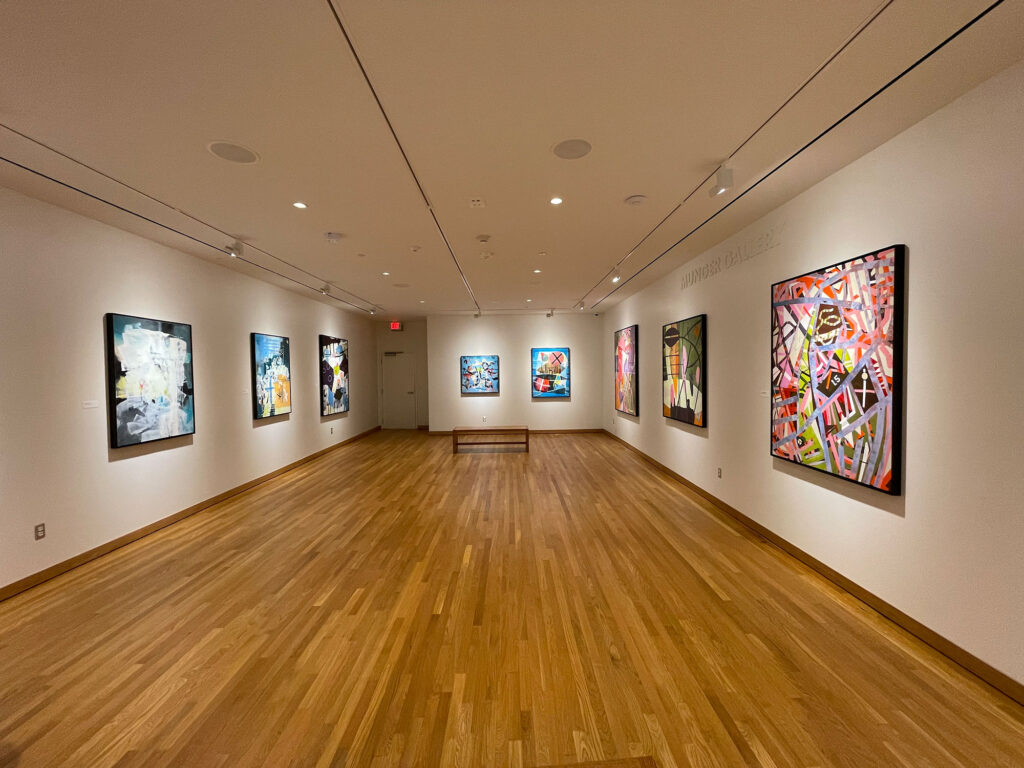 What do you like about your work?
My work is non-representational and the process is both challenging and complicated. The paintings usually tell me where they want to go. When I'm ready to call it done (if they let me) I have no idea how I arrived there.
Should art be funded?
Yes.
What role does arts funding have?
Funding the arts is critical for bringing artistic voices to citizens and allowing people to make and take the message that art aspires to do. Not only is it clinically proven that art in school children helps students fight depression (https://www.ncbi.nlm.nih.gov/pmc/articles/PMC2804629/), it teaches them critical thinking and problem solving skills. These disciplines produce thinkers and yes, resistors of oppression.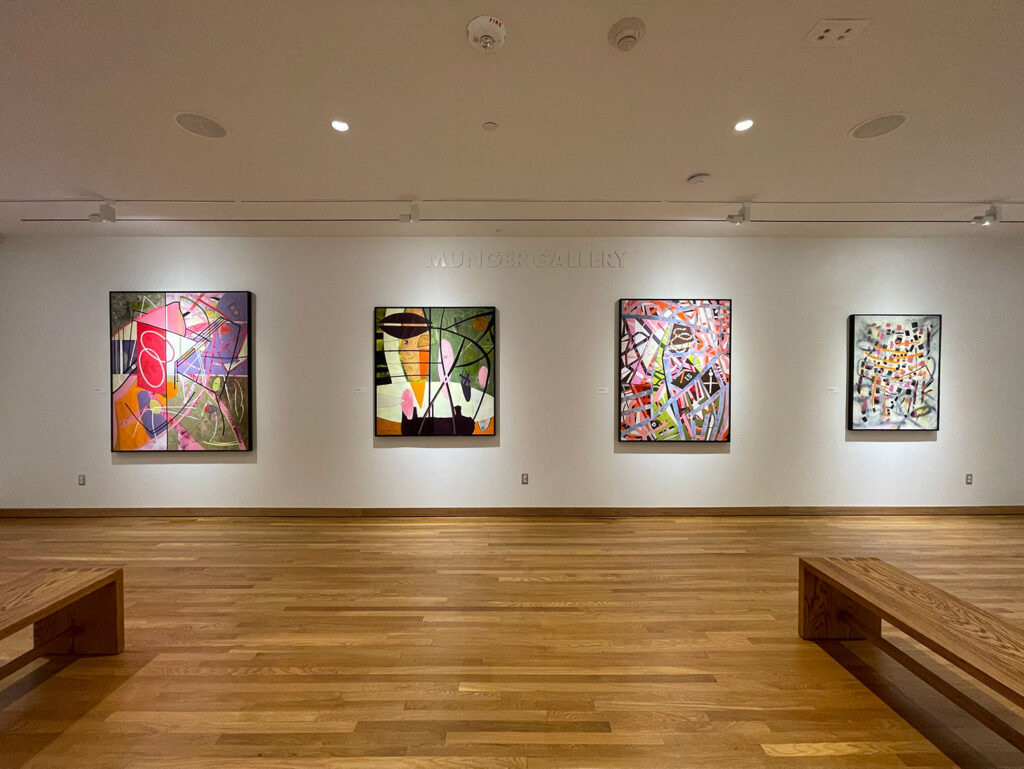 What is your dream project?
A long time ago I had dreams of installing a huge project in Central Park or The National Mall, inspired by the brutal murder of a very good friend of mine when I was in my early twenties. Although the technology wasn't easily available at the time, I envisioned hundreds of holograms of women who have been murdered, stand briefly back in this realm, walking together in solidarity and letting the world see and feel the humans behind the atrocities. The piece would emphasize how trans women and women of color face higher rates of violence. This of course, would require massive data collection and permission from the families for the images plus a couple of years to execute and of course grants or public funding. For now I'm content with building a large body of work and exhibiting. Re-starting myself as an artist later in life brings with it an urgency that only time can bring to bear.
Name three artists you'd like to be compared to.
I'm not sure I want to be compared to any artists, however much I may admire them. I really want to keep developing my own style even though I realize that I'm influenced by many amazing artists, both past and present.
Favourite or most inspirational place?
The countryside of southern Italy and France, the island of Lesvos in Greece and the mountains of Montana literally take my breath away. My body arrives stateside a full month before my head can let go. Now I just need to set up a studio in one or all of these magical places.
What's the best piece of advice you've been given?
My father wrote me three letters of advice at age 16, upon graduating University and on my wedding day. One piece of advice that I've passed on to my children from the graduation letter concerns achieving happiness and success in a career path. He framed it as the three P's of success: Persistence, Perseverance and Perspiration. In other words, when you find your dream, your truth, then you must push and sweat to make it happen. There will be failures along the way but you must persevere. I used to write that phrase on the inside of my kids binders at the start of every school year.
Professionally, what's your goal?
To continue developing myself as an artist and to stay on the journey for as long as I can.
Future plans?
I'm in a transition period right now. My two boys are leaving the nest and I left my job to paint full-time. My husband and I may re-locate and things will be uncertain in the near future so my challenge is to stay productive and prolific with my practice.