Sathya Gowthaman is a contemporary realist artist based in Singapore. Although an Agricultural Engineer by qualification from Coimbatore -India, she was very passionate about art and had a natural affinity towards Archaeology from an early age. "Born and brought up in Tamil Nadu, India, which is known for it's ancient temples and architecture, I grew up in awe of the architecture of the Dravidian Temples and their beautiful sculptures. This fascination built over time and coupled with my passion towards art , turned into a drive to bring awareness on the lost sculptures of the Chola period through my series 'Sculptures on Canvas'," she says.
Sathya Gowthaman brings in a 3D effect on her subjects which are sculptures through multiple layers of paint. Her current theme is inspired by the Chola sculptures which have been smuggled out of India mostly and are currently in many museums across the world.  The textures in the background add an element of intrigue to her works. She has exhibited her art works in International art fairs such as Affordable Art fair, Art Stage, India Art fair and many other exhibitions since 2016 and her works are part of many private collections across the globe.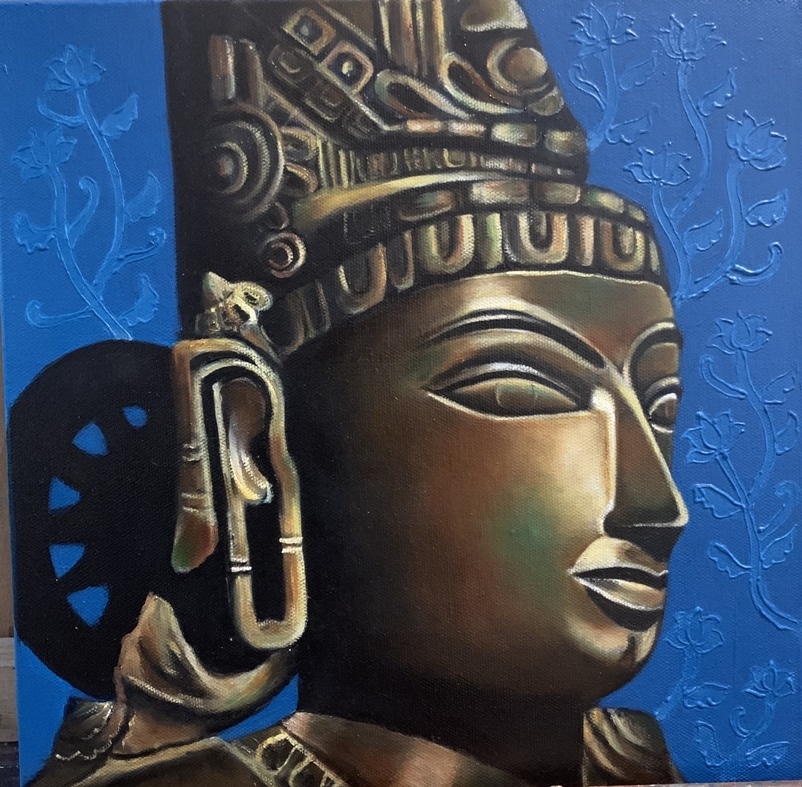 What's your artistic background?
I am an Agricultural Engineer by qualification from Coimbatore, Tamil Nadu. The only reason I did this course was to keep my parents happy. I worked for a few years in the agricultural engineering industry but realised I was very disinterested in it since my passion was fine art. I am mostly a self taught artist but I made it a point to continuously fine tune my skills and learn different techniques by attending different art classes and courses in Mumbai and Singapore, from different art schools and from senior artists to make up for not having had any formal education in arts.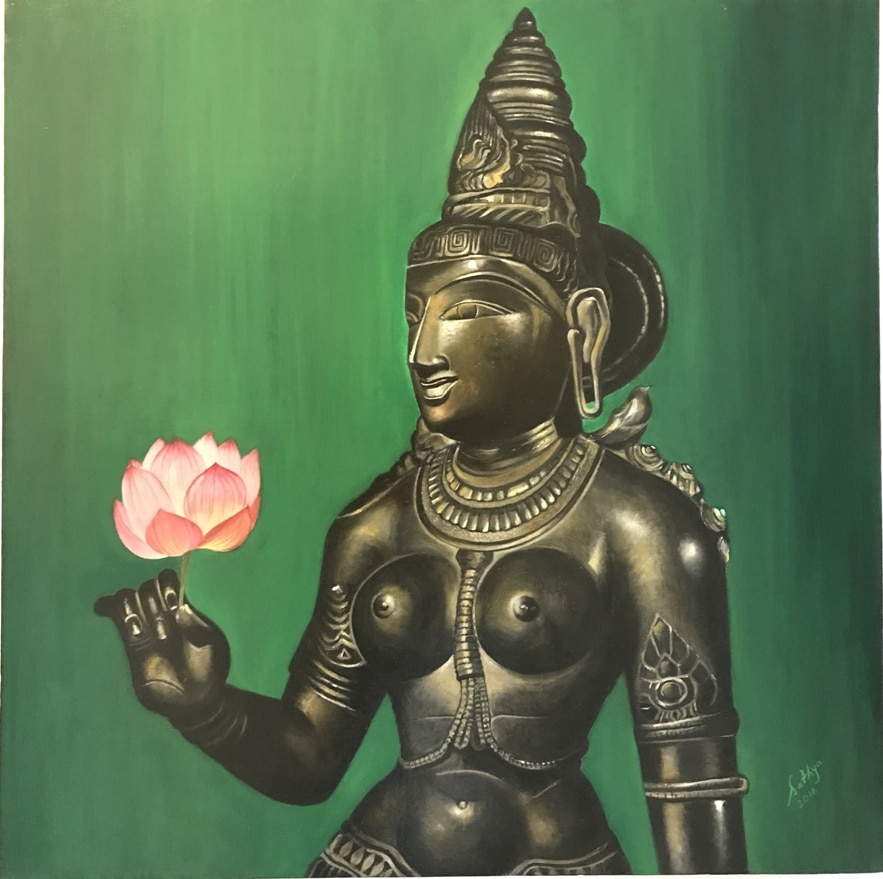 What's integral to the work of an artist? 
There can be no artist without hard work and passion.
What role does the artist have in society?
An artist not only provides joy and happiness to the viewer through their artwork  but since it's an expression of the artist's experiences, the way he/she sees the world, art can be used as a medium to influence the viewers positively, their outlook towards life and can bring awareness on many social causes. Artworks can move and inspire people; at the least help them look at things differently.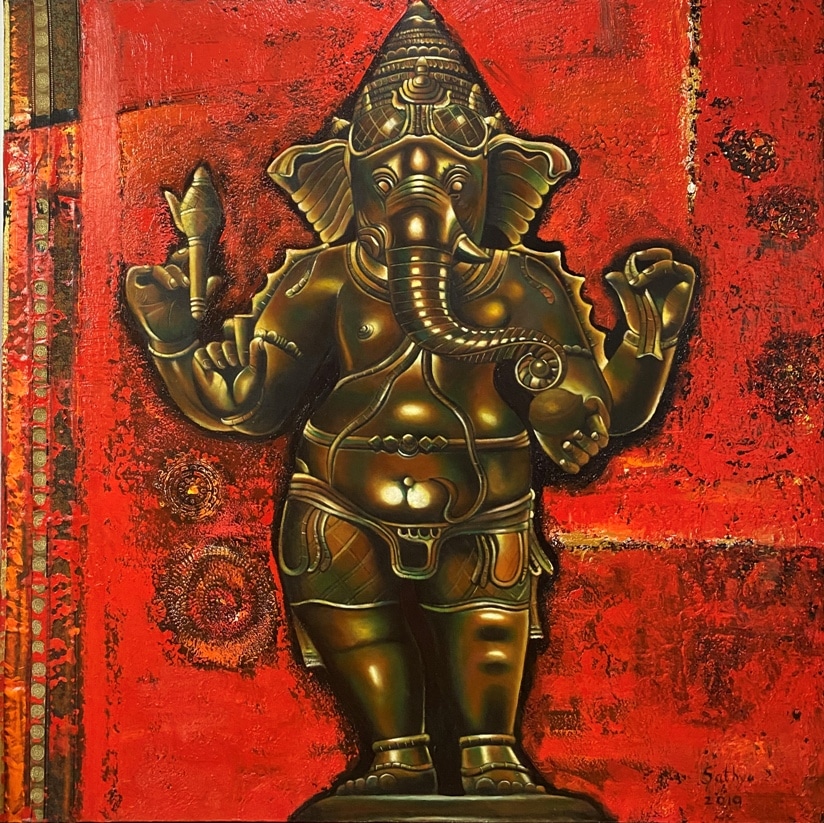 What art do you most identify with?
I am attracted more to figurative and contemporary artworks.
What themes do you pursue?
My theme is on the lost sculptures from India. A soul of a country lies in it's culture and heritage. India has a rich cultural heritage, a treasure trove from the past; we should find time to cherish. Sculpting, sculptures and particularly temple structures from the various temples across southern India, exemplify this. Unfortunately, most of these sculptures have been stolen and sold to museums and collectors across the world which is denying us in knowing our culture and traditions. I aim to bring awareness on these lost sculptures and the richness of our heritage and culture through my artworks. My current theme is on the lost sculptures from the Chola period (8th to 12th century AD)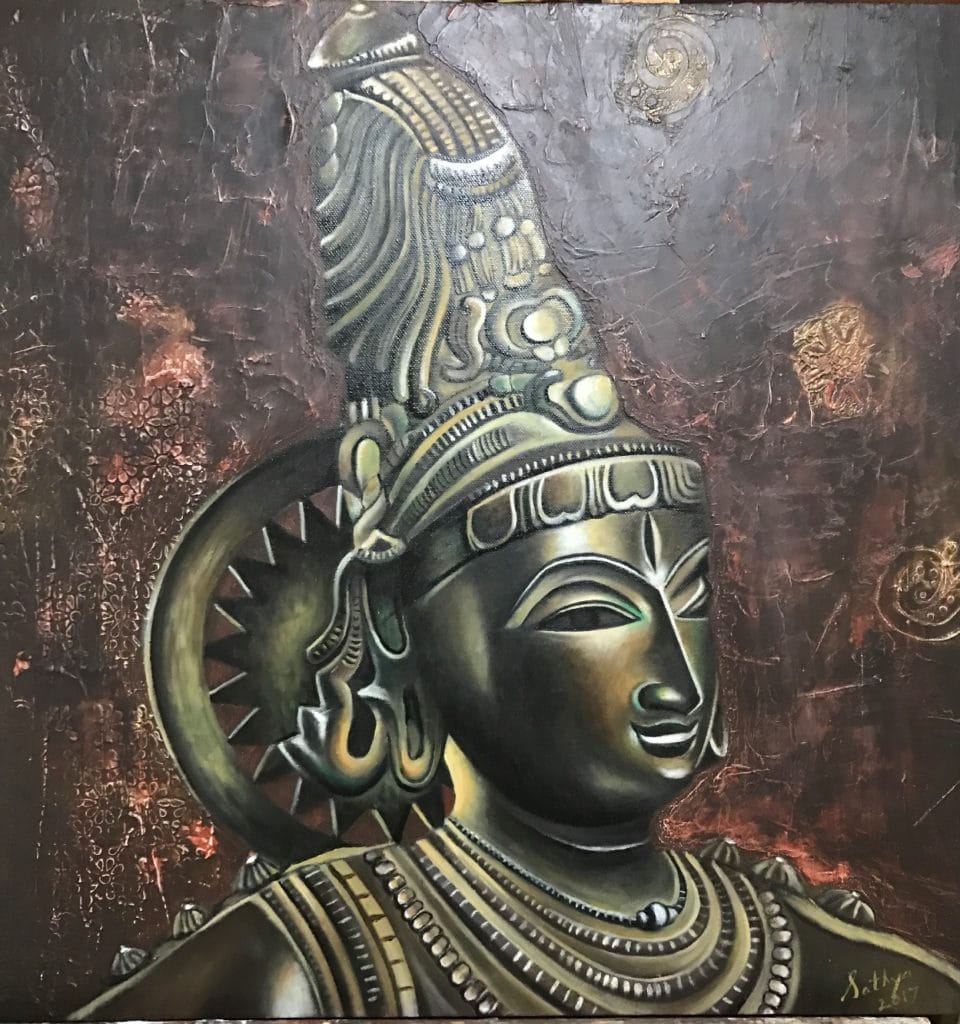 What's your favourite art work?
Artist Silpi's line drawings on the beautiful temples of South India and sculptures are just mind blowing.
Describe a real-life situation that inspired you?
I was very passionate towards art since childhood. And I was a big archaeology and history enthusiast too. Born in Tamil Nadu, I used to visit the beautiful temples built by the Cholas and Pallavas in my childhood and was awestruck by their architecture and beauty. These historical and beautiful temples and sculptures are the inspiration behind my paintings.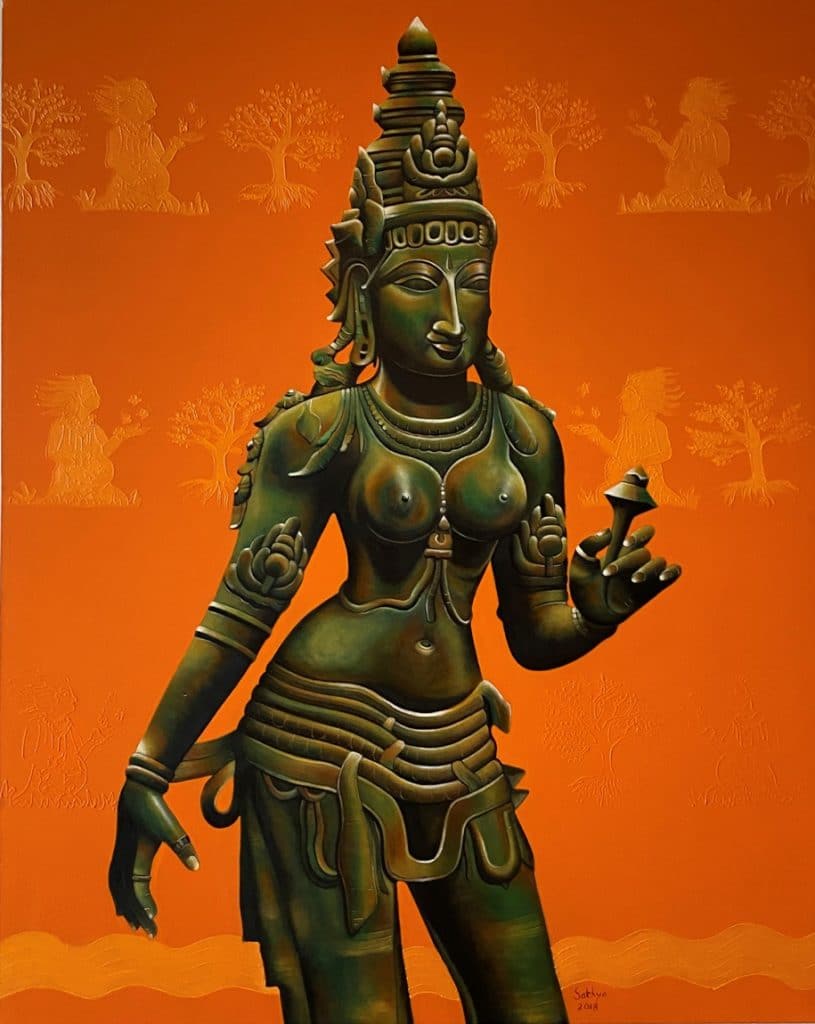 What jobs have you done other than being an artist?
I am an agricultural engineer by qualification and I worked as Junior Engineer in a Drip Irrigation Company for a few years and as a HR head for a body shopping company for a few years. Neither interested me. I studied Agricultural Engineering for my parent's satisfaction. Art remained my passion always.
Why art?
Art keeps me happy. Makes me look forward to life and keeps me going. Art makes life beautiful.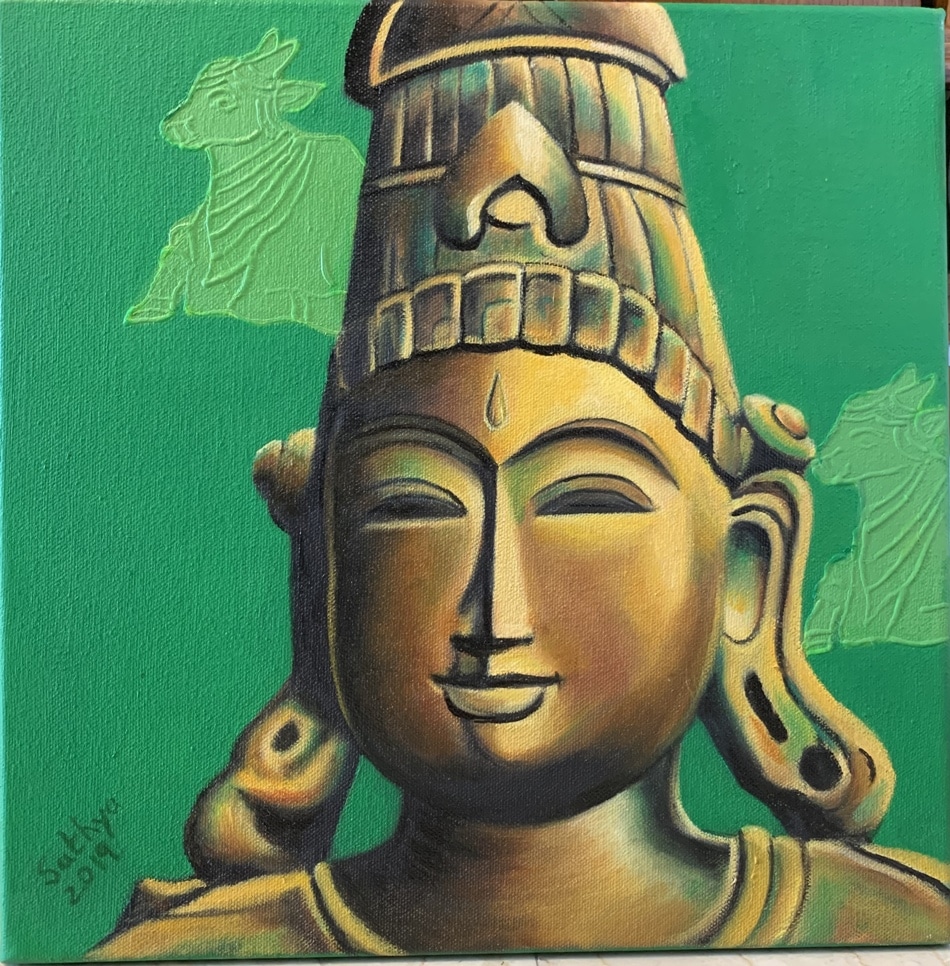 What memorable responses have you had to your work?
I have had quite a few memorable experiences. One of them was a very beautiful Tamil poem written on my artwork by a good friend who is also a wonderful lyricist / speaker.  Another one very touching response was by a lady whom I did not know from Texas, she gave me tips on how to post on social networking websites , complimenting me saying I would become world famous. It was very sweet of her.
What food, drink, song inspires you?
I like Mediterranean food and Indian cuisine. I love listening to music composer Ilayaraja's songs while painting. So beautiful is his music that it transfers us to another world. But mostly I listen to the speeches on Vedas and Upanishads by different spiritual speakers as this help me get into my zone.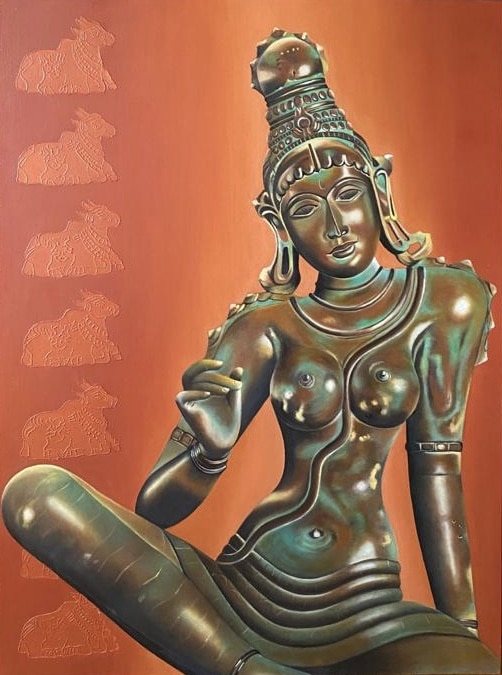 Is the artistic life lonely? What do you do to counteract it?
Artists choose to be lonely. It's a self made choice. Since we spend long hours painting / researching/ sketching we prefer being with ourselves most of the time.  Especially so for realistic artists as it requires longer hours. Lockdown or no lockdown is the same for us. I enjoy this loneliness and I love spending time with my art and my thoughts. I don't make a lot of attempts to counteract it.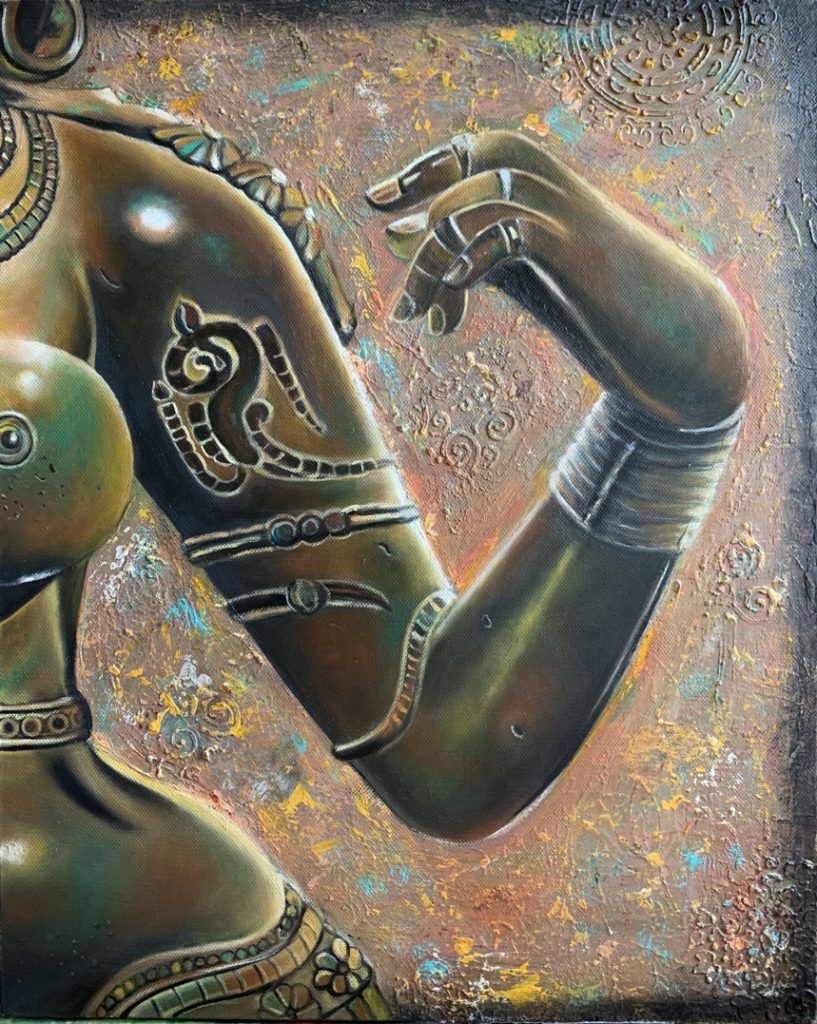 What do you dislike about the art world?
I see a bit too much of unhealthy competition, groupism and rivalry which I don't enjoy very much.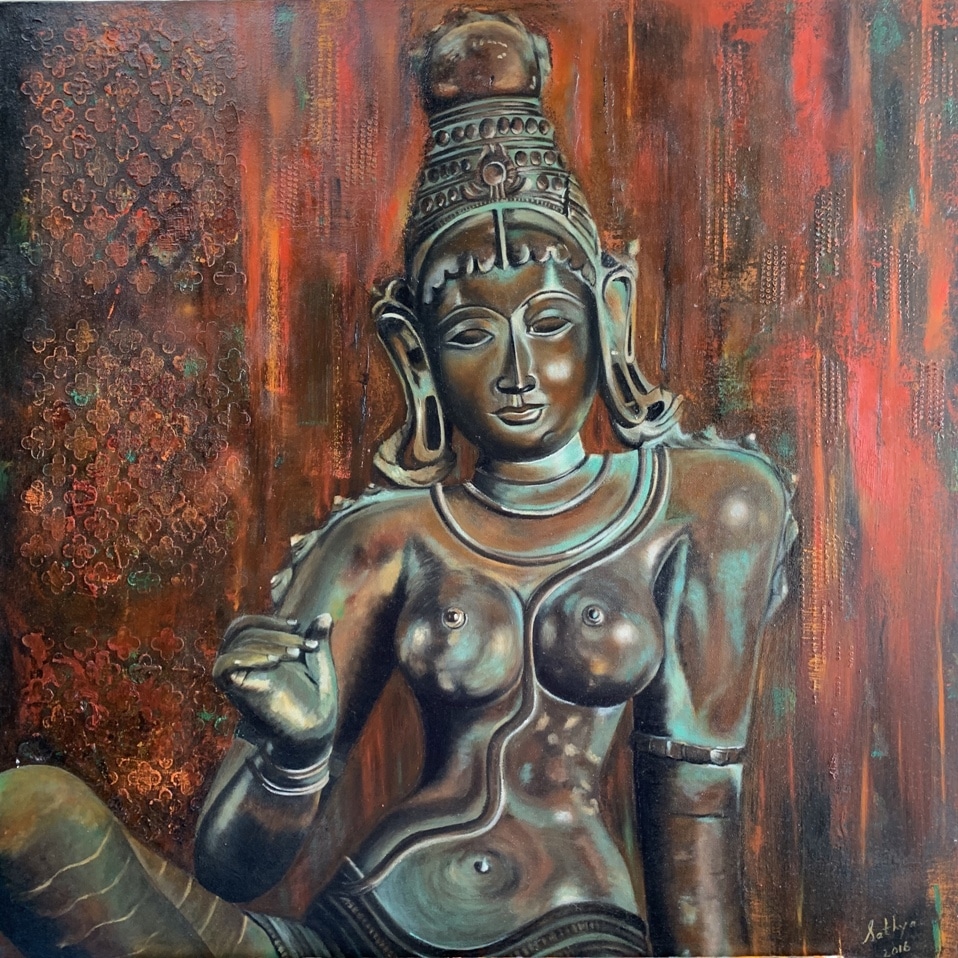 What do you dislike about your work?
I don't dislike any of my work.  I improvise and evolve with every work and it's a beautiful journey.
What do you like about your work?
That it's able to bring happiness to people, celebrates our culture and heritage, connects many to their roots.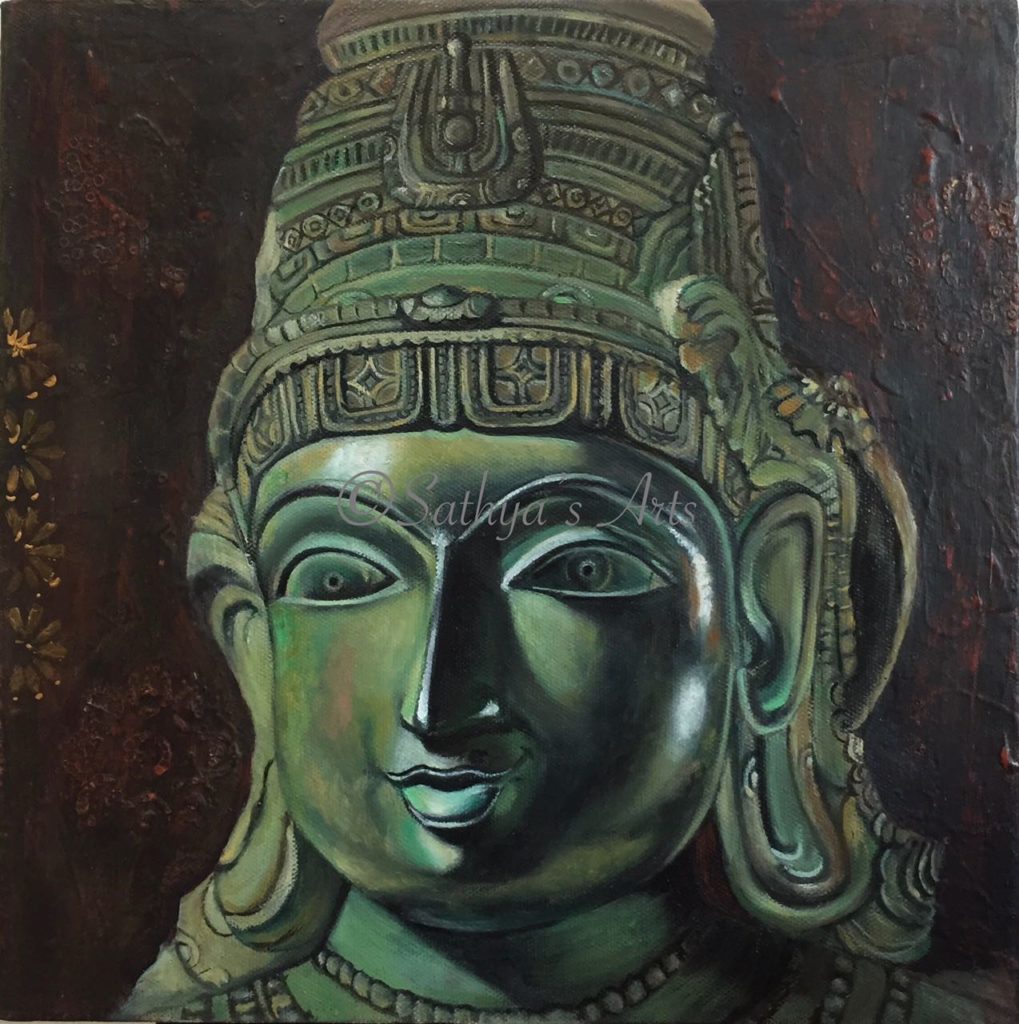 Should art be funded?
Yes. Art should be funded, encouraged and patronized by the government and corporates. Art is part of a country's heritage and culture and it needs to be celebrated.
What role does art funding have?
It would help let loose an artist's creative pursuits and eventually everyone benefits.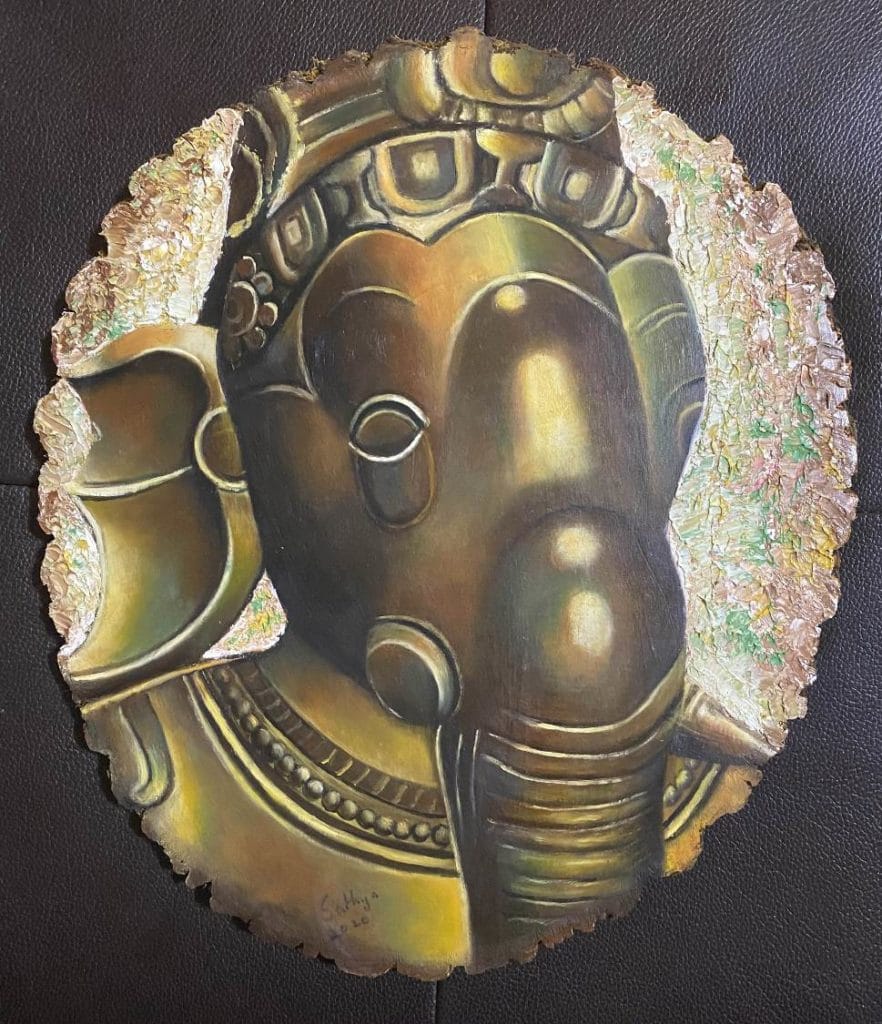 Name three artists you'd like to be compared to.
I am nowhere near them, but I will be shamelessly greedy and say, in the future I would like to be compared to artist Silpi, S. L Haldankar and artist Elayaraja.
Favourite or most inspirational place?
The beautiful ancient temples down South.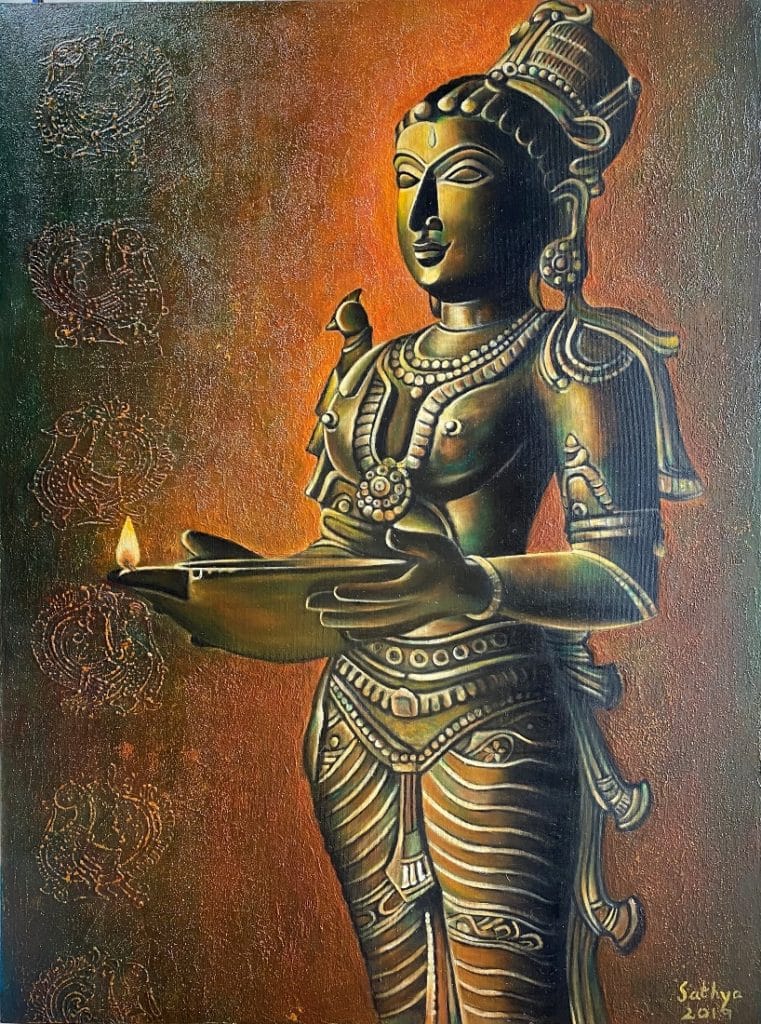 What's the best piece of advice you've been given?
Not advice given to me specifically but the verses from Bhagavad Gita to the world – do your duty without getting attached to the results.
Future plans?
I am looking forward to have my solo show some time in May / June 21.